Happy Birthday, Intoxicated on Life readers! One year ago today we started this blog, and it's been a fun ride. We've written on a wide number of topics (as you've probably noticed). Hopefully you don't think we're too schizophrenic 🙂
To help us celebrate, for the next several weeks, dozens of companies are giving you, our readers, a chance to win free stuff—over $1,100 worth of stuff! We'll be doing 12 giveaways, most of them with more than $100 worth of merchandise.
Top 10 Posts at Intoxicated On Life
But, before we share that with you, here is a peek at our top 10 posts of this past year. Be sure to check them out if you haven't yet had a chance.
What's been your favorite post on IntoxicatedonLife.com?
Let's Celebrate!
We have partnered with a number of companies to bring you some fantastic giveaways! In fact, we have over $1,100 in products we're going to be giving away. See the picture below for a sneak peek.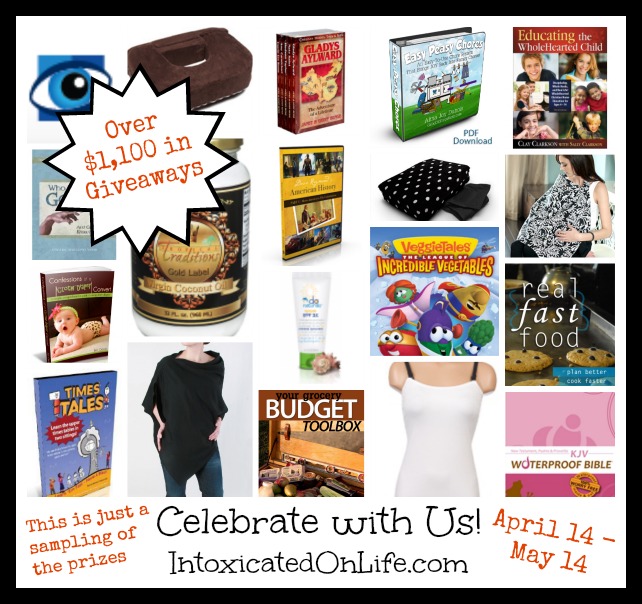 Subscribe to our Blog to Get Updates About These Offers!
There is also an amazing opportunity all of our readers can take advantage of. It's a secret, but we'll be sharing it with you in just 15 days. We're honored we were asked to be a part of this project. Be sure to watch our blog and your inbox for an update.
If you haven't taken the opportunity to sign up to receive blog updates, be sure you do so now so you don't miss a thing (if you have signed up and aren't getting updates, be sure to check your spam box). We'll be sending out a special announcement in a couple of weeks to give you all of the scoop.