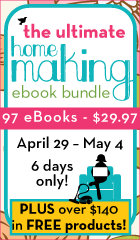 I'm going to be sharing with you some of my favorite posts of this month, but first I want to let you know about a cool opportunity that you'll have in just a few days. And guess what? Real, healthy salt is involved! Fancy that 🙂
There is a homemaker's eBook bundle that I was asked to participate in (with my Write Through the Bible handwriting curriculum). I've had the opportunity to preview these books, and many of them are fantastic! But more than that, something I thought you'd be interested in hearing about are some of the freebies that are offered in the bundle.
There are $140 worth of free offers included in this sale! You can take advantage of all of them, or just a few of them. I wanted to share with you just a couple that I'm particularly excited about having to do with healthy eating!
Redmond Trading Company (Real Salt)
This company sells Real Salt! If you purchase the bundle you'll get to try not only their salt, but several other products that look incredibly interesting and I'm very excited to try.
Re-Lyte $11.99 Free
Real Salt 9 oz $4.92 Free
Earthpaste – Lemon Twist $7.99 OR Facial Mud $9.99 Free
Free pocket shaker
Free Earthpaste samples
Cultures for Health
I love homemade yogurt, so this will be a fantastic addition to my kitchen.
Free Sourdough starter or Free yogurt starter ($12.95 value for Free)
Those two freebies alone make the bundle worth purchasing, since it's only $29.97! But there are more freebies. In fact there are $140 worth of freebies from different companies and $650 worth of ebooks.
Even though I already have received all of the ebooks to preview, I'm planning on buying at least 2 bundles (or maybe 3) because I want to be able to get these freebies (yes, it's that good of a value)! Be sure to come back next week because the sale only lasts 6 days.
April's Amazing Posts
We had a lot of posts this month on essential oils! I'm really enjoying learning more about them, but still haven't tried any. I really do need to enter the world of essential oils. I found this post from Jo's Health Corner on treating seasonal threats with essential oils particularly interesting.
Another, very practical and useful post was from Live, Love, Dew. There are several natural cleaning product recipes that are shared: cleaning scrub, carpet deodorizer, and natural dryer sheets. Definitely worth checking out if you're trying to move towards natural cleaning products like I am!
And last, but certainly not least. A delicious looking recipe from The Auld Grey Mare. We've been dealing with colds running through our house the last few weeks, so I haven't had a chance to make these, but I can't wait to try them out! I invested in a donut pan not long ago and have only tried making donuts twice, but my kids have been so excited each time I've made them. Grain-free, sugar-free donuts but still tasty. This is on my list of treats to make ASAP!
What were some of your favorite posts linked up from the last few weeks?! Looking forward to reading your new ones this week.