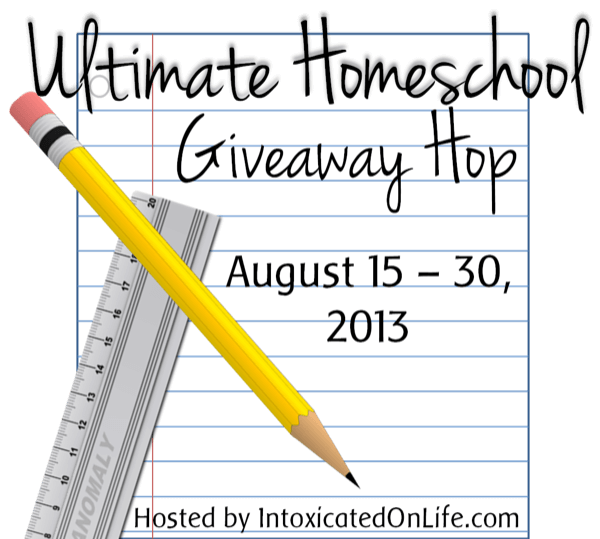 This giveaway is part of the Ultimate Homeschool Giveaway Hop! We are excited to be hosting the grand prize of this giveaway—a bundle worth nearly $1000! 

I have been excitedly organizing this hop for the last two months. I'm thrilled to have so many amazing bloggers participating and fantastic sponsors for this grand prize!
Be sure to visit each of the blogs on the linky below for a chance to win many more amazing homeschool curricula, resources, and accessories.
.
Ultimate Homeschool Giveaway Hop: Grand Prize!
The grand prize for this hop is worth nearly $1000. This package includes art, music, history, science, Bible resources, writing, and more from these fantastic companies: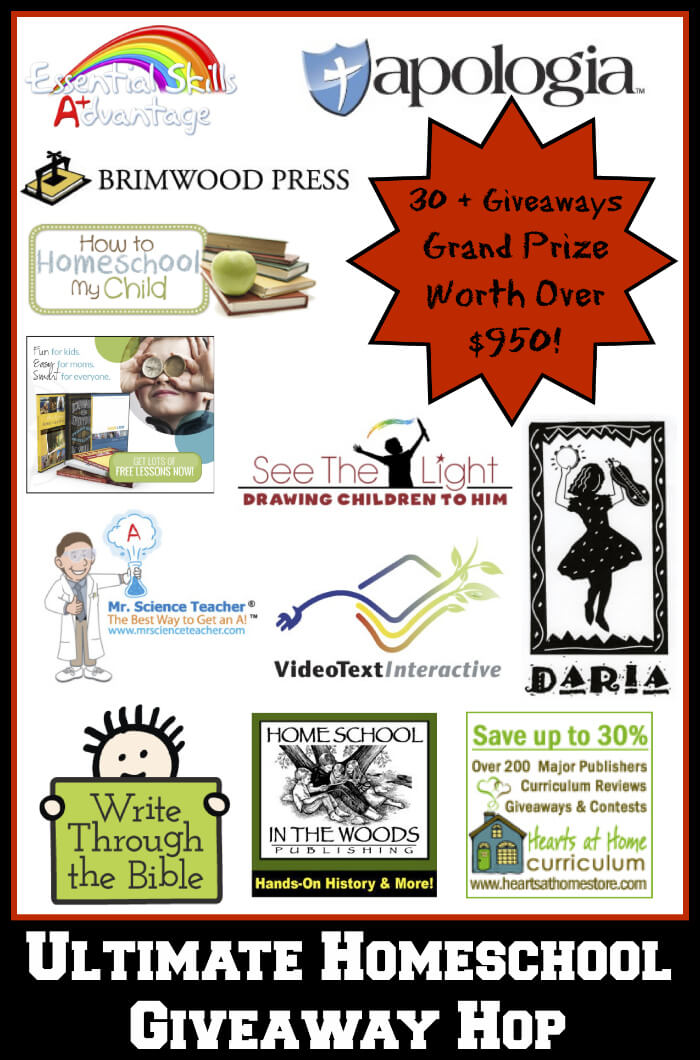 Apologia: Worldview Training

Apologia is probably best known for their Christian elementary and high school science curriculum. But they also have a fabulous Christian apologetics curriculum for elementary students. The winner will receive two years of the What We Believe series including the textbooks, coloring books, audio CDs, and notebooking journals ($200 value).
Essential Skills Advantage: All Access Student Pass
Essential Skills Advantage is a series of online learning programs for kindergarten through 6th grade. They offer learning tools based on leading educational research. Their  programs are designed to be used as an additional resource to help a child build academic confidence and motivation (1 year subscription, $129.99 value).
How to Homeschool My Child: $100 Gift Certificate for Institute for Excellence in Writing Products
How to Homeschool My Child is a fantastic homeschool resource site. They have a plethora of resources for homeschool families: activities, lessons, printables, and even offer some full curriculum from fantastic publishers. One such publisher is the Institute for Excellence in Writing (my personal favorite for training kids how to write). The winner of this giveaway will receive $100 gift certificate towards any Institute for Excellence in Writing resource in their store.
Compass Classroom: Dave Raymond's American History
Compass Cinema produces some of our favorite video curricula! This new history program is no exception. The winner of this giveaway will receive a DVD copy of Dave Raymond's American History ($75 value).
See the Light: 5 Pack DVD's
See the Light teaches Biblical principals through their art programs. They are offering the winner a boxed set of 5 DVDs in their series Bible Stories, which also have related art lessons. These contain a total of 15 step-by-step art lessons plus bonus features ($74.95 value).
Brimwood Press: Western Civilization Study
Brimwood Press is offering this fantastic history bundle that is a perfect way to give your 5th-8th grade students an overview of Western Civilization. Brimwood press is a visually rich and hands-on curriculum ($65 value).
VideoText Interactive: Algebra Readiness
VideoText Interactive is an innovative company that is blazing the trails in math education. Their courses use interactive video-based strategies to teach Algebra and Geometry from start to finish (Algebra: A Complete Course – Module A: Algebra Readiness, $59 value).
Mr. Science Teacher: 2 Tutoring Sessions
Mr. Science Teacher offers high school level live online and video classroom science classes as well as tutoring. The winner will receive two tutoring sessions from Mr. Science Teacher ($59.98 value).
Homeschool in the Woods: Lapbooks
Home School in the Woods features hands-on history learning materials including things like: timelines, lapbooks, maps, and unit studies. The winner of this giveaway will receive three of their downloadable lapbooks: artists, composers, and  20th Century in America ($59.85 value).
Write Through the Bible: Copywork Printables & Bible Study
Write Through the Bible is a series of copywork printables designed for an entire school year, combining the disciplines of handwriting, dictation, vocabulary, and Scripture memory into one daily activity. Prize includes the entire Write Through the Bible collection in manuscript and cursive along with The Heart of Humility: Teaching Your Kids to Put Others First, a family study of Philippians 2:1-18 ($54 Value).
Daria: World Music for Children
Daria is a performer who has traveled the globe to share music that inspires, empowers, and is fun! At Daria's store you'll find CDs, e-books, sheet music, and unique instruments ($50 gift certificate to Daria's store).
Hearts at Home: $50 Gift Certificate
Hearts at Home curriculum store offers a huge variety of curricula from many publishers at affordable prices. The winner of this giveaway will win a $50 gift certificate good towards any curriculum at the Hearts at Home store!