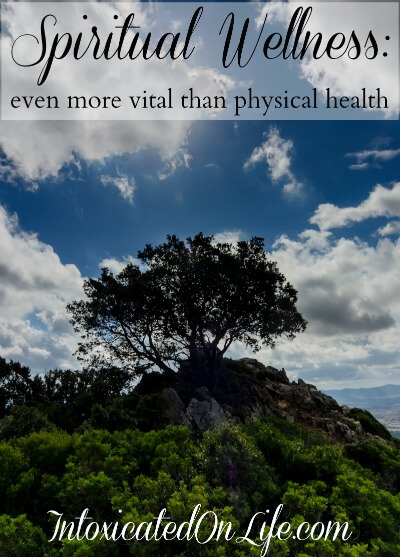 This month, two of my co-hosts and I are focusing on a topic that is a bit more personal, a bit more vulnerable. Spiritual health. It's something that is just as vital to our holistic wellbeing as the food we put in our bodies and the water we drink. Do you put enough thought into your spiritual health? I know I don't put as much thought and time into mine as I should. Hopefully, this month will give us each a chance to refocus on this. Will you accompany me on this wellness goal this month?
Each of my co-host's and I are Christians. We believe that Jesus is the Son of God and the only way to salvation. We each want to share with you this week how we came to this realization. The beginning of our testimony.
How did my journey to knowing Christ begin? I'm lucky He pursued me at a young age. There isn't hardly a day I can remember not knowing Him. I have vague recollections of being at 4-year-old Kindergarten at a Christian school where the teacher talked about our need for God as sinners and the reality of hell. That terrified me. I knew I needed God. I knew I was a sinner. Even at a young age, I was very aware of the dirty sin in my life. 
That evening, I went home and talked to my mom. I remember praying with her. My mom continued through my life to be a source of encouragement and someone I looked up to. I was challenged by numerous people in churches to grow and develop and am still learning even after all of these years. You would think after being a Christian for the majority of my life, I'd have it all figured out. But I don't, and I still screw up. I struggle with my flesh and my desires don't always line up with those of God's. I can so relate to what Paul said in Romans 7:15-25 (ESV):
For I do not understand my own actions. For I do not do what I want, but I do the very thing I hate. Now if I do what I do not want, I agree with the law, that it is good. So now it is no longer I who do it, but sin that dwells within me. For I know that nothing good dwells in me, that is, in my flesh. For I have the desire to do what is right, but not the ability to carry it out. For I do not do the good I want, but the evil I do not want is what I keep on doing. Now if I do what I do not want, it is no longer I who do it, but sin that dwells within me.

So I find it to be a law that when I want to do right, evil lies close at hand. For I delight in the law of God, in my inner being, but I see in my members another law waging war against the law of my mind and making me captive to the law of sin that dwells in my members. Wretched man that I am! Who will deliver me from this body of death?

Thanks be to God through Jesus Christ our Lord!
It is often discouraging to me that I'm still stumbling and falling and don't see the growth I'd like to in my life. But, I am thankful that one day God will deliver me from my body of death and one day I will serve him and worship him perfectly.
Do you know Jesus? If you do, we'd love to hear your stories! If you don't, I pray you'll follow us on our journey and get to know him a bit through our posts this month and learn why He is the only one who will bring true nourishment to you. 
Stop by Raising the Barrs and Richly Rooted and read a bit about their journey to spiritual wellness too.
If this your first time linking up with us, read our Blog Link-Up Guidelines before including your link below.
Be sure to visit my co-hosts for the Wellness Wednesday link up as well!