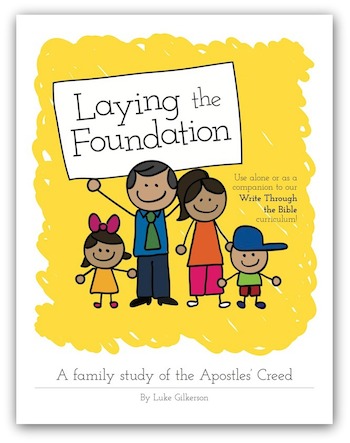 For hundred of years the Apostles' Creed has been the most cherished creed in the church. Going back to the earliest centuries of the church, it was used as a basis for instructing newcomers to the faith.
Now you can introduce your children to the Creed, line by line, in our new family Bible study: Laying the Foundation.
We are giving away this study for free to all of our subscribers for the next three days. Subscribe to our weekly Family & Homeschool Newsletter to download this study. This promotion ends at 11:59pm EST on Saturday, July 19.
Give us your name and e-mail and you'll be directed to a page with all our freebies, including this one. Already a subscriber? Enter your e-mail below to confirm.
Quotes About the Apostles' Creed
"Receive, my children, the Rule of Faith…write it in your heart, and say it daily to yourselves; before you sleep, before you go forth, arm yourself with your Creed." – St. Augustine
"The foundation of true religion stands upon the oracles of God…a beautiful summary of which we have in that which is called the Apostles' Creed." – John Wesley
"Christian truth could not possibly be put into a shorter and clearer statement." – Martin Luther
About the Study
This study includes 30 devotionals, each one about 10 minutes in length. Each devotional starts with an opening thought, then a Scripture reading, an explanation, and then thought-provoking questions to ask your children. Each devotional also ends with a Scripture-based prayer.
More Info About the Apostles' Creed
Complementary Handwriting Workbooks
Our Apostles' Creed Family Bundle includes the Bible study as well as two handwriting workbooks (cursive and manuscript) and flashcards to aid in the memory of the Apostles' Creed.
You can buy the workbooks in our store.