I used to love long road trips. I loved the adventure of the open road, experiencing new places, and seeing the countryside move by.
Then I had kids.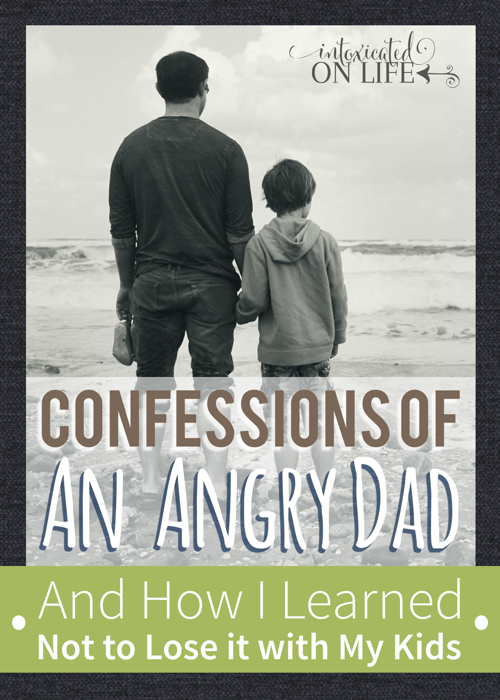 I don't know what it is about getting into the back seat of a van that turns my children into raving lunatics. Every toy or piece of junk suddenly becomes a catalyst for territorialism. Every slightly annoying action is magnified. Suddenly, "touching" becomes a federal crime worthy of being promulgated to the whole universe like a town crier proclaiming a king's edict.
More than once my wife and I have dreamed of owning a limousine so we can have a glass partition between us and the mayhem of the back seat. (Minivan manufacturers, you've been given notice.)
Something also happens to me on these long trips. Every shrill voice from the back seat enters my ears and triggers some nuclear reaction in my brain. My rearview mirror becomes a spy camera. Explosive comments and illogical threats fly from my mouth.
It is at moments like these that I realize just how easily I am given to sinful anger.
Anger's Power Rests in Our Denial
Most people wouldn't peg me for an angry person. For the most part, in public settings I'm jovial, light-hearted, and extroverted.
But at home, under the right conditions, I'm a different person.
If anger is your besetting sin, maybe you can identify with this. You find yourself at your wit's end, shouting some sharp and venomous comment at your kids when suddenly the phone rings, and immediately your tone changes to your best secretary voice. Why? Because at its core, sinful anger is a cowardly emotion. It only rears its ugly head when it believes it is safe to come out and play.
Sadly, behind closed doors, the people I love the most are the ones I protect from my anger the least.
For years, my sinful anger has hid behind a host of other words:
"I'm not angry. I'm just frustrated."
"I'm just really upset because ______."
"______ made me angry."
"I'm just having a bad day."
"______ just gets on my nerves."
"______ just knows how to push my buttons."
"You know I didn't mean it like that."
This is not how the Bible treats sinful anger. While other words do a good job describing the emotion of anger—annoyed, irritated, frustrated—they fail to take ownership of the problem. Anger is not just something we feel; anger is something we do.
The good person out of the good treasure of his heart produces good, and the evil person out of his evil treasure produces evil, for out of the abundance of the heart his mouth speaks (Luke 6:45).
Sinful anger doesn't arise from having a bad day; it arises from a bad heart.
The degree to which we relabel our anger as something less than sinful is the degree to which anger will master us.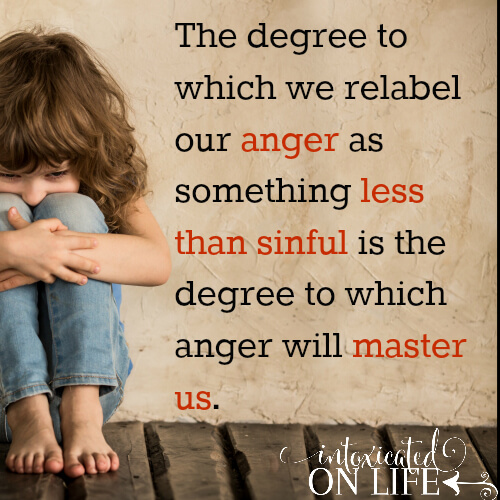 Parents, We Must Master Anger
One day long ago, Cain, the first human being ever born, was seething in anger against his brother Abel. God spoke tenderly to Cain, "Sin is crouching at the door. Its desire is for you, but you must rule over it" (Genesis 4:7b). In the end, Cain's sinful anger ruled over him, leading to the murder of Abel, and because of this Cain paid a high price throughout his life.
Likewise, as parents we pay a high price for our anger.
Through our sinful anger, the devil gains a foothold in our homes (Eph. 4:26-27).
Through our hot-headed discipline tactics, we work against the righteous character formation we want for our kids (James 1:19-20).
In our anger we stir up anger all around us in our spouses and children (Prov. 15:1).
When we trouble our own house with our anger, we do not leave a legacy of joy; we inherit nothing but wind (Prov. 11:29).
The good new is this: If God has convicted you of your anger, it is not to shame or crush you; it is to change you. God intends to make your anger more like His (Ex. 34:6; Ps. 7:11; Jer. 23:20): getting angry at only the right things, in the right manner, with the right motive, bringing about the right effects.
Losing It: A Christian Parent's Guide to Overcoming Anger
If you are looking for a short, practical, Biblical guide to dealing with sinful anger I invite you to download Losing It: A Christian Parent's Guide to Overcoming Anger.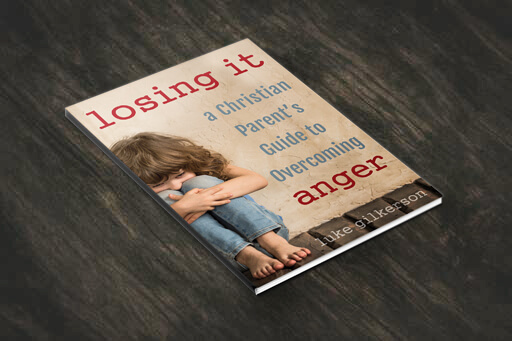 Losing It takes readers on a deeper journey than simply anger management techniques. Breaking the grip of anger is not primarily about behavior modification but about repenting of often hidden desires of the heart that rule us—and running to the living God who alone can satisfy us.
As parents we long to be the driving force of joy in the home, not a catalyst of fear, discouragement, or exasperation. This book is a primer about beginning that journey.