"...write it in your heart, and say it daily to yourselves; before you sleep, before you go forth, arm yourself with your Creed." – St. Augustine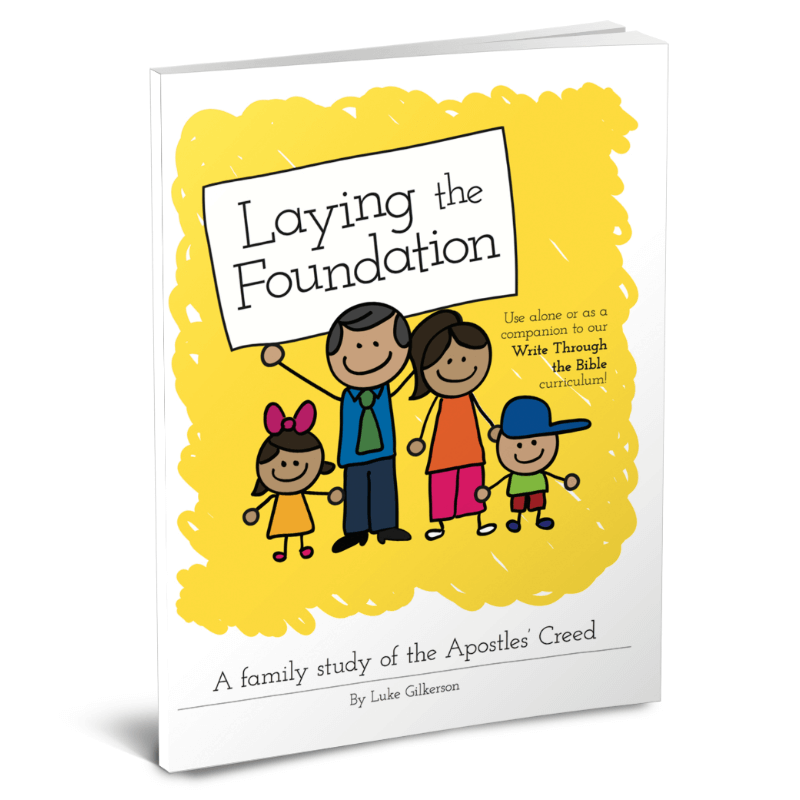 Laying the Foundation is a 30-lesson family devotional that helps children understand, line for line, what the Apostles' Creed is all about. Drawing from a variety of Scriptures, this study equips children with the basics of the Christian faith.
Why the Apostles' Creed?
"Christian truth could not possibly be put into a shorter and clearer statement." – Martin Luther
The Apostles' Creed is possibly the most widely used Christian creed in the world—used by Protestants and Catholics alike. Earliest versions of the Creed date back 1,800 years. For centuries, parents and pastors have taught the Apostles' Creed as "Christianity 101″—and this Bible study helps to continue that tradition.
The Creed states in simple, Scriptural language the essential facts of our faith, from the creation of the world to the coming of Christ to the life we will have in the eternal world to come.
Get Your Copy!
Download a Sample: Get the Introduction and Lesson 10 for free!
What others are saying about Laying the Foundation

Luke Gilkerson's family bible study on the Apostle's Creed connects contemporary kids with the most important classical formulation of orthodox Christian faith. Each study begins with a simple illustration, grounds it in a relevant Scripture, and then unfolds a simple element of the Creed in a straightforward way for children to understand. It is accessible without being shallow, with a welcome focus on engaging your kids conversationally. Complete with a helpful introduction highlighting the benefits of creeds for us today and a user friendly set of instructions, this family devotional guide offers an excellent way to nurture your children in the faith. Don't be surprised if it encourages and enriches your own faith as well!

– Alasdair Groves, the Director of Counseling at CCEF New England

Christianity is relational, but it is also doctrinal. If we don't teach our children doctrine, then they will easily be seduced to believe lies (Ephesians 4:14). Luke Gilkerson's catechism of the Apostles' Creed is an invaluable resource that parents everywhere should use to ground their children in the foundational truths of our Christian faith. As a father of six who desires to faithfully raise-up his children to know and love God (Psalm 78:5-7), thank you!

– Pastor Bobby Scott, Community of Faith Bible Church, South Gate, CA

My family goes to a church that recites the Apostle's Creed every Sunday. Growing up, I rebelled against traditions like this thinking they were rote and lacking in emotion. Now I know I just didn't understand the rich depth of meaning in these words, and I'm happy to have the opportunity to create a different experience for my boys. I'm thrilled to recommend the Gilkerson's study of the Apostle's Creed. My sons, ages 7 and 9, have just given their lives to Christ, and it's a perfect way to come alongside them in our home, strengthening the depth of their understanding about what they believe. The chapters are short, and packed with meaning perfect for a child of any age (or his mama who needs the constant reminder of truth as much as she needs air).

– Brooke McGlothlin, co-founder of The MOB Society
Memorizing the Apostles' Creed as a family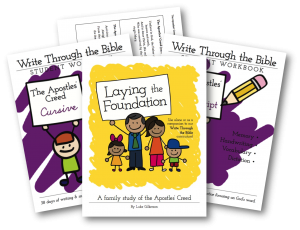 St. Augustine taught, "This is the Creed which you are to rehearse and to repeat in answer…that every person may be able to say, able to hold, what he believes." He said the Apostles' Creed is a very concise statement that gathers many Scriptural statements together so it can be easily memorized.
To help your kids memorize, consider also getting our Apostles' Creed handwriting workbooks (available in cursive and print). These help your children practice their handwriting skills as they memorize the text.
Get Your Copy!
Download a Sample: Get the Introduction and Lesson 10 for free!