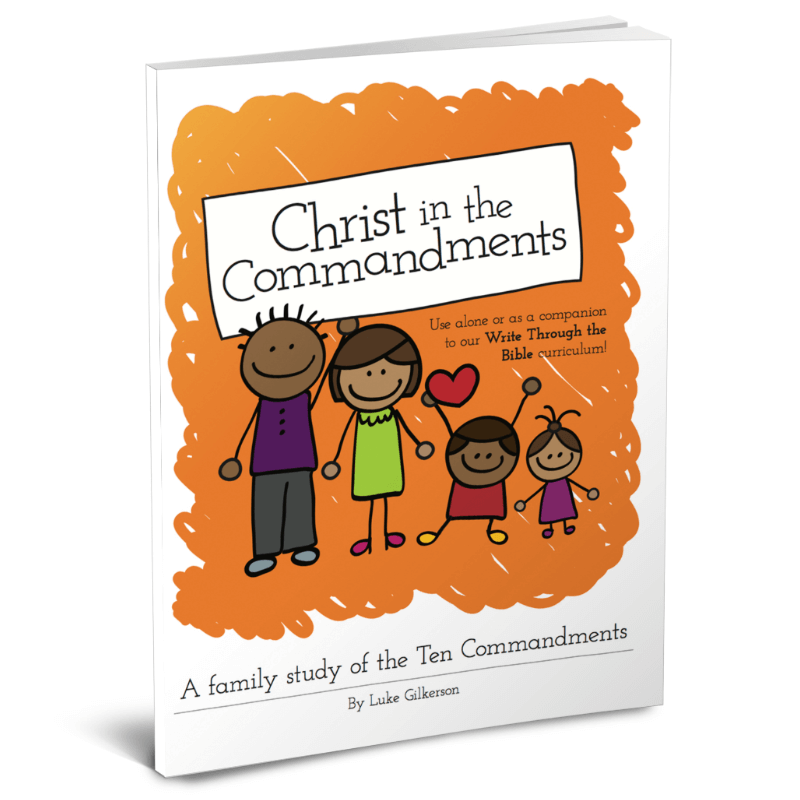 Christ in the Commandments is a 30-lesson family devotional that helps your children understand how the Ten Commandments serve both as a mirror of our own sinfulness and a window into the person of Christ. Focusing on Exodus 20:1-21, the study unearths how the Commandments apply to every-day life. Most importantly, the study focuses on how the commandments point to the person and character of Christ.
How do Use This Study
There are a few ways you could use this family devotional.
You could spend 30 days in a row, working through one lesson each day. This will immerse your children in the passage.
You could spend 30 weeks doing one lesson each week. You might choose to do this over the duration of one school year.
Or perhaps you can do both approaches. Spend 30 days going through this study to acquaint your family with the text, then use the Bible study weekly throughout the year to study this Scripture at a slower pace and reinforce the lessons that were already covered once.
See a Sample Lesson
What Others are Saying About Christ in the Commandments

I absolutely love how engaging it is for the whole family. It keeps the attention of a six and three year old, so I can only imagine how great it would be with older kids.

– Sherry at This House of Joy

All I can say is WOW!… We take turns reading the passages, the study guide, and looking at each other in amazement as Addie answers questions in ways that we would never have imagined.

– Suzette at The Joy of Homemaking

This is such a wonderful way to help plant a desire for worship of the Lord in the hearts of our children…If you've had questions about how to effectively teach the importance of the Ten Commandments to your family without de-emphasizing God's new covenant of grace, this study might be just what you are seeking!

– Allison at Schumm Explosion
Memorizing the 1o Commandments as a Family
Make it a goal to memorize the 10 Commandments as a family while you study them together. It takes less than 2 minutes to say aloud but is foundational for understand God's moral law. When you combine both Bible study with Bible memory, this can enhance the experience for the whole family.
Get the Complementary Handwriting Guides
To reinforce Bible memory, use handwriting practice to rehearse the passage. You can buy a printable Write Through the Bible handwriting workbook. The Ten Commandments workbook is available in both manuscript and cursive fonts, as well as in ESV and KJV, and lasts an entire school year. Using handwriting worksheets not only helps your child good handwriting skills, it also uses multiple senses to help reinforce the memory and learning of the passage.
Buy the Devotional