The longer I'm a parent, the more I realize that Christian parenting isn't at all about me. I suppose the sleep deprivation during infancy probably should've clued me in a long time ago.
My kids aren't really mine, after all. From the moment of their conception they belong to God. He just loans them to me for a little while because He wants me to partner with Him in developing them into devoted God-worshipers and Christ-followers. (Deuteronomy 6:4-9, Malachi 2:15).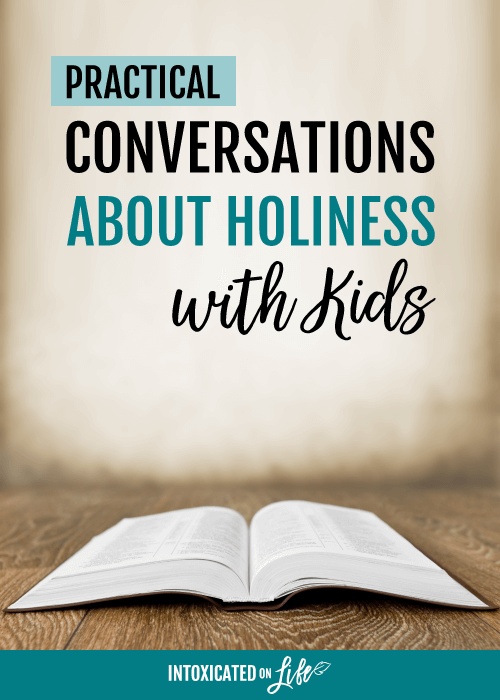 Diligent parents recognize that this development requires training. We know from our own experience that learning to faithfully worship God and follow Christ is a lifelong venture. But the training must start somewhere, and generally speaking the earlier, the better.
One area in which our children desperately need this kind of training is holiness.
Understanding Holiness
I grew up learning that "holiness" means without sin, which is true but not as accurate as it could be. In Scripture, "holy" actually refers to being set apart or sacred. There is a component of purity, as well, but the purity is a byproduct of being set apart and unlike any other.
Here's a simple way to illustrate this concept to your children:
Pour about 1/2 cup of water into a glass.
Add a few drops of food coloring.
Pour about 1/2 cup of vegetable oil into the same glass.
Observe how the vegetable oil does not mix with the water and does not absorb the food coloring.
Just as the vegetable oil remains untainted by the food coloring because of its separation from the water, so God remains untainted by sin because He is holy or set apart. In the same way, Christians are to be set apart from the world and free from sin. (I Peter 1:14-16)
That's a tall order, right? You might be thinking, "Kids will be kids." And I admit that it's pretty unhelpful for everyone involved when we expect our children to be perfect.
But there's a big difference between childish behavior and sin. While typical childishness like rowdiness, carelessness, and forgetfulness are often resolved with maturity, sinful behaviors left undisciplined will only increase as our kids grow.
Sweat the Small Stuff
As I've considered my parenting journey, there are four sinful behaviors that I have been tempted at times to overlook or excuse, thereby neglecting valuable opportunities to train my children in holiness:
1. Disobedience
If you love me, you will keep my commandments. (John 14:15)
One of the greatest discoveries of my early parenting days is that it is an act of love to train my children to obey in the same way God will expect them to obey for the rest of their lives.
The Lord wants to bless our children in their lives, but His richest blessings are contingent on obedience. This means obeying in big things and small, obeying right away, and obeying with a good attitude.
2. Disrespect
Love one another with brotherly affection. Outdo one another in showing honor. (Romans 12:10)
Showing honor begins with God, then extends to parents, siblings, friends, and others. An added layer of this kind of respect is the concept that honoring people also includes honoring their possessions. In short, being respectful toward adults and kids alike is a basic way to love our neighbors as ourselves. (Matthew 22:37-39)
3. Dishonesty
Do not lie to one another, seeing that you have put off the old self with its practices and have put on the new self, which is being renewed in knowledge after the image of its creator. (Colossians 3:9-10)
The concept of "little white lies" is not a biblical one. God hates lying lips (Proverbs 12:22), and no where does He differentiate between degrees of lies or even the motives behind them.
When we suspect that our kids aren't being truthful, it's wise to probe more deeply to get to the bottom of the story, because a child who gets away with lying will quickly learn to continue that behavior when it seems advantageous.
4. Discord
I therefore, a prisoner for the Lord, urge you to walk in a manner worthy of the calling to which you have been called, with all humility and gentleness, with patience, bearing with one another in love, eager to maintain the unity of the Spirit in the bond of peace. (Ephesians 4:1-3)
The root of discord is selfishness, which is the unholy opposite of the love God demonstrates. When kids are frequently at odds with each other and parents don't intervene, they fail to reap the benefits of holiness demonstrated through peace, love, and selflessness.
Talk About It
Intentional parents have purposeful conversations with their kids practically all the time, and with little extra effort, many of these chats can be framed in the context of holiness. Helping our children mature in such an important biblical concept makes the effort more than worthwhile.
Tell us what you think! Do you believe it's important for Christian parents to train their children in holiness? How have you approached this subject in your family?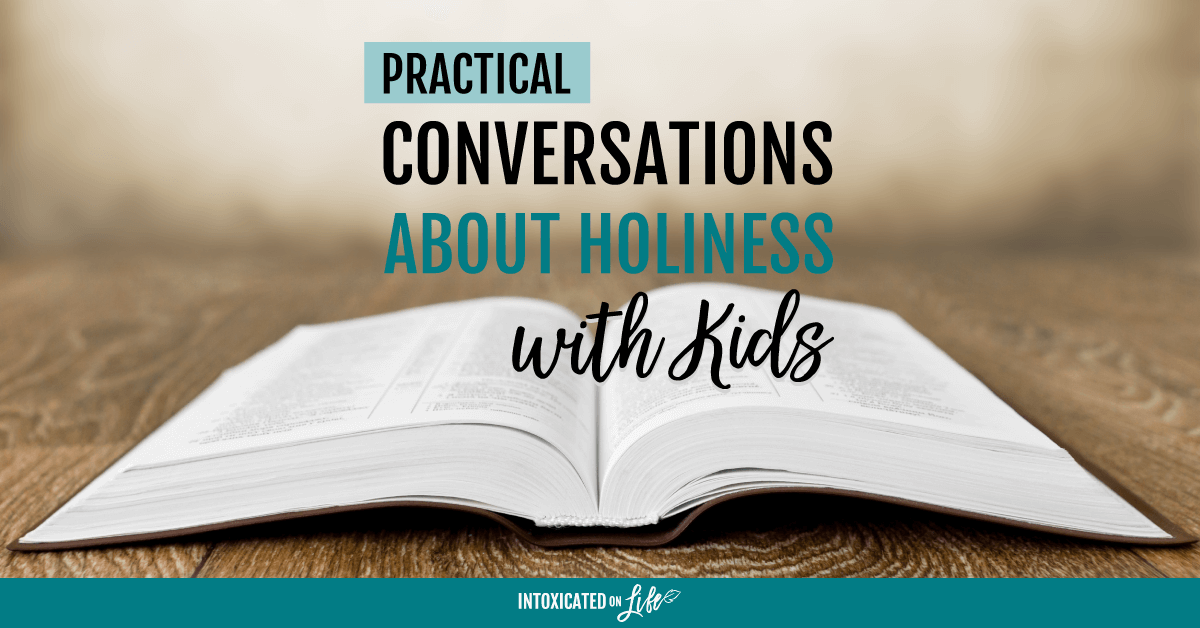 Sharing at The Modest Mom Blog, Raising Homemakers, Pam's Party & Practical Tips, and Crafty Moms Share.