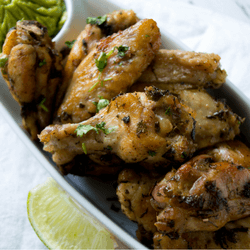 Fiesta Cilantro Lime Wings
Easy and delicious, these wings will delight the whole family!
Ingredients
1 ½ pounds of wingettes
1 tablespoon of lime juice
1 tablespoon of olive oil
¼ cup of cilantro
½ teaspoon of oregano
1 teaspoon of salt
½ teaspoon of black pepper
¼ teaspoon of cumin
½ teaspoon of garlic powder
Instructions
Preheat oven to 400 degrees Fahrenheit.
In a large bowl, mix all ingredients except the chicken wings.
Add the wings and toss until they are completely coated with the marinade.
Place chicken on a baking pan.
Cook for 45 minutes, or until desired level of crunchiness is achieved.
Top with additional cilantro if desired, serve.
Recipe by Intoxicated On Life at https://www.intoxicatedonlife.com/fiesta-cilantro-lime-wings/