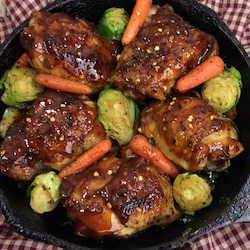 Sweet Fire Skillet Dinner
Ingredients
4 chicken thighs, boneless and skinless
2 cups Brussels sprouts
2 cups Baby carrots
3 tbsp. Honey (we use Pyure honey alternative for low sugar option) http://a.co/7kV2M4X
1/4 cup Ketchup (we use no-sugar-added ketchup)
1.4 cup Coconut Aminos http://a.co/1MU2jKT
2 tbsp. Crushed red peppers
Sea salt
Olive oil
Instructions
Pour a tablespoon of avocado oil, or your favorite cooking oil in a cast iron skillet.
Pour the soy sauce, ketchup, and honey into a bowl and 2 tablespoons of crushed red pepper and combine.
Place the cast iron skillet on a medium- high burner, add the thighs and begin to cook it. Watch the thighs and turn as each piece cooks.
Cook 5-8 minutes on each side. Remove the thighs.
Slowly add the prepared veggies. Sautee them and season them with sea salt.
Dip each chicken thigh into the sauce and make sure to cover each side.
Return the thighs to the skillet to warm.
Reduce the heat to medium and let simmer for 10 minutes.
Serve!
Recipe by Intoxicated On Life at https://www.intoxicatedonlife.com/mouthwatering-sweet-fire-skillet-dinner/