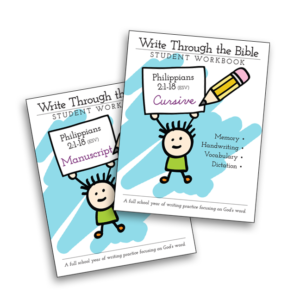 Write Through the Bible is a series of copywork printables designed for an entire school year, combining the disciplines of handwriting, dictation, vocabulary, and Scripture memory into one daily activity.
Check out all the Bible copywork printables.
.
How Can You Use Write Through the Bible?
See how Write Through the Bible works. Look at samples of our cursive or manuscript books.
Handwriting Practice
Bible Memorization
Vocabulary
Dictation
Christian parents who want their children to memorize Scripture can use Write Through the Bible as a way to reinforce the memorization of key passages of the Bible. As a child uses multiple senses to internalize Scripture—eyes, ears, hands, and mouth—the Word of God is more firmly planted in the heart.
Plus, these copywork printables help give a child daily practice in handwriting, reinforcing letter and word spacing, as well as punctuation and capitalization.
.
Free! The Lord's Prayer Workbook
Download our Lord's Prayer mini-books FREE when you subscribe to our Homeschool and Family Newsletter. These mini handwriting workbooks provide 18 days of copywork printables. The text is from Matthew 6:9b-13 (the Lord's Prayer).
Our full-year copywork workbooks are available for only $6.99 in our store.
.
Now Available in Print on Amazon!
You can now find our Write Through the Bible workbooks on Amazon (and most of our other books too).
.
Copywork Printables Available
. 
How to Use Write Through the Bible
Here is how the program works:
3 days are spent copying the new verse.
1-2 days are spent on vocabulary.
1 day is spent on dictation.
Several days are spent reviewing several of the prior verses.
The process repeats until the child has completed the entire workbook.
See the video below for an explanation of how Write Through the Bible works. This displays the Philippians edition of Write Through the Bible.
Family Bible Studies to go with the Workbooks
We have a several family Bible studies to work hand-in-hand with some of our Write Through the Bible curriculum.