Using this system makes memorizing longer passages of scripture verses, speeches, poetry—or anything you can think of—very easy. I've seen it work for my own kids, and I know it can work for yours too!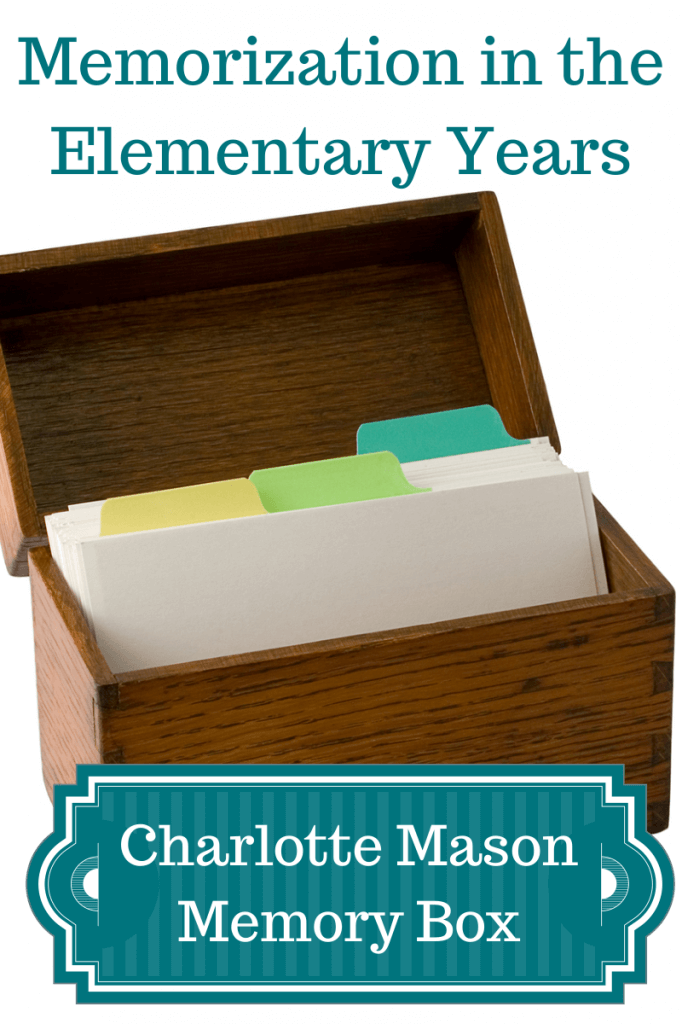 What are these printables?
This set of printables contains the dividers you'll need to make a Charlotte Mason-style memory box. You do not have to use all of the tabs included. In fact, our family doesn't use all of these, but I wanted to include them for those who want them all. The dividers included are:
A daily divider
Odd & even day dividers
Weekly dividers (Sunday-Saturday)
Monthly dividers: numbered 1-30
How do I prepare my memory box?
1. Get your supplies. You'll need an index card box (these printables are designed for a regular 3×4″ index card box). You'll also need cardstock for printing out these pages, scissors for cutting your dividers, and tape for reinforcing the tabs.
2. Determine what days you'll use your memory box. Will you make this part of your evening routine and use them every day? Will you use them only on days you do school (if you homeschool)? You only need to cut out and prepare the dividers you'll be using.
3. Prepare your dividers. Print out the sheets you'll be using on cardstock. I highly advise reinforcing the "tab" part of the dividers with scotch tape so they don't rip off in the first few weeks of using them (or after being handled by little fingers).
4. Prepare your note cards. What do you want your kids to memorize? The possibilities are endless: bible verses, poetry, famous speeches, math facts, vocabulary words (English or a foreign language), address, phone numbers—the list goes on and on!
How do I use the memory box?
That's up to you! Seriously. You can do what you want and customize it the way that works best for your family, but I'll tell you how I use it.
If your kids are closer in age, you could probably get away with using the same memory box. Otherwise make separate memory boxes for each child. (For example, my oldest son has the first 31 questions memorized from the Westminster Shorter Catechism and I'd like to start my second born at the beginning. They'll both have the same new Bible memory verse we're working together on as a family, but my older son has more verses to review than my younger son. For my younger son I'll put Mom and Dad's phone number and our home address on cards for him to learn and probably begin to add some math facts. My oldest son has all of that already memorized.)
I put one one card from each category of things we memorize in the front under the daily tab. Currently we use the box for Bible, catechism, poetry, and occasionally I'll throw in other things I'd like my kids to memorize.
We work on getting the cards under the daily tab memorized really well. When they can go through a card 2-3 days in a row with no helps, I move it to either the odd or even tab.  After this I move a new card one from that same category into the daily slot for us to start working on.
At this point your kids will only be going through the passages on an every other day basis (odd days or even days). After they can do that a couple of weeks with no helps, I move it back into a weekly tab. Again, after they can go through the passage once a week with no helps several times in a row, I then move it back to one of the monthly tabs.
We continue this process of adding new cards and reviewing older ones. It's been a great system for us. It helps us stay on track with new memory work. At the same time, this gives us a method for systematically reviewing information on a decreasing schedule.
Cards for Your Box
Below are some cards to get you started filling your box.
Cards for Write Through the Bible Books:
Isaiah 52:13-53:12 – ESV and KJV
Philippians 2:1-18 – ESV and KJV
Psalms 1, 23, & 121 – ESV and KJV
Other Passages
Verses About Anxiety – ESV and KJV
Verses About Anger – ESV and KJV
Verses About the Gospel – ESV and KJV
Verses About Patience – ESV and KJV