When it comes to the matter of teaching kids about sex, Christian parents are often confused about what to say and when to say it. The Talk is a series of 7 studies, all anchored in the Scriptures, that helps parents to talk meaningfully with children about sexuality.
What information is included in this study?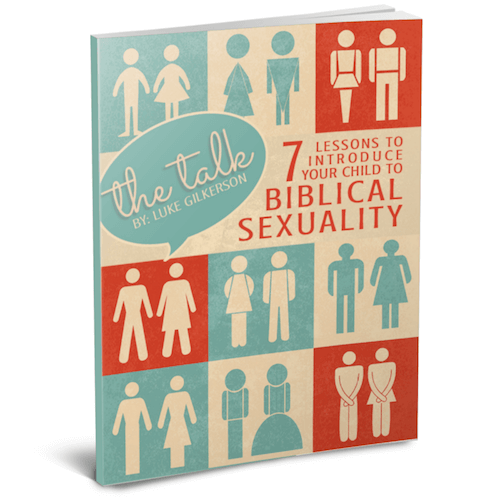 Each lesson takes about 10-15 minutes to complete.
Lesson 1 deals with the differences between male and female (Genesis 1:24-27), giving children a simple understanding of their own bodies and the
differences between male and female sexual organs. (Line drawings of internal male and female anatomy are included.)
Lesson 2 discusses God's command for the human race to multiply (Genesis 1:28-31), giving children a basic understanding of sexual intercourse and how babies are conceived. (Line drawing of sperm and egg is included.)
Lesson 3 addresses the development of human life in the womb (Psalm 139:13-18), giving children a picture of the wonder of how babies grow and are born. (Line drawings of fertilization, implantation, and a baby's growth in the womb are included.)
Lesson 4 deals with the intimacy that is created through sex (Genesis 2:18-25), giving children an understanding of the goodness of sex in marriage and how it creates a strong bond between a man and a woman.
Lesson 5 discusses the sin of adultery (Exodus 20:1-2, 12-17), giving children a biblical understanding of why it is wrong.
Lesson 6 addresses the difficult subject of rape and sexual abuse (2 Samuel 13:1-2, 16-14), reminding children of the importance of talking to their parents about anyone who touches them in an inappropriate manner.
Lesson 7 deals with the importance of honoring God with one's body because God has bought us with a price (1 Corinthians 6:18-20).
Purchase The Talk in paperback or download the digital version.
The Talk: 7 Lessons to Introduce Your Child to Biblical Sexuality

 is currently available in our 

store in digital or paperback

.

What People Are Saying about "The Talk"

"It's a simple, user-friend guide to teaching your kids about a healthy view of biblical sexuality. Parents: Don't waste time. Get a copy of Luke's bible study and start teaching your kids today!" – Deepak Reju, Pastor of Biblical Counseling and Families, Capitol Hill Baptist Church, Washington, D.C.

"Luke Gilkerson has served parents well by providing content for seven conversations about sex and sexuality between parents and their children. Parents, please take the time to read this material to help you take the step of talking to your children." – Brad Hambrick, Pastor of Counseling, The Summit Church, Durham, NC

"If you want to be one of those parents who boldly steps up to the plate to educate your children about one of the most precious gifts God has granted human beings, Luke Gilkerson has made your task oh-so-easy with this step-by-step guide!" – Shannon Ethridge, Best-selling author of the Every Woman's Battle series
What ages of children would benefit from this study?
The Talk was written for parents to read with children ages 6 to 10 years old. The study supplies elementary-age children with foundational truths about sexuality at a level they can understand.
This is only a guideline, of course. Are there 5-year-olds who can have an in-depth conversation with parents about sex? Yes. Should every child go through this study at 6 or 7 years old? No. Could a child of 11 or 12 who has never been taught this information benefit from this study. Yes.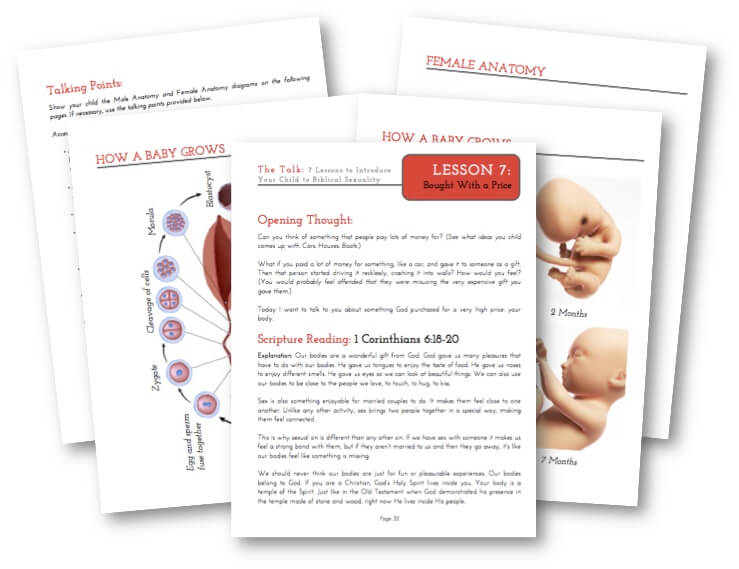 Purchase The Talk in paperback or download the digital version.
The Talk: 7 Lessons to Introduce Your Child to Biblical Sexuality is currently available in our store in digital and paperback.

.


"What a courageously vulnerable study—for the parents willing to engage their children, and for Luke creating such a relevant resource on this controversial topic. Luke's writing is clear, developmentally sound, and biblical. The Church needs more studies like this—helping parents lead their children to be in the world but not of it." – Heather Nelson, M.A., NCC, LPCC

"This publication has all the talking points you need.  The introduction for parents alone is worth the read. Using these seven lessons will provide your children with a legacy of value in their present and future relationships." – Ron DeHaas, Founder and CEO of Covenant Eyes

"The most effective way to protect our children from the lies of our over-sexualized culture is by raising our kids to know the truth from their youngest years…Luke's simple, truthful, gentle booklet is the primer for doing just that. Get it, give it, and help restore this pornified world…one fully-equipped life at a time." – Jennie Bishop, Founder of PurityWorks and author of The Princess and the Kiss 

Looking for More Guidance? Check out the course for parents!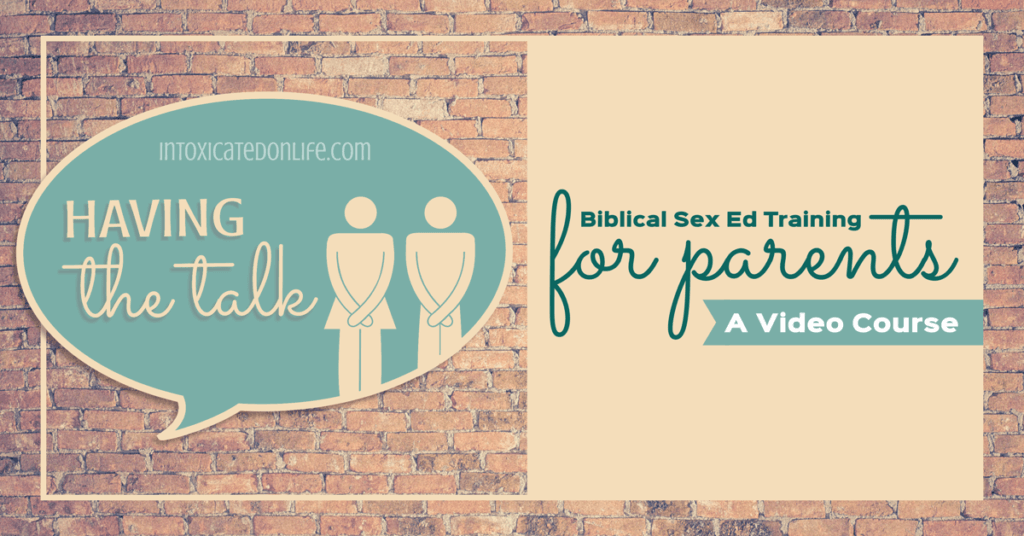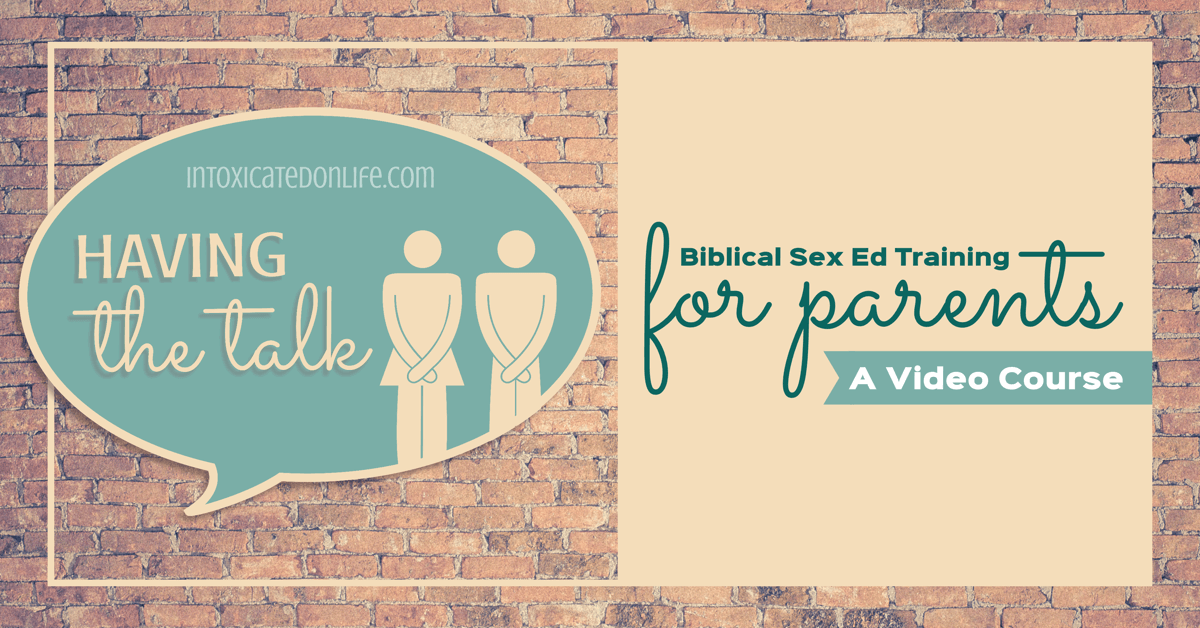 If you're nervous about having the talk with your kids, we'd invite you to check out the eCourse we designed for parents just like you! Included in the course is 8 lessons that will guide you through essential topics you should be discussing with your 6-10 year old kids, along with 3 bonus mini-lessons, and a digital copy of The Talk.
The Talk is the 1st installment in a series of three books for parents to teach children about sexuality.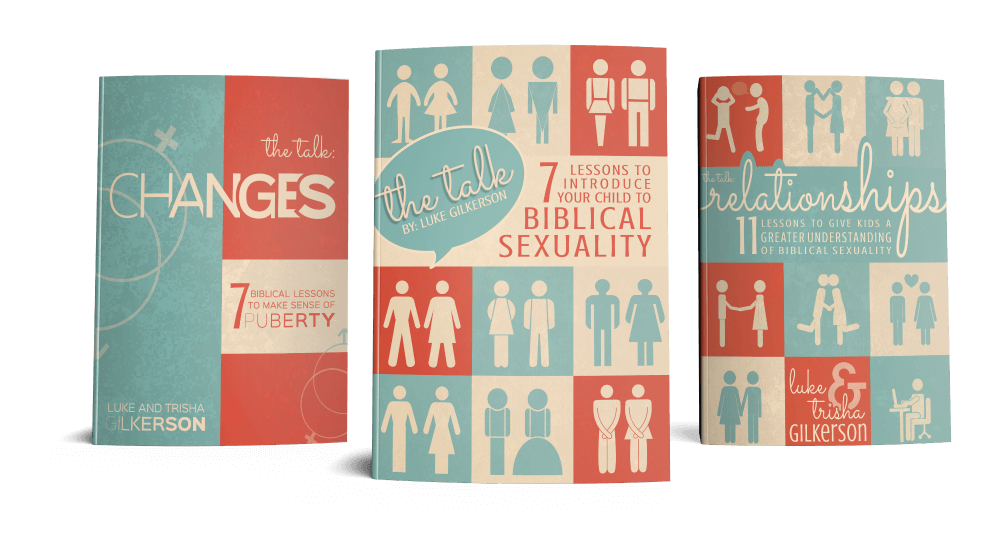 Book 1 – The Talk: 7 Lessons to Introduce Your Child to Biblical Sexuality
Book 2 – Changes: 7 Biblical Lessons to Make Sense of Puberty
Book 3 – Relationships: 7 Lessons to Give Kids a Greater Understanding of Biblical Sexuality
Learn more about all all 3 books here. You can buy them together as a set to save!