3 bean white chicken chili is hands down one of my kids' favorite soups—really, one of their all-time favorite meals! I can always bet on smiles at the table when this soup makes an appearance because it's such a crowd-pleaser in my home!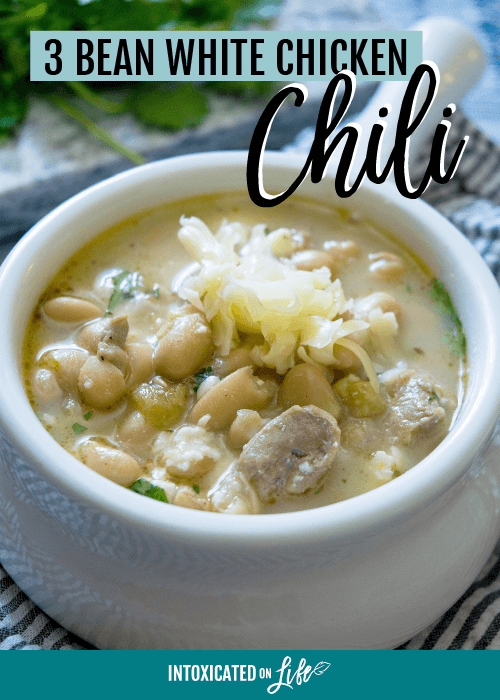 Beans: Dry or Canned?
You'll noticed with this recipe, I've given you the option to use either canned or dried prepared beans. I personally recommend you use dried beans that you've prepared. I know, I know…they're not as convenient as picking up a can of bean at the store (which I'll admit, I've done on occasion to cut corners), but they aren't that hard with a little pre-planning either.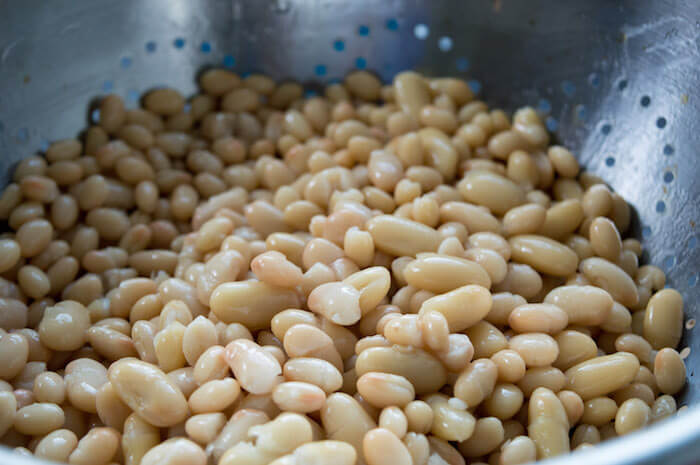 Hear me out…
You'll save big bucks with dried beans. Not that beans are an expensive food, but with all of my growing boys who can eat a lot of food it adds up to quite a bit of savings over the course of the year. Depending on the cost of beans, canned beans cost anywhere from 2-3 times as much as their dry counterparts.
They're better for you. There aren't what I'd call huge nutritional benefits on this one. When you're making your beans at home you'll skip any preservatives that have been added to keep your beans fresh and lots of extra added salt (not that I have a problem with salt…as long as it's real salt). If you just need to cut corners, this is one place you could certainly do it, but they really aren't hard to make!
Dried beans you prepare at home, taste better. They just do. Really folks, there aren't too many pre-cooked and packages that taste better than their home-cooked counterparts.
Here's my (not so original) shortcut for saving time time dried beans…I usually cook up several pounds of beans at one time and then freeze them in quart size freezer bags. This makes beans (nearly) as convenient as the canned beans. Just pull out of the freezer and thaw. Easy peasy!
This recipe it calls for 3 different types of beans: navy beans, great northern, and cannellini. If you don't have any pre-cooked I can see how that might seem terribly inconvenient to cook all 3 different types of beans just for this recipe. If you're doing just enough for just this recipe, you can just prepare them together or just use one type of bean (it won't ruin the recipe…I promise).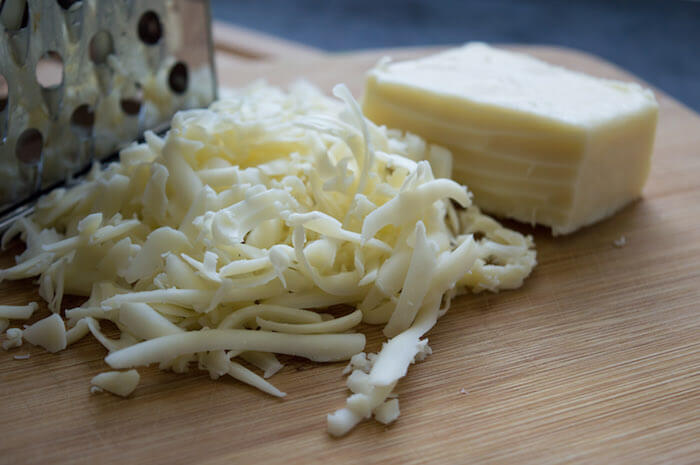 Glucomannan…what's that?
You might notice an ingredient you're not too familiar with in this recipe. It's used to help thicken the soup recipe (we enjoy thicker, heartier soups). Don't have it on hand? No worries—you can use your favorite thickening agent you do have sitting around.
But I like this ingredient for several different reasons. Glucomannan is a dietary fiber derived from the konjac root. And it's one of my new favorite grain-free thickeners. Why? It works well. And it has health benefits!
Because it's super lower calorie but high in fiber, some people find it helps with their weight-loss endeavors as it helps keep them full for longer.
It's a prebiotic food. This means, it helps feed the probiotics (good bacteria) in your gut! All too often we just think about the probiotics, but to maintain good gut flora, we need the prebiotics too.
Glucomannan often helps those who have trouble with regularity. This shouldn't have you running furiously for the bathroom, but it can help keep your bowels moving regularly.
There's quite a bit of evidence suggesting that regularly consuming glucomannan can help with a number of ailments, like high cholesterol, diabetes and insulin resistance, and more. You'd need to check on therapeutic doses if you wanted to pursue these benefits.
Let's get to the 3 bean white chicken chili recipe…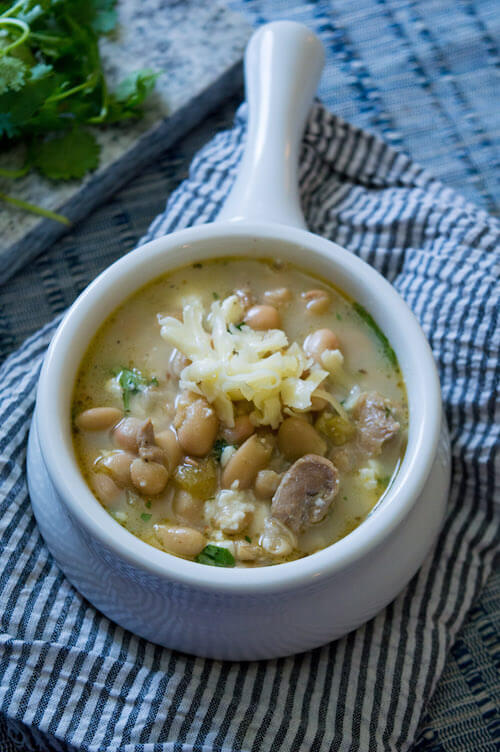 Print
3 Bean White Chicken Chili
This flavorful, hearty white chicken chili is a delicious alternative to the traditional tomato-based version. Your family is sure to love it as much as ours does!
Ingredients
2

tablespoons

coconut oil or lard

3

cups

cubed boneless chicken

I used thighs

1

teaspoon

garlic powder

1

teaspoon

salt

1/2

teaspoon

ground black pepper

1

whole onion

chopped

4

cloves

garlic

minced

8

ounces

green chilies

2 4-ounce cans

6

cups

chicken broth

1

tablespoon

cumin

1

teaspoon

oregano

1/2

teaspoon

salt

or to taste

1/4

teaspoon

white pepper

3/4

cup

great northern beans

4.5 oz prepared dried beans or 1 15-oz can drained and rinsed

3/4

cup

navy beans

4.5 oz prepared dried beans or 1 15-oz can drained and rinsed

3/4

cup

cannellini beans

4.5 oz prepared dried beans or 1 15-oz can drained and rinsed

3/4

cup

heavy cream

1

teaspoon

glucomannan powder

alternatively you can use corn starch, flour, or other thickening agent 
Garnish Options:
Cilantro

Monterey Jack Cheese and/or Queso Fresco

crumbled

Sour cream

Chopped avocado

Finely chopped jalapenos

if you like a little kick!
Instructions
In a bowl, season chicken with garlic powder, 1 teaspoon of salt, 1⁄2 teaspoon of black pepper. Heat oil in a 6 quart dutch over medium high heat. Add chicken and brown slightly. Lower heat to medium, cover, and cook for 20-25 minutes, or until chicken is cooked through. Once chicken is cooked, remove from the pot.

Raise heat to medium high and saute onions for 2 minutes, add in minced garlic and cook an additional 30 seconds. Add chopped chilies, broth, and seasonings. Mix well, add in chicken again. Cook for 30 minutes.

Whisk the glucomannan powder with 2-3 Tablespoons of cold water in a small bowl. Slowly pour into your soup while whisking. The soup should thicken nicely over the next several minutes. If you'd like a thicker soup, use a bit more glucomannan powder (remember, a little goes a long way!)

After the soup has been thickened to your desired consistency, turn the temperature down to medium-low and add the cream and beans. Cook for an additional 10-15 minutes until the beans are cooked through.

Serve and add the garnishes your family most enjoys! 
Nutrition
Calories:
629
kcal
|
Carbohydrates:
33
g
|
Protein:
29
g
|
Fat:
44
g
|
Saturated Fat:
22
g
|
Cholesterol:
171
mg
|
Sodium:
2532
mg
|
Potassium:
895
mg
|
Fiber:
10
g
|
Sugar:
3
g
|
Vitamin A:
762
IU
|
Vitamin C:
35
mg
|
Calcium:
159
mg
|
Iron:
5
mg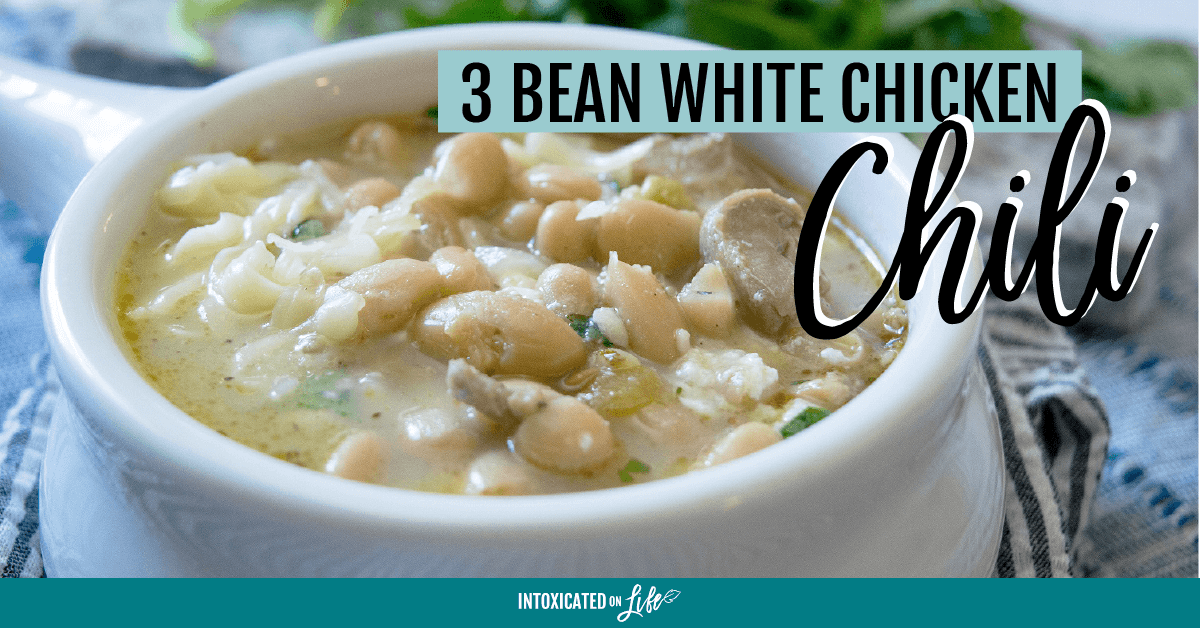 More recipes containing beans for you to try!
Grain-Free Chipotle-Style Burrito Bowl
SaveSave
SaveSaveSaveSaveSaveSave