At the end of a long day, a hot bath is one of my favorite ways to take care of myself. This DIY relaxing bath salt recipe will help you do the same!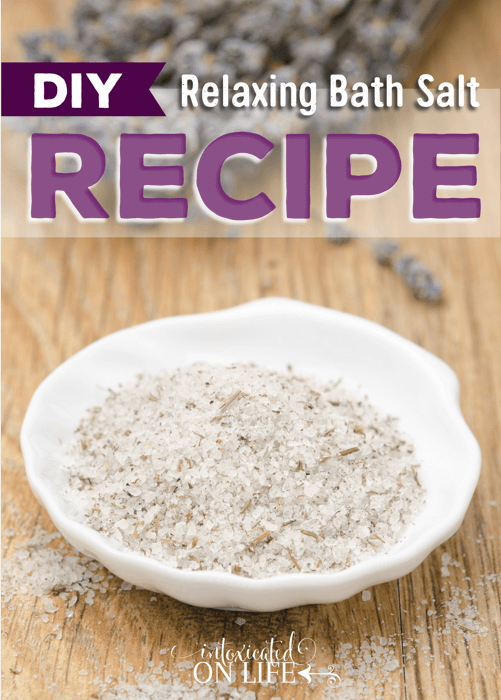 "Mama, look at me!" 
"Hey mama, where is my coat?" 
"Have you seen the red tape measure?" 
My family is awesome. I love them to pieces. They talk a lot though and while I love the chatter, the questions and the giggles, some days are mama sensory overload.
When I start to feel heavily burdened or annoyed over silly things, I know it's time to step back and take a look at things.   Those feelings usually come when we've been busy. Whether it's a good busy or not, I find that it's time for me to take care of myself.
Let me say something and I want you to hear it, self care is not selfish.
Did you hear that? Let me say it again, self care is not selfish! 
Take care of yourself so you can take care of your family.
Mama, you have a full load. You are responsible for some precious cargo. While this is a wonderful job and they will be grown before you know it, it still takes its toll. When you are on a job 24-7 it is important to take some time out of the hours to take care of you.
If you are worn down, it's difficult to keep life going. You need to be physically, spiritually and mentally taken care of. It doesn't have to be elaborate or expensive, but you need to take some time to center yourself each day.
I promise, just 20 minutes of putting your feet up can do a world of good (it's also great for your adrenal glands).
My favorite way to unwind at the end of the day is to take a bath. I often bring a book in with me, a good one that isn't going to tax my mind anymore. Then I fill the tub with soap, essential oils and bath salts. I literally feel the tension melt away.
This is my time and it helps me be a better mom and wife. Don't rob yourself of doing something for yourself to help you keep centered. You and your family are worth it!
DIY Relaxing Bath Salt Recipe: One of my favorite ways to relax!
I want to share with you my favorite bath salt recipe! I like to make a jar of this so I can just shake it in the tub and I am good to go!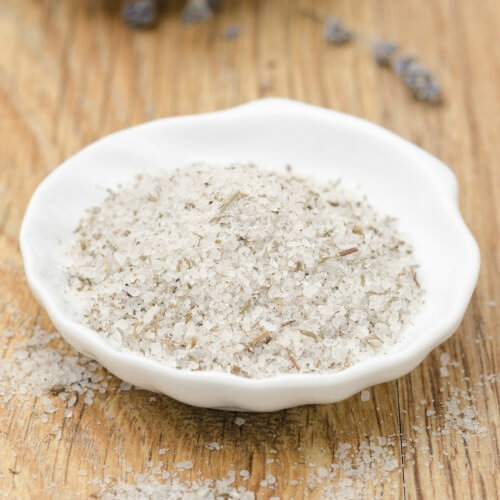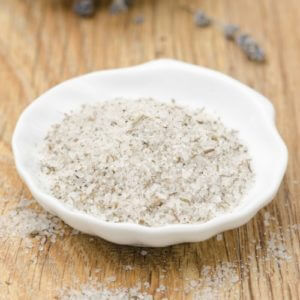 Print
DIY Relaxing Bath Salt Recipe
To help you relax and unwind after a busy, stressful day, take a hot bath using bath salts you made yourself! This DIY Relaxing Bath Salt recipe is easy and smells amazing.
Ingredients
2

cups

Epsom salts

1/4

cup

carrier oil

such as almond, avocado, or grapeseed

1/8

cup

baking soda

1/8

cup

dried lavender flowers


optional

30

drops

lavender essential oil

Instructions
Mix the carrier oil and essential oil in a bowl.

Add the Epsom salts and baking soda and whisk the oil into the soda and salts

Add the lavender flowers and stir.

Store in a quart jar and add 1/4 cup into your bath water.

Make sure you thoroughly rinse out your tub after your bath because the oil will make it slippery. Use caution getting in and out of the tub, too!

This recipe is wonderful because the Epsom salts are great for sore, tense muscles, plus the magnesium helps for a good night's sleep. Lavender is known to be relaxing so it also helps to ease the tension of your mind.
The oil makes for nice silky skin too!
What are your favorite ways to take care of yourself during your busy days?
Free Download: Mom's Essential Oil Cheat Sheet
Would you like a resource to help you learn to use essential oils with your family? Download this free 3-page printable:
Basic guidelines for using essential oils around kids
A list of safe, kid-friendly oils essential oils
Helpful essential oil recipes
Click the link or image below to download the 3-page Mom's Essential Oil Cheat Sheet. I'll follow it up with more resources and free printables to help you on your essential oil journey. Grab your copy now!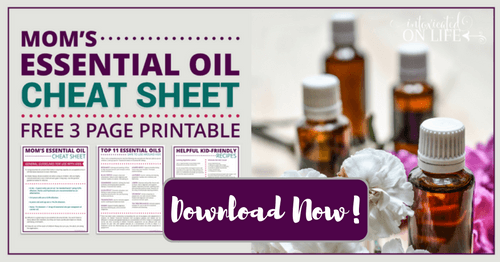 *FDA disclaimer: "These statements have not been evaluated by the Food and Drug Administration. This product is not intended to diagnose, treat, cure, or prevent disease."