These grain-free, sugar-free Banana Nut Butter Donuts are a simple, tasty start to any day. Sweetened only with fruit, they're perfect for breakfast, or add a little honey-sweetened icing and serve them for dessert! (Or you could still eat them for breakfast.)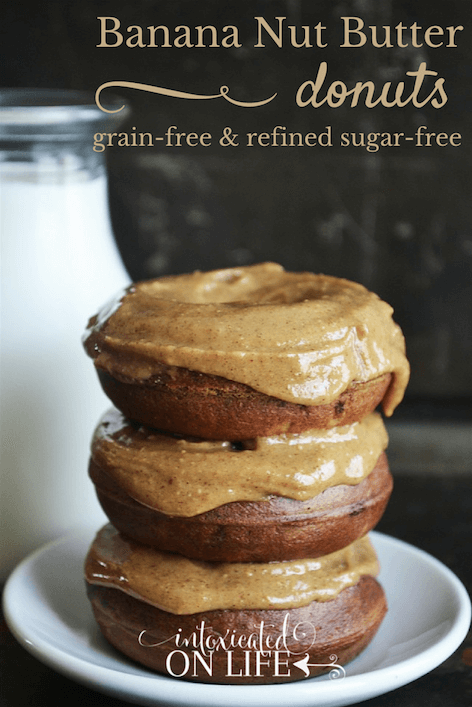 Somewhere in my imagination I have this idea that life should be lived slowly, mornings should be taken easily, and breakfast should not be rushed. Rather, we should eat at a relaxed pace after being awake for about an hour and having consumed a glass of water or hot tea.
But who am I kidding? My toddler never agrees with these ideas of mine.
Life is fast and loud, with lots of bouncing and drama. Mornings are abrupt ends to nights that didn't last long enough, being announced by my already-bouncing-off-the-wall-at-5:30-AM 2-year old. And breakfast should be ready as soon as said 2-year-old is awake. On the table and ready to be consumed with great haste, because the day's already wasting away.
After all, there are chickens to be chased, random papers stolen from older siblings to be colored all over, clean clothes to be pulled out of drawers and lovingly strewn around the floor, and books to be read over and over and over…
It's fun being a mom. 😉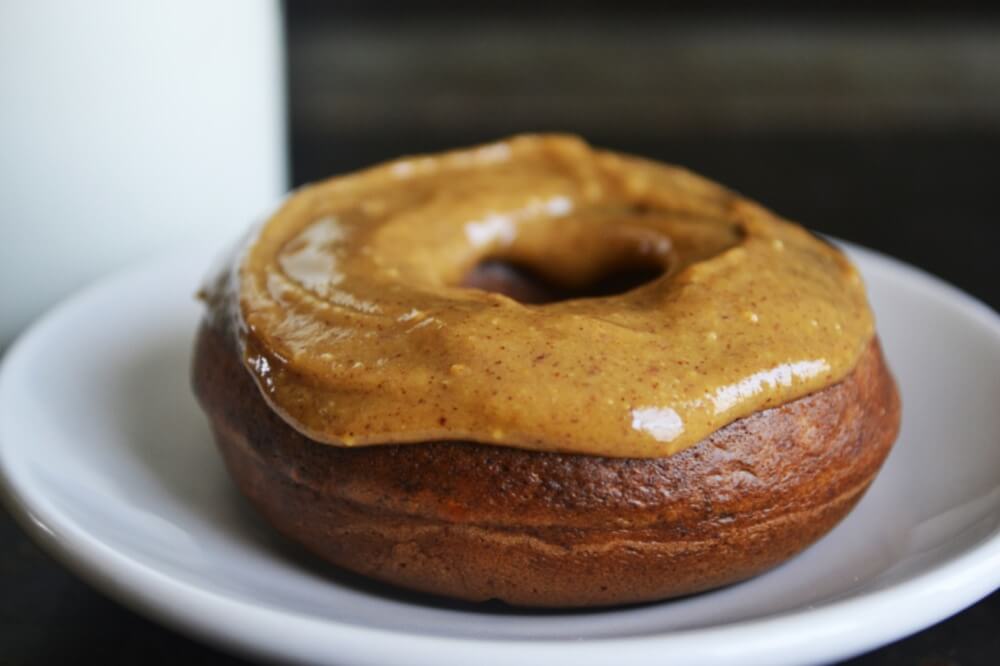 Banana Nut Butter Donuts: An Easy Crazy-Morning Treat
Thankfully, there are these donuts. Though you might think donuts would be a lot of work so early in the morning, don't worry, these are super easy. Easy, healthy, satisfying donuts.
Perfect for frazzled moms of overactive toddlers.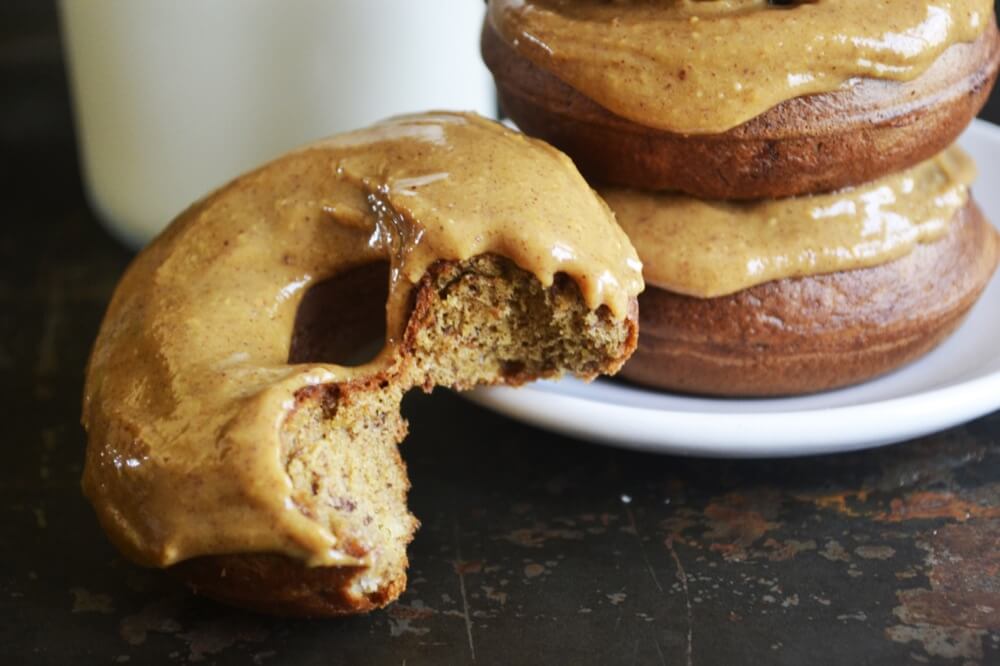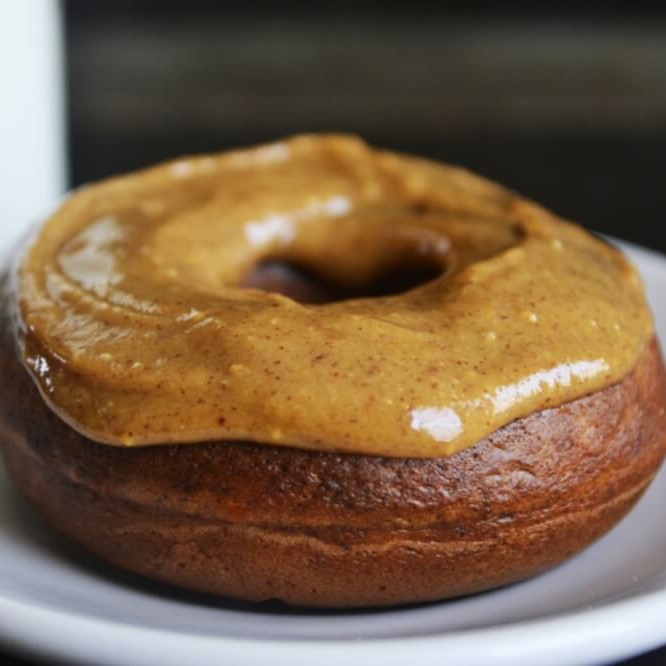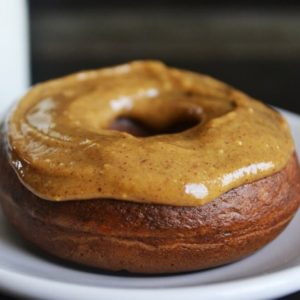 Print
Banana Nut Butter Donuts
No one needs to know how good for you these delicious banana nut butter donuts are! Treat your family AND feed them healthfully.
Ingredients
Donuts:
2

bananas

about 1 cup, mashed

1

cup

almond butter

or peanut butter or sun butter

2

eggs

1

teaspoon

vanilla

1

teaspoon

cinnamon

1

teaspoon

apple cider vinegar

1/2

teaspoon

baking soda
Icing:
1

tablespoon

coconut oil

1/4

cup

nut butter

1/4

teaspoon

cinnamon

2

tablespoons

honey
Instructions
For the donuts:
Using a hand beater or a fork, combine everything in a bowl.

Spoon about 3 tablespoonfuls of batter into heated donut maker.

Bake for 10 minutes.

Remove and cool before icing.
Icing:
Soften coconut oil over low heat.

Stir in remaining ingredients.

Dip cooled donuts into icing and serve.
Notes
If using an oven, preheat oven to 350 and bake donuts in pans for 8-12 minutes, depending on the size of your pan. These look like great donut pans.
Need some more tasty, kid-friendly breakfast ideas?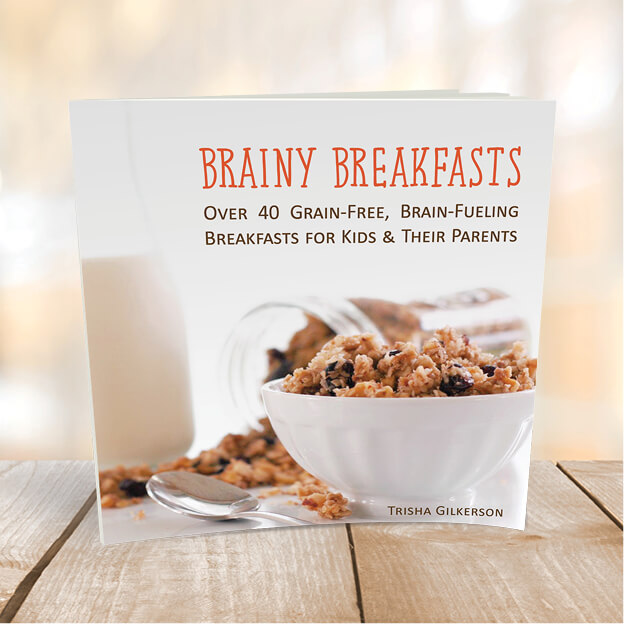 Check out our cookbook Brainy Breakfasts – it's filled with over 40 grain-free, brain-fueling breakfast recipes to keep things new and exciting! It's available as a downloadable or softcover book. You won't run out of healthy, tasty breakfast recipes anytime soon with this cookbook 🙂