When I saw these healthy dark-chocolate marshmallows Raia made, I just knew they were begging for a homemade, grain-free graham crackers partner. Because… s'mores. Right? Yes. Of course I'm right.
These homemade, grain-free graham crackers might make the best (and healthiest) s'mores you've ever had.
Looking for more gluten-free recipes and resources? This Everything Gluten Free page is a library of everything gluten free we've worked on.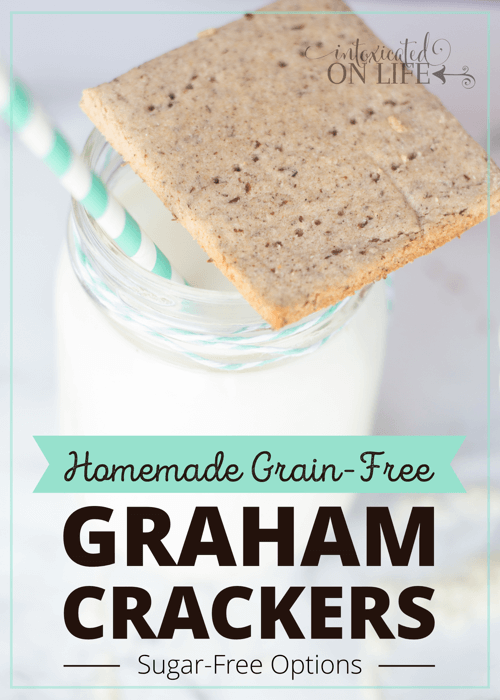 Our new house has 2.5 glorious acres of land—which might not seem like a lot to some of you, but to a girl who's always lived in the city on a postage stamp sized lot, it sure seems like a lot! It came ready-to-go with a nice big fire-pit.
And of course, our kids want s'mores. But mama cringes a little at feeding her boys those processed sugar puffs. And what about graham crackers? Well sure, you can find gluten-free options now. They're not any better than their gluten-filled counterparts: too many sugar-spiking carbs and filled with nutrient-poor ingredients.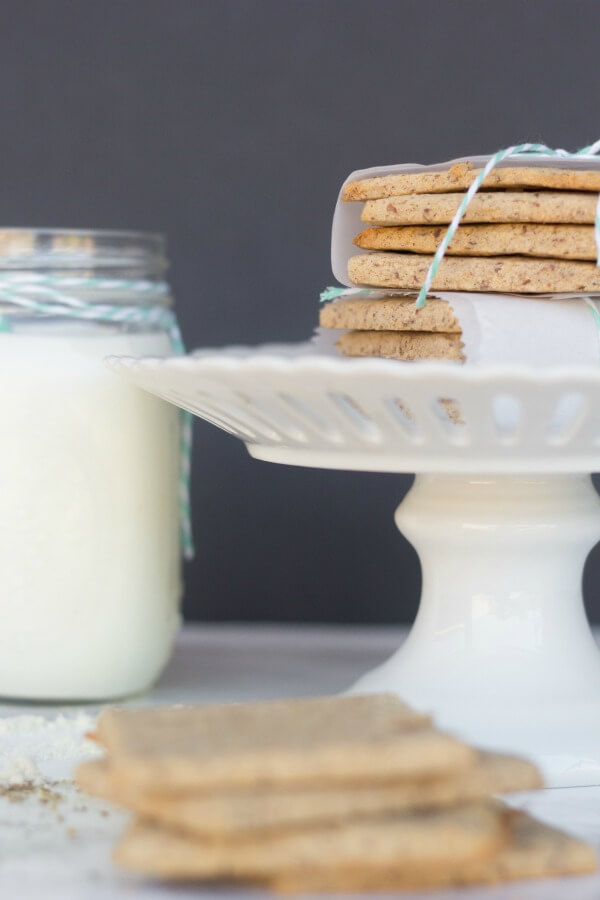 This recipe, on the other hand, is filled with nutrient-dense whole foods. And there is even a sugar-free option if you want to cut down on sugar.
My boys gave this graham cracker recipe 2 thumbs up—that would be 8 thumbs total! I hope your kiddos enjoy the recipe as much as mine have. I'll be whipping up a lot more batches as we move into the fall and get more use out of that new fire pit!
Grain-Free Graham Crackers (sugar-free option)
Yield 12 crackers
Ingredients
1/4 cup butter
1 egg
3 T. *Truvia OR 6 T. granulated sugar
1/2 t. vanilla
1/2 cup coconut flour
1/8 cup flax meal
3/4 t. baking powder
1 teaspoon cinnamon
1/9 teaspoon salt
Instructions
Cream butter, egg, sugar, and vanilla together.
Mix dry ingredients together in a bowl and then add to wet ingredients.
Refrigerate for approximately 30 minutes.
Pre-heat oven to 350.
Roll dough between 2 pieces of parchment paper until it's about 1/8-1/4 inch thick.
Place the dough, including parchment paper on a cookie sheet. Remove the top piece of parchment paper.
Use a sharp knife or pizza cutter to slice into 12 - 3x2 inch crackers. Prick small holes in the crackers (optional, this is just so they look more like graham crackers).
Bake 8-10 minutes or until golden brown.
Notes
*If you use Truvia, crackers won't be crunchy like typical graham crackers, but they're still great for snacks and s'mores.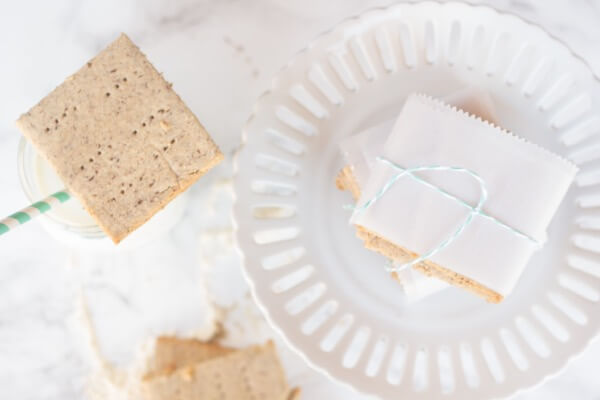 PS: Don't forget to grab the recipe for these dark-chocolate marshmallows. Paired with these graham crackers, they'll  make s'mores you won't soon forget!
More Gluten-Free & Sugar-Free Dessert Recipes:
Sharing at Giving Up on Perfect, Crystal & Co., Saving 4 Six, Missional Women, Juggling Real Food and Real Life, Pam's Party & Practical Tips, Crafty Moms Share, Denise Designed, The Modest Mom Blog, Written Reality, and Cornerstone Confessions.