Do you homeschool through the holidays or do you avoid it like the plague? I know we used to take a break from the Monday before Thanksgiving until after New Year's.
One year that was necessary as we were hosting Thanksgiving at our house and did all the cooking. Then, I was just worn out from it all. We didn't get back into it the next week and before I knew it—it was January 5th.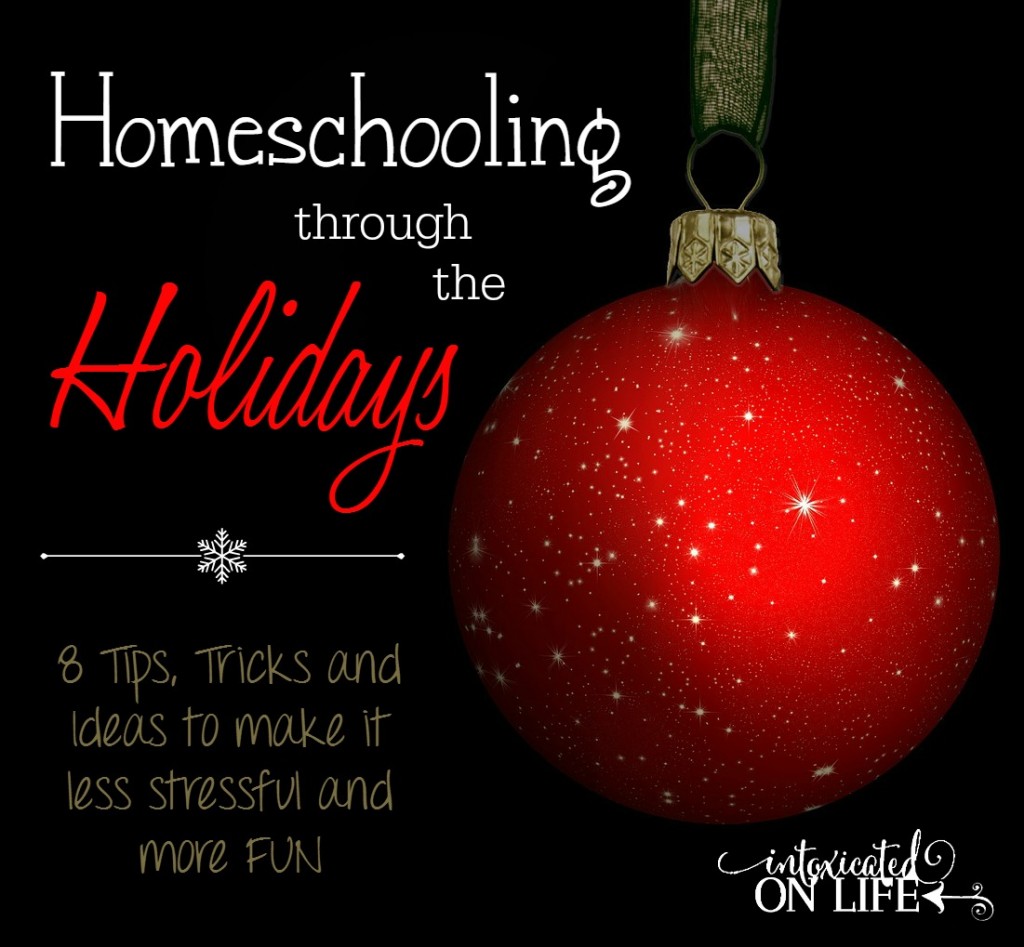 While the break was nice, it was also difficult because we didn't follow a set routine and it really threw the kids out of whack. It was more difficult than I ever thought to get them (and me) back into a routine. So the next year, I decided we would do at least some minimal schooling through the holidays. Of course, that was met with some opposition from the oldest (our only one homeschooling at the time), but I stuck to my guns and things seemed to move along a little smoother.
Over the past few years, I have gleaned some of what works and what doesn't when it comes to Homeschooling through the Holidays. These are not hard-and-fast rules that must be followed, but tips I have found along the way that help things run a little better so everyone seems happier – even when the hustle and bustle starts really picking up.
What to do when homeschooling through the holidays:
Shorter School Times – Before we moved away from family, we would school the weekdays leading up to Thanksgiving, but only for a few hours a day and only a few key subjects. I feel Math, Handwriting (for younger kids) and Spelling are essential subjects that need to be taught or worked on each day. So, we would do those and then add a fun study for the day or week.
Seasonal or Holiday Unit Study – These are always a big hit at our house, since they deviate from our "normal" schooling. The kids think they are getting away with murder, when really they are just learning in a different way! It's a great way to study some history about the holiday and do work not from a workbook, which they like.
If you're looking for some great FREE unit studies to use over the holidays, be sure to check out:
Do crafts, games and activities related to the holiday – This is another big hit at our house. While I'm trying to do more crafts and activities with them on a regular basis, the holidays seem like an easier time to really get into a crafty mood – at least for me. Pinterest is a great place to find some inspiration. I also stake out the Dollar Tree and Dollar Spot at Target for some great seasonal and holiday crafts!
Keep a schedule – I know my kids do much better when we keep a fairly strict schedule. I don't wake them up by a certain time, because I have a couple of kiddos that need their sleep, but we do things in the same order each day. Structure is important for little ones and it's quite evident when we have to take a day or two off for things. So, even though the holidays are approaching, try to keep them to a routine as much as possible. For a couple years, we've had a "modified holiday schedule" that I like to use. I make sure the kids know up front we'll be doing some school work, but that we'll be doing some fun activities and letting out a little earlier than normal since it's a special week/day. That seems to work well in our house.
Be flexible – Now this might seem like an oxymoron given the last point, but it's true. Sometimes I find myself getting so uptight that we didn't get this done or that done. Or their crafts didn't turn out exactly right. But the point is to continue learning, not to be so strict they loose their love of learning, which may or may have happened in our house. Not to mention the stress that being so uptight can bring. It is the holidays and their is a lot going on in their minds and world, so embrace it and go with the flow.
The kitchen is your friend – I don't know about you, but cooking picks up at our house during the holidays. From fudge to toffee to turkey dinners with all the trimmings – our kitchen is busy all the time. Several times I have been known to "do math" in the kitchen with our oldest as we measure out ingredients to make whatever is on the docket that day. Bring the kids in one afternoon to make cookies! They will have fun adding the ingredients and then decorating them with their own flair. Use this time to not only spend some additional one-on-one time with a child, but sneak in some extra schooling too! (If you're looking for healthy cookies, don't miss our 25 Day's of Christmas Cookies series!)
What NOT to do when homeschooling through the holidays:
Stress – Stress and excitement is inevitable around the holidays, so you might as well go with it. Use their built up energy and excitement for indoor exercises, obstacle courses, crafts or other hands-on activities. I notice when they have something to do – whether structured or not – their stress levels (and mine) are so much lower and easier managed.
Try to do too much – Now on the flip side of that, don't try to schedule too many things or it will backfire on you! If you have family coming (or you're going) for the holidays, do some minimal, fun work if you must. Otherwise, just schedule your breaks appropriately. Trust me on this one. There are so many great printables and ideas out there now for homeschoolers/teachers that you can easily add in too much for the day/week. This never goes over well in our house as I am a Type A personality and if I plan it, it must be done. So we go with less rather than more.
Do you homeschool through the Holidays? What are your tips?