Legos are possibly the most known toy in the world. Every kid seems to have them and they provide hours of creative entertainment. It just makes sense to take advantage of them as learning tools!
Homeschooling with Legos is a not only a wonderful marriage of learning and fun, it is also very easy to do.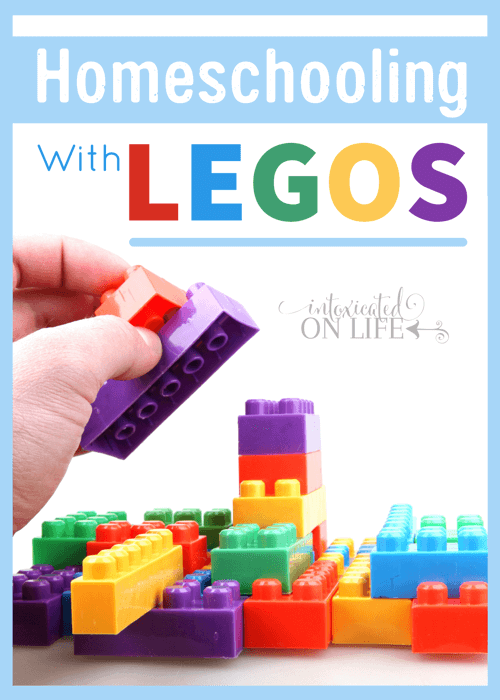 What Kids Learn by Building with Legos
Building blocks are an obvious win for open-ended toys in your home. Open-ended toys are those that spark imagination and can be used in so many more ways than the average modern toy.
That creative energy and imagination are part of the reason why Legos are so loved! Kids can spend hours making elaborate creations from scratch or practice following instructions from a book or kit.
Developmentally, building with Legos is a wonderful tool that helps kids practice several skills.
There are so many things kids learn when they play with Legos, but here are just a few:
Problem solving
Focus and perserverence
Planning and strategizing
Engineering
Collaboration and social skills
Subjects You Can Teach with Legos
Legos are fantastic teaching tools in the homeschool or classroom as well. They can be used as hands-on teaching tools that make any subject fun and engaging!
Here are a few ways you can teach various subjects using Legos:
History: Re-create historical events and places
Science: Build molecular models, perform sink/float experiments, robotics, and more (check out Lego Education kits!)
Math: Use Legos to teach math visually (counting, measuring, patterns, symmetry, etc.)
Literature: Build scenes or re-tell stories from books you are reading together.
Writing: Form letters with Legos, write letters on them to form words, or words to form sentences, creative writing, and more.
Geography: create continent or state shapes with Legos, flags from around the world, or famous landmarks and monuments.
Bible: Teach the gospel with Legos! Go through a book of the Bible and re-create scenes and stories.
Holidays: Add Lego challenges for fun and learning to your holiday celebrations. Try re-creating the Easter story, Christmas activities, and more.
Complete Simple Lego Challenges
The easiest way to get started with using Legos learning activities is to incorporate Lego challenges as you go. Choose an object or scene that matches their skills level and just let them create.
If they struggle with a math concept, have them try Legos for a hands-on approach. If you want to add something fun to their history lessons, build a representation of the event or location you are learning about. The possibilities are endless!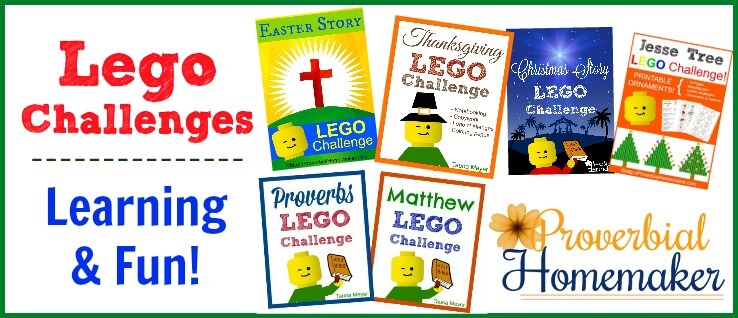 Try one of these
Bible or holiday Lego challenges
to get started! They include scripture reading, copywork, and more along with great building prompts your kids will love.
Tips for Lego Learning
Look for inspiration but not instructions. Step-by-step instructions have their place, but for Lego challenges you want to focus more on creativity. Check out some books or sites that give them ideas and let them flex their imaginations!
Build up your Lego stash with basic bricks or try out some off brand bricks for a cheaper alternative.
Take pictures of creations and a shelf with the most current builds.
 Join in and have fun!
What other ways can you think of for homeschooling with Legos?