Admittedly, I didn't prepare to breastfeed my first child.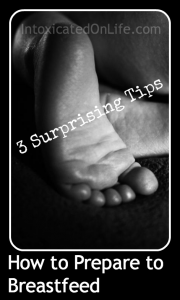 I didn't know I needed to.
It wasn't until I joined a forum with my second pregnancy that I learned about all the women that harbor fears that they won't be able to successfully breastfeed.
How to Prepare #1: Learn less
I breastfed my first baby for 13 months and I didn't even know what mastitis, thrush, or inverted nipples were. Breastfeeding is natural, instinctive, and normal.
But I've never breastfed before, how do I know what to do?
The same way someone planning to run a marathon does: Practice. And the best part? You and baby practice together. Some things will work, some things won't, and you'll change them.
Babies don't read books on how to breastfeed before they are born. They are born with the natural instinct. They are learning as they go too, and they don't have any expectations for you to fulfill. They just want you to be patient with them until they learn and work with them.
If you end up having obstacles, you can conquer them later (see #3). Otherwise you are just spending too much of your energy on "what if's" and "how to's".
How to Prepare #2: Real Expectations
Running a marathon is hard work. It's physically, emotionally, and mentally demanding. It takes commitment. But everyone's body was designed to run.
Breastfeeding is physically, emotionally, and mentally demanding. It takes commitment. But every woman was designed to breastfeed.
I mentioned I didn't prepare to breastfeed my oldest, I just knew I was going to do it.
I also knew it was going to be a huge commitment.
I knew it might take some time to really know what I was doing.
I knew it was going to be tiring.
I knew it might hurt and be uncomfortable.
I knew it was a huge responsibility.
But I also knew the all the benefits of breastfeeding.
How to Prepare #3: Supportive People Only
Support is the most important tool a woman can have while breastfeeding. But having supportive people isn't enough, you also have to eliminate any unsupportive people.
Even if it's your mom, your best friend, or your pediatrician.
I once heard that every negative comment cancels ten positive ones. That means every time one person says, "Are you sure you aren't too tired?" or "Is he eating again already?" another person has to say, "You look beautiful. You're doing a great job. Your baby is so lucky to have a committed mama like you! You look so comfortable holding him. He's eating again already—that must be some great milk! He's much more comfortable with mamas breast. You did it without the shield this time—you're a pro! You look like a natural! I'm so proud of you."
Add a tired, stressed, new mama, and I'd bet that one negative cancels out even more.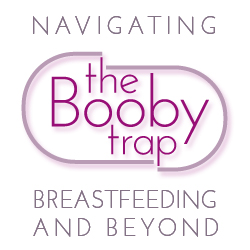 Wait until you get into a groove before you have regular/any contact with someone who isn't 100% for breastfeeding.
Also, start going to Le Leche League during your pregnancy—or join the hospital breastfeeding support groups (or both!)
Being around supportive people during your pregnancy also normalizes breastfeeding for you. Seeing women breastfeed and hearing them talk about breastfeeding is better than any book and also increases the likelihood of you succeeding when baby arrives. Talking positively about breastfeeding before baby comes will become your inner voice when baby is here. You'll flash back to one women, one story, one success…
These are what I did unintentionally to "prepare" to breastfeed my first baby, and I've been blessed to be nursing my second for almost 14 months without any difficulties.
Breastfeeding is normal.
Trust your body and your baby, have realistic expectations on how big of a commitment it is in the beginning, and surround yourself with a community who will support you unconditionally.
We encourage you to submit any question you have about breastfeeding or topics you would like us to cover in this series. Leave a comment on any post in the series or submit your question/topic privately using this form. Also, be sure to follow our "Breastfeeding Advice" pintrest board! 
---

Beth is a Christian, wife & mother, natural childbirth educator, coffee lover, homemaker, antique jar collector, and aspiring homesteader. You read more about her and her pursuit for a life of simplicity and contentment on her blog One Simple Homestead.