This herbal tea for heartburn relief soothed me during my latest heartburn issues.
Thankfully, the only time in life I've ever suffered from heartburn is when I was pregnant. I remember how uncomfortable (and shocked) I was to be experiencing it. It's actually a pretty common ailment among pregnant women.
After experiencing relatively minimal heartburn during pregnancy, I was able to sympathize much more with my husband who has suffered from severe acid reflux for years now.
He's done a lot of research on treating acid reflux and had great success in greatly minimizing acid reflux using some basic dietary approaches.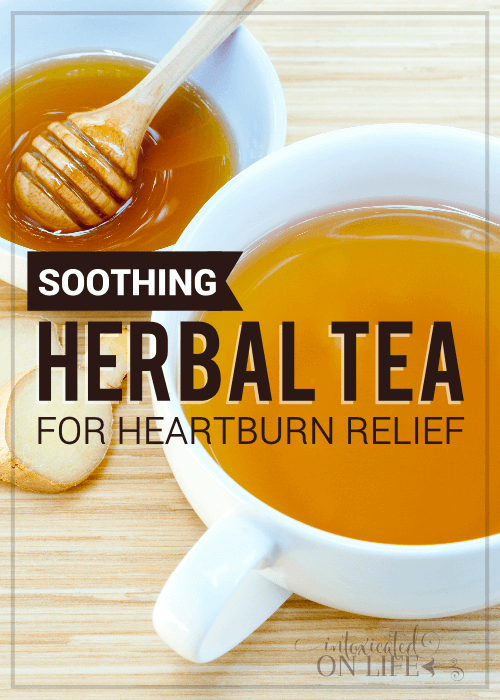 Soothing Herbal Tea for Heartburn Relief: The Ingredients
There's nothing like a warm cup of tea to soothe the tummy and digestive tract, right? Well, maybe not.
It turn's out there's a lot of drinks that can actually cause reflux to be worse: carbonated beverages, coffee, and even many teas! But this tea is different.
This soothing herbal tea for heartburn relief is filled with ingredients proven to help reflux. Let's take a look at the ingredients!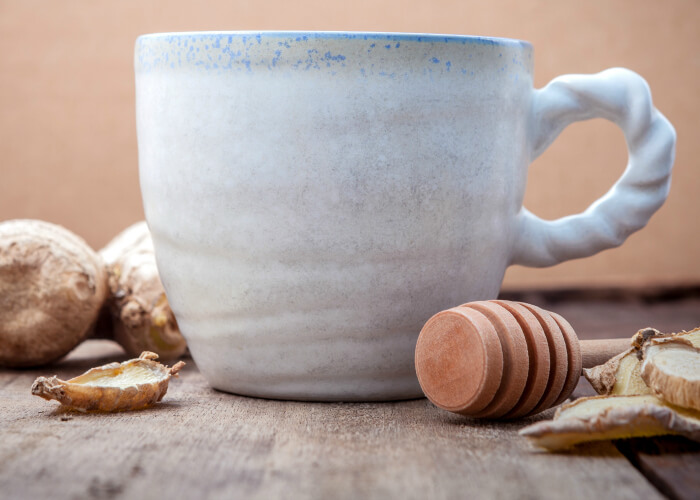 Ginger
Ginger has long been used as an acid reflux treatment. There's a number of theories behind why it's such a great component of any natural acid reflux cure.
Ginger helps speed up gastric emptying. This means, the food doesn't sit in your stomach too long. When food lingers in your stomach too long, it has more opportunity to cause problems like increased gas which can contribute to acid reflux.
Ginger tightens the lower esophageal sphincter. This prevents the back-flow of stomach acid.
Ginger regulates the flow of juices in the digestive system. This helps to ensure proper absorption of food, which in turn decreases the likelihood of acid reflux.
Chamomile
While chamomile has long been used for various tummy troubles, the anti-inflammatory properties of chamomile are what makes it one of the stars of this soothing tea. Research indicates chamomile has properties that are similar to non-steroidal anti-inflamatory drugs like asprin and ibuprofen. These properties decrease the irritation of the digestive system and relieves the inflammation in the esophageal tract.
Honey
Raw honey is used in this recipe to help soothe and reduce inflammation in the digestive tract and aid in the digestive process. The texture of honey does a good job of coating the esophagus which can help bring relief from acid reflux. The enzymes in honey are also thought to help with the digestive process.
Maty's Acid Indigestion Relief
While honey on it's own can be used in this recipe, I highly recommend using Maty's Acid Indigestion Relief instead of just plain honey. While this product has honey in it, it's composed of a number of ingredients that work synergistically to decrease acid reflux. In fact, there's several I've already mentioned, plus a few more that make this the shining star of this soothing herbal tea for heartburn relief!
Honey
Apple Cider Vinegar
Turmeric
Cloves
Ginger
This is a product I always keep on hand, in my natural "medicine cabinet" for my husband. It can be used in this tea, or on it's own if you have a bout of acid reflux. Everything in Maty's Acid Indigestion Relief is natural and safe for pregnant mamas who are suffering. Bonus! You can find Maty's at Target and Rite Aid.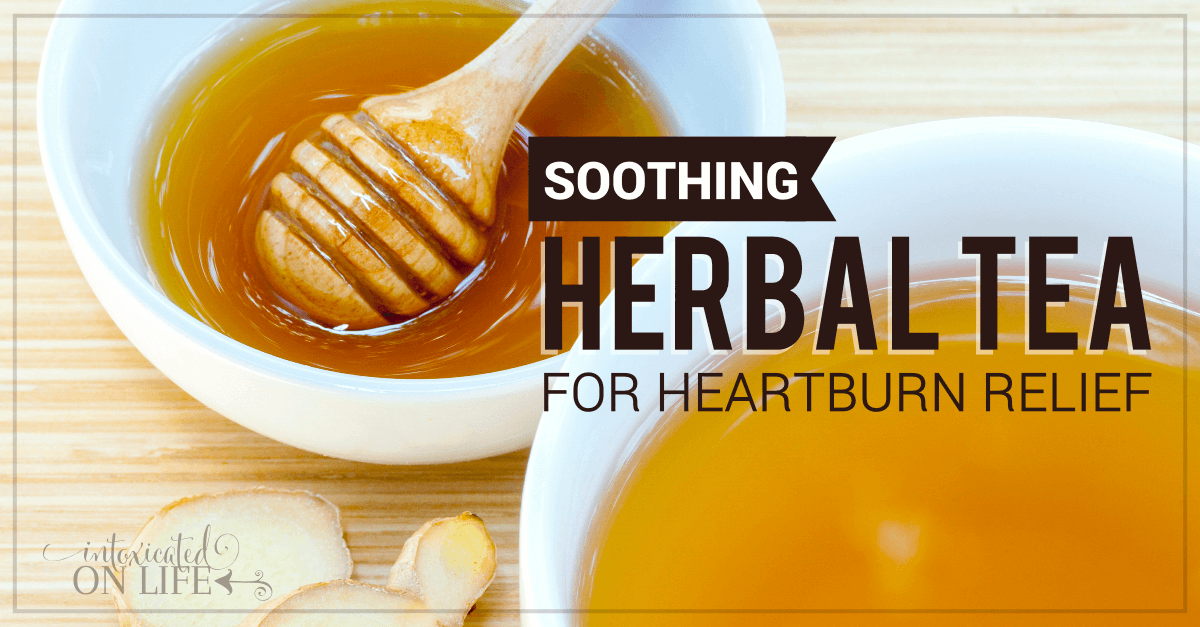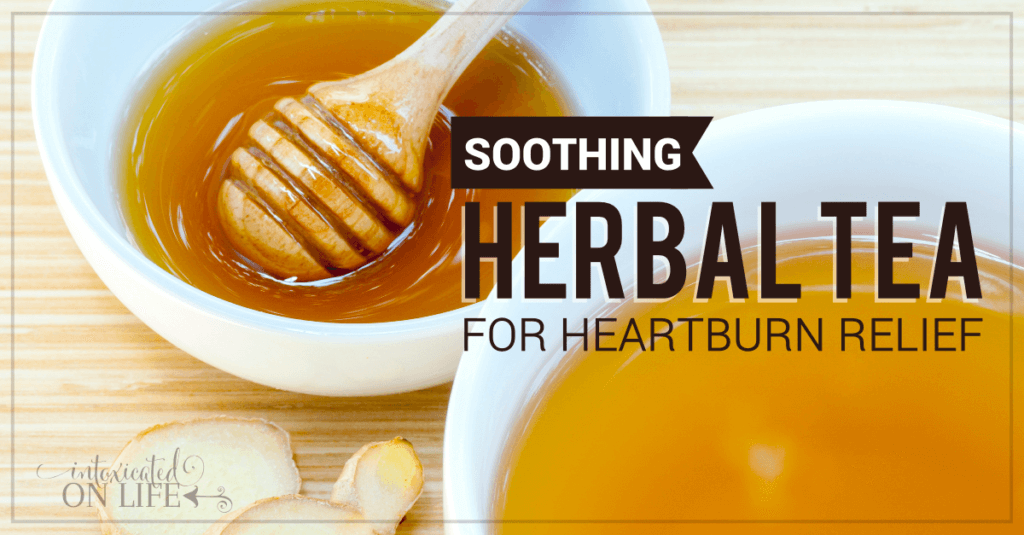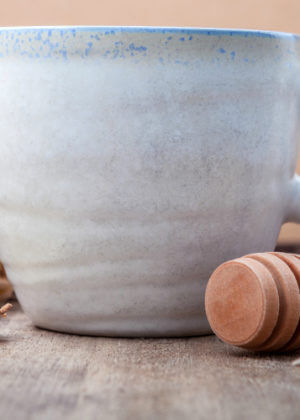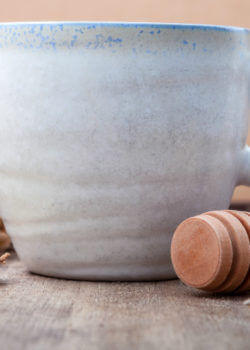 Print
Soothing Herbal Tea for Heartburn Relief
This tea is designed specifically to help relieve the discomfort of heartburn. It tastes delicious as well!
Ingredients
2

quarter sized slices of gingerroot

4

Tablespoons

chamomile flowers

or a chamomile tea bag

1-2

Tablespoons

Maty's Acid Indigestion Relief

recommended or Honey

12

oz

water
Instructions
Slice up 3 quarter sized pieces of ginger root. Simmer gently in 12 oz of water for 30 minutes. Keep the pot covered.

Remove the ginger pieces. Pour into a large mug with chamomile and let steep for 5 minutes. Add the honey or Maty's Acid Indigestion Relief.

For best results, drink the tea 15 minutes prior to eating a meal. The tea can also be used after a meal if you feel indigestion coming on.
Let me know in the comments below if this soothing herbal tea for heartburn relief works for you!
More Heartburn Relief Tips: