This Spiced Apple Kombucha is a delicious way to fill your body with much needed nutrients.
Kombucha has long been touted as a probiotic-rich, healthy alternative to soda or sweet tea, and pairing it with apples and spices packs the perfect fall-flavored punch!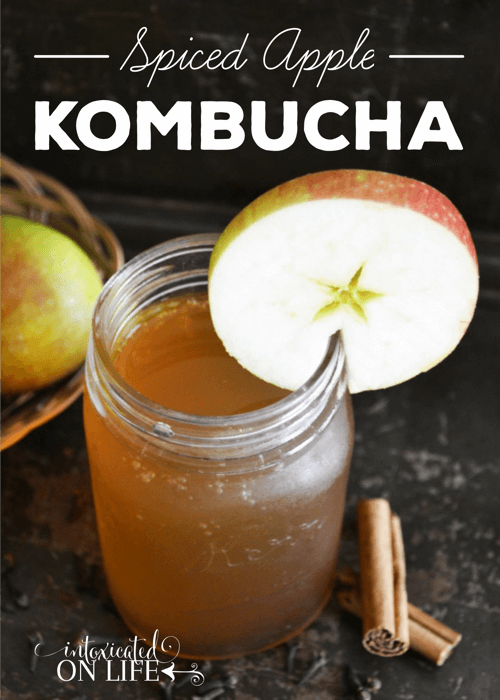 I can still see it vividly in my mind—my first meeting with kombucha. As a new mom, I was trying to do things right for my family: cooking and baking from scratch, staying away from sugars, additives, and packaged foods. But fermenting was a whole new ball game.
So when my friend opened her cupboard and showed me her scoby (symbiotic colony of bacteria and yeast), I was thoroughly disgusted.
No matter how she tried to convince me that it was natural, healthy, and even tasty, I would have none of it. Not only did it stink (to my unfermenting-loving nose), it looked absolutely horrifying.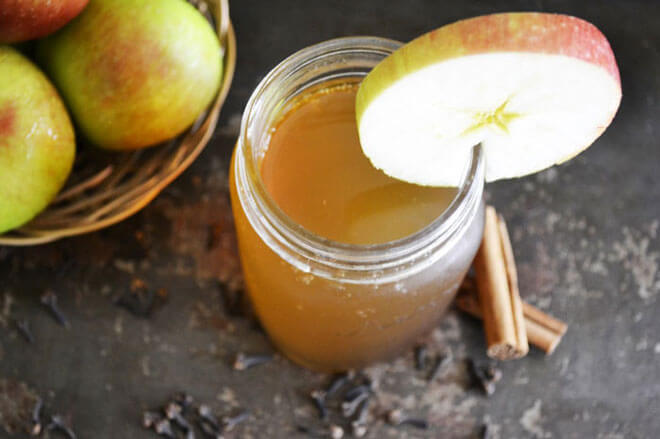 Fast forward a few years and you'll find me just returning stateside from living a family adventure in Far East Russia, where I was exposed to all sorts of never-before-heard-of healthy fermented foods and drinks. I was willing to spread my wings and give fermenting a try.
And try I did. I not only gave chutneys, pickles, sauerkraut, yogurt, and sourdough a go, I also tried my first (and very Russian) fermented drink: kefir.
Kombucha, however, I would still not touch.
Then one fateful day, during a homeschool field trip to a local farm, one of the moms just happened to ask the farmer (farmess? is there a female version of that word?) if she had a scoby she would be willing to sell.
"Sell? I'll give it to you! It's growing like crazy and I need to get rid of it."
So we all inherited our very own little scoby. And guess what? It isn't that bad after all.

Health Benefits of Kombucha
Even though kombucha has been popular in China, Europe, and Russia for hundreds (maybe thousands) of years, it's only been since the 1990s that kombucha first made its appearance in the States. Since then, its popularity has grown by leaps and bounds (sorta like the scobys themselves—they grow fast!). And it's rapid ascent as a health drink is for good reason.
Kombucha is not only easy to make, it's jam-packed with antioxidants and nutrients that make it a super drink. It's rich in iron, B vitamins, vitamin C, and DSL (D-saccharic acid-1, 4-lactone – a powerful antioxidant), and the anti-inflammatory and anti-microbial properties of kombucha have been shown to help fight bacterial and viral infections. Besides this, kombucha has also been shown to aid in detoxification, help leaky gut, kill candida, and even battle cancer!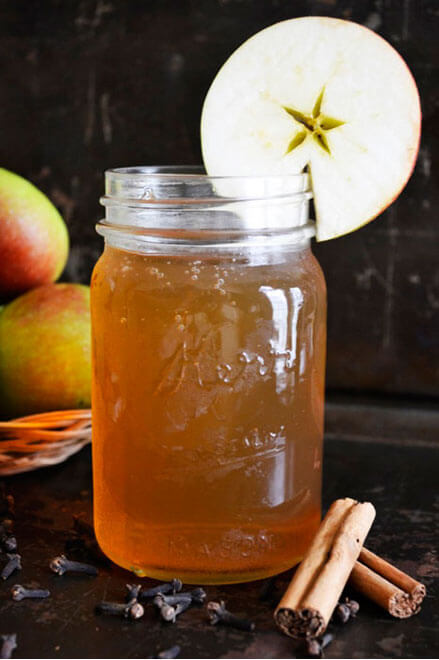 I don't happen to be a huge fan of plain kombucha, but thankfully there are a myriad of ways to flavor it. This tasty Spiced Apple Kombucha version is one of my favorites, especially around fall when the apples are in season and extra crisp! Add in some spices and it's a delicious cross between cider and champagne.
Please note that if you're worried about the alcohol content in the final product, it's around 0.5% (depending on how long you ferment your 'booch), making it officially non-alcoholic by all legal standards.
Spiced Apple Kombucha
This delicious spiced apple kombucha is a flavorful and incredibly healthful drink, for autumn or any time of year.
Ingredients
2

quarts

plain kombucha

Learn how to make it here.

1

apple

sliced; I used golden delicious

2

cinnamon sticks

1

1-inch

chunk of ginger

cut in pieces

4

cloves
Instructions
After making a fresh batch of kombucha, pour it into two quart-sized canning jars.

Divide apple and spices between the two jars.

Cover tightly with lids and let stand in a dark place for 24 hours.

Refrigerate and enjoy!
Notes
Make sure your lids are clean and rust-free for the second ferment (you can use plastic ones, if you want - but don't use a plastic bottle!).
Kombucha doesn't stop fermenting once it gets refrigerated, though the fermentation does slow down considerably. I try and drink my fresh kombucha within a week. After that it's a little too vinegary for my taste, but it still makes an awesome marinade!
Did you try this Spiced Apple Kombucha recipe? Do you love it as much as me? Tell me about it in the comments below!
More Healthy Eating Articles:
BONUS: Check out this awesome FREE Candida Workshop, too! Click here for Candida Workshop details.