It doesn't have to be difficult substituting sweeteners. Let's talk about swapping sweeteners with this Ultimate Guide to Substituting Sweeteners and Sugar.
Nothing is quite like sugar. No sweetener makes a batch of cookies quite like sugar. Carmel is next to impossible without sugar.
I guarantee nothing tastes and acts just like sugar, but we can find some decent replacements. Substituting sweeteners and sugar isn't as hard as it sounds!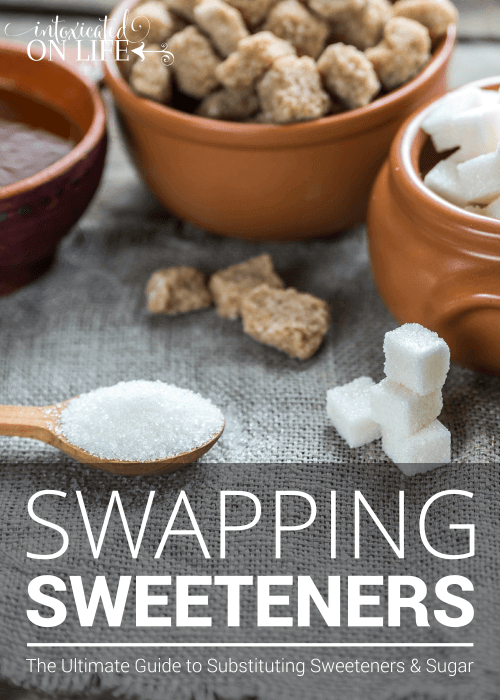 Substituting Sweeteners: What? Why would I want to get rid of sugar?
I don't think any of us really want to get rid of sugar. I certainly didn't. But if you're reading this post, you (like me) have probably found that sugar doesn't do nice things to your body.
My body is not happy with me when I eat sugar…
Increased inflammation
Headaches
Fatigue
Achey body
and more.
Every single time I eat a treat with sugar, I wake up the next day with a sugar hangover. No thanks.
While I miss some of the properties of sugar, there are some things I absolutely don't miss. And I've found some pretty decent replacements, so I can have a sweet treat every now and again without feeling like I went out binge drinking the night before.
Guide to Substituting Sweeteners
You ready to get cooking? All the sweeteners I'll be referring to in this guide are heat-stable. That means you can cook with them.
I'll be skipping the ones that aren't heat stable because why use a sweetener if you can't make a cookie with it?
Substituting Sweeteners: Sugar Alcohols (Xylitol and Erythritol)
One of my personal favorite classes of sweeteners are sugar alcohols: xylitol and erythritol. While these sweeteners sound like something created in the lab, they're actually derived from corn husks and/or the bark of birch trees.
That said, they must be highly processed to become the pretty crystal sugar-like substance that lands in your pantry. So, calling them a "natural sweeteners" is a bit far-fetched. (Some people do call them natural. Whatever makes you feel better, I guess). That said, the benefits of occasionally using them outweighs their drawbacks for my particular situation.
Unlike many sugar substitutes, xylitol and erythritol don't have a funky aftertaste. That said, they both can cause a "cooling" sensation—the feeling in your mouth you get when eating a peppermint. You'll find that erythritol presents a stronger cooling sensation than xylitol. I'll give you a tip for reducing or eliminating of this cooling sensation.
Both of these sugar substitutes melt in high heat and don't caramelize. For this reason your baked goods often don't have a nice chewy quality unless you balance them with the other ingredients appropriately.
Both xylitol and erythritol also have a tendency to absorb moisture and thus your recipes will dry out more quickly. This means 2 things:
(1) You'll need to remove your food from the oven a bit early in order to maintain softness.
(2) You should be sure to eat your treats soon after making them.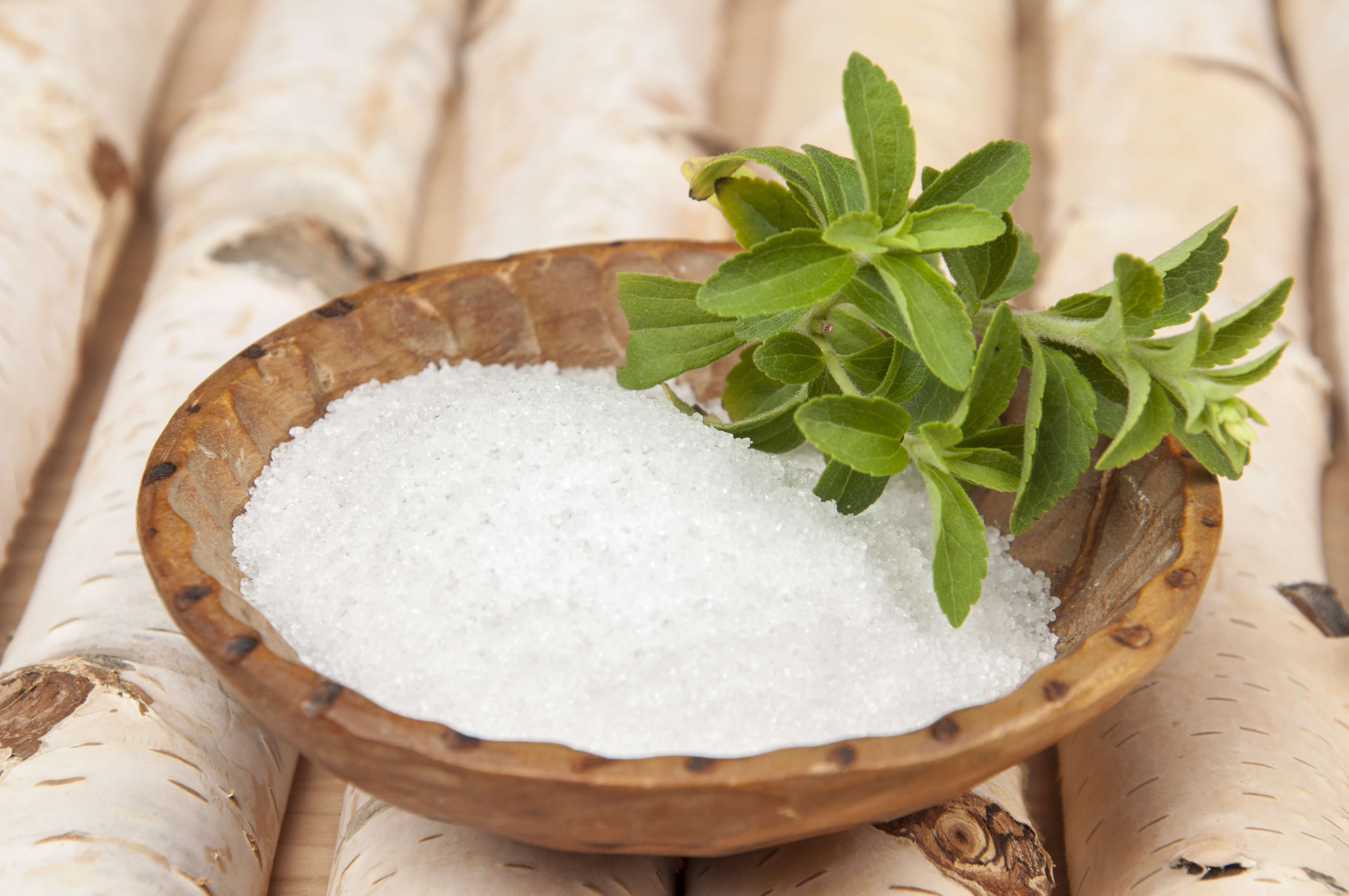 Replacing Sugar with Erythritol
Erythritol is about 70% as sweet as sugar. That means, when you substitute erythritol for sugar, you need to use more. For every 1 cup of sugar you'll want to use 1 1/3 cup of erythritol.
And if you're concerned about calories, you'll be happy to know that erythritol has just 6% of the calories of sugar.
Replacing Sugar with Xylitol
Xylitol can be substituted in 1:1 ratio for sugar, making it super easy to substitute in your favorite recipes (no math required). So for every 1 cup of sugar, you'll use 1 cup of xylitol.
While not as impressive as erythritol as far as being low-calorie, xylitol is still much lower in calories than sugar. It contains just 40% of the calories in sugar.
Xylitol is definitely one of my favorites on the list, not just because it looks like sugar and tastes great, but because it has some nice health benefits too.
Note: Xylitol, like many other foods, is toxic to dogs. Don't feed your canine friends treats made with xylitol.
How to Get Rid of the Cooling Sensation (and get a better overall taste)
How do you get rid of that blasted cooling sensation from these sugar alcohols? It's one thing if you're making sugar-free peppermint patties, but nobody wants that in the chocolate cake they made for their husband's birthday.
It's really not that hard and you'll find that you'll also get a better, more true sweet taste by following this one easy trick: when baking, I cut down on the amount of sugar alcohol I use and add a bit of stevia.
For every 1 cup of sugar, I'd substitute 1 cup of erythritol and 1/4 teaspoon of pure stevia extract (the kind with no fillers) or 3/4 cup of xylitol and 1/4 teaspoon of pure stevia extract.
Combining sweeteners in this way will give you a much better sweet flavor and cut the cooling sensation.
Substituting Sweeteners: Stevia
While I enjoy using a little stevia in my tea for a bit of sweet or adding a little to sauces, I've found that baking with stevia only can be a little tricky.
If you're using pure stevia extract, it doesn't have the appropriate bulk with which to bake, and your cakes and cookies won't turn out right. Also, if you use too much stevia, you'll get the dreaded bitter aftertaste stevia is so criticized for.
It's difficult to provide you with an exact ratio for stevia. Even if you're using a pure stevia extract, the exact sweeteness can vary from brand to brand. I use NuNaturals pure stevia extract as it's one of the brands I've found whose flavor is consistent and not bitter as long as I don't use too much.
With NuNaturals 3/4 teaspoon is equal to approximately 1 cup of sugar. So if sweetening my tea, I use just a tiny sprinkle. If baking, I use the ratio I mentioned above of xylitol or erythritol and stevia.
The popular Truvia Spoonable is a stevia and erythritol blend. Buy the raw ingredients and mix them together yourself for big money savings.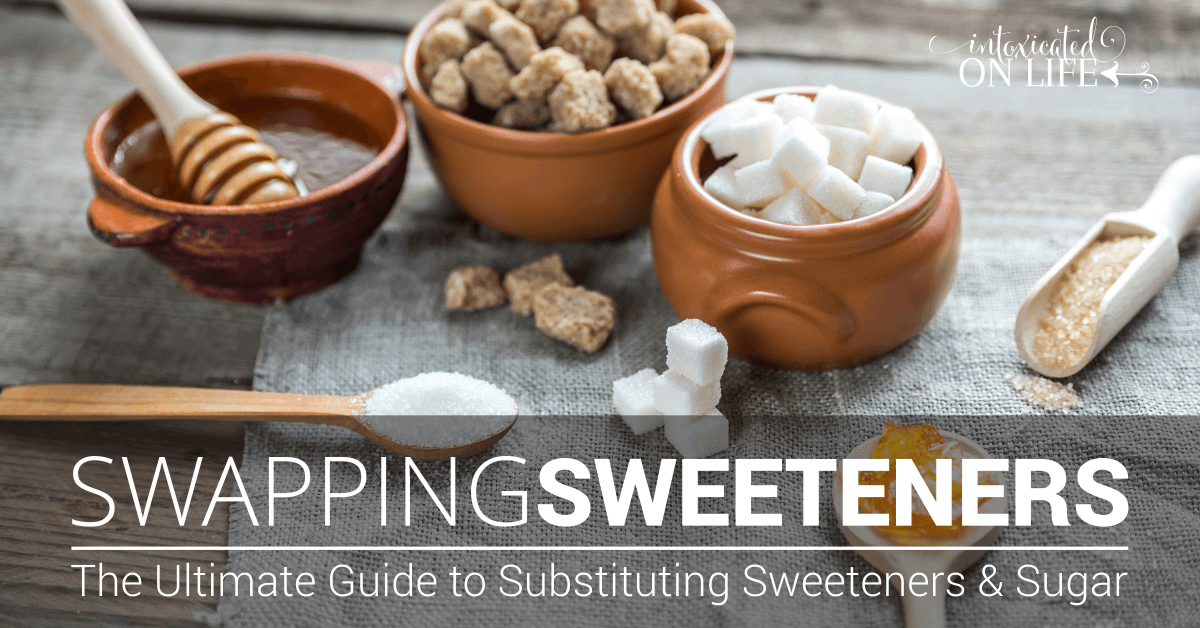 Substituting Sweeteners: Splenda
I used to think Splenda was all-that-and-a-bag-of-chips. For real? A sweetener you could cook with? Zero calories and no sugar?  Awesome.
That was also back in the day before I really didn't think much about chemicals I was putting in, on, or around my body. Splenda, while not the worst thing in the world, is some pretty shady stuff.
And if the fact that it's concocted in the laboratory isn't enough to turn you off, then maybe its horible aftertaste will.
But if you still want to cook with Splenda, you can substitute it at a 1:1 ratio for sugar. For every 1 cup of sugar, use 1 cup of Splenda—but don't say I didn't warn you.
Other Sweeteners (that will still raise your blood sugar)
Up until this point in the article we've discussed substituting sweeteners that have a minimal to nil impact on your blood sugar. This is one of the big reasons people tend to want to substitute sugar for sweeteners—they want to get off the blood sugar roller coaster.
The sugars in this portion are all natural, but they will still raise your blood sugar—though not necessarily the same way table sugar does.
Replacing Table Sugar with Honey
Honey is fabulous. I could just eat delicious raw honey by the spoonful, but that probably wouldn't help me out too much.
When it comes to baking with honey, you'll want to decrease the amount you use because it's actually sweeter than sugar. For every 1 cup of sugar you'll want to use 3/4 cup of honey.
You'll also note that you can't cream honey, so it will often result in denser baked goods that don't rise as well as those made with sugar. You can use 1/4 teaspoon of baking soda to help offset this issue and give your baked goods some better height.
Honey will also impart a distinct flavor to your baked goods. There are several varieties of honey, some stronger than other. Take that into consideration when thinking about what you're making and if the honey flavor will enhance or detract. I love honey in my son's favorite grain-free banana cake with peanut butter frosting recipe.
Replacing Table Sugar with Turbinado Sugar
Turbinado sugar is made from the first pressing of the sugar cane, so is much less refined than common table sugar. It retains some of the natural molasses of sugar, so it has a slight carmel flavor. If you're looking for a less refined sugar, this is the way to go.
Turbinado sugar is more coarse and crunchy than refined sugar, so you'll have to take some extra time when creaming your sugar. You can use it in a 1:1 substiution for sugar. For every 1 cup of sugar, use 1 cup of turbinado.
Replacing Brown Sugar with Muscovado Sugar
The brown sugar you purchase from the store is processed white table sugar, with molasses added back in. Muscovado, on the other hand, is unrefined cane sugar in which the molasses isn't removed.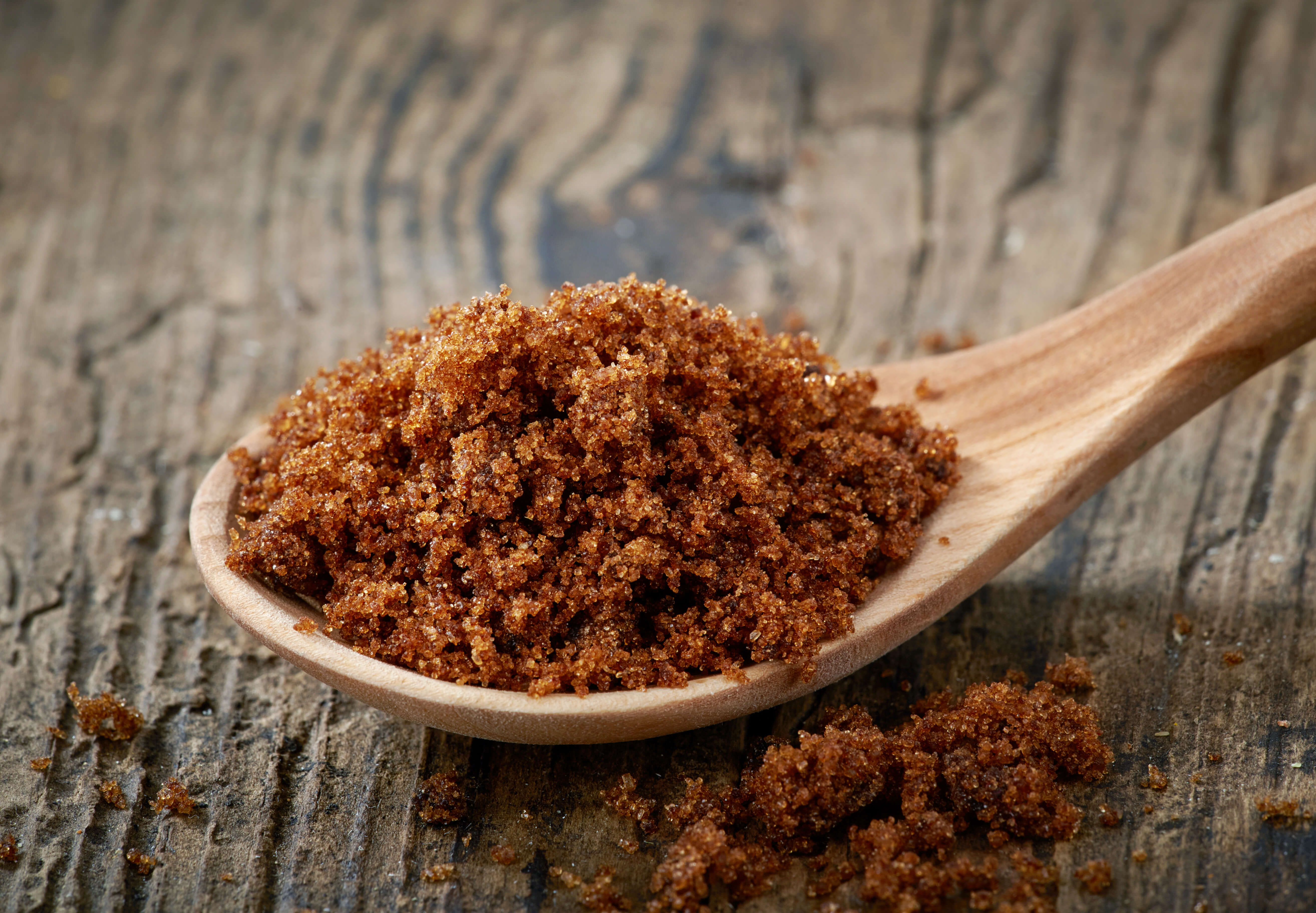 Muscovado makes a perfect substitute for brown sugar and has even more depth of flavor. The color is usually darker (as you can see in the above image) than most brown sugars because it has even more molasses content.
You can substitute muscovado 1:1 for brown sugar in your recipes.
Replacing Table Sugar with Coconut Sugar
Coconut sugar is made from the sap collected from the flower buds of the coconut palm. Don't worry: it doesn't taste like coconut at all because it doesn't come from the coconut itself, but the flower. It does, however, have a subtle brown-sugar-ish taste to it.
This natural sugar has a low glycemic index (35), which means it's not going to do the crazy things to your blood sugar level that table sugar will. It also contains B vitamins and several minerals.
Coconut sugar can be substituted in a 1:1 ratio with sugar, so just use 1 cup of coconut sugar in place of 1 cup of table sugar.
You'll want to note that coconut sugar is coarser and has a softer texture than sugar, so it doesn't cream quite as well. This might result in more dense and dry baked goods. Add a little extra fat to your recipe in order to help compensate for this.
More sweet articles?
If you're looking to dig into the attributes of some of these sweeteners, check out some of these posts for more info!