This isn't your grandma's apple pie, but it will put a smile on your face and please your taste buds just the same! I love pie, and it's something I've really missed since going gluten-free and cutting sugar out of our diet. I thought I had to give up pie, but no. Not with this apple pie recipe!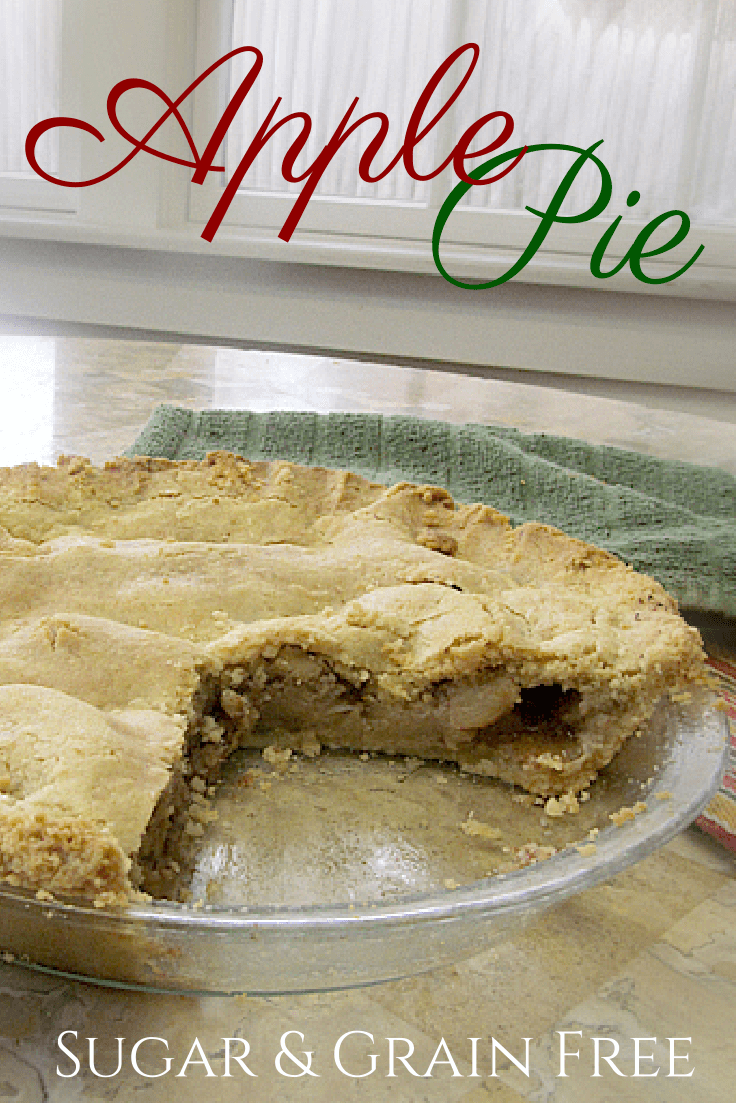 This recipe uses the natural sweetness of the apples along with stevia, one of my favorite sweeteners, to make a pie with just the right amount of sweet and tart! I hope you enjoy this recipe even though it's not your grandma's apple pie recipe!
Looking for more fantastic sugar-free, candida-diet friendly recipes? You can snag The Sweeter Side of Candida (it has this recipe and lots of other sugar-free and gluten-free desserts)!
Not your Grandma's Apple Pie (aka: You're the Apple of My Pie)
Ingredients
Crust
Just the Basics Almond Pie Crust, unbaked (or your favorite grain-free pie crust)
3 c. almond flour
8 T. cold butter or cold coconut oil
stevia to taste
pinch of salt
Filling:
6 Granny Smith apples, cored, peeled and sliced into 1/2 inch thick slices
1 Tbs. lemon juice
1 Tbs. arrowroot powder
1/2 tsp. cinnamon
1/4 tsp. nutmeg
1 Tbs. butter, cut into pieces
Stevia to taste
Instructions
Preheat oven to 450 degrees.
In a small mixing bowl, combine crust ingredients with a fork or pastry cutter.
I also added a couple Tablespoons of cold water to the crust until it came together nicely (please note, the original recipe did not call for this step).
Divide the pie crust dough in half. Press one of the halves into a pie plate. Roll out the other half between two sheets of wax paper. Remove top piece of wax paper. Set pie crust aside.
In a medium mixing bowl, combine apples, lemon juice, arrowroot powder, cinnamon, and nutmeg.
Add stevia to taste - a little at a time until just a bit too sweet (the sweetness dulls when baking).
Pour filling into unbaked pie crust. Cut up the butter into pieces and lay randomly over filling.
Carefully lay the rolled out pie crust on top of the filling and gently peel back the wax paper. Seal edges and flute. Place pie cover over edges or cover edges with foil to prevent burning. Lightly lay a sheet of foil overtop the pie crust.
Bake for 15 minutes. Reduce heat to 350, remove sheet of foil, and bake 45 min. longer.
Serve warm with whipped coconut cream or refrigerate until later. Store leftover slices in refrigerator.
Notes
This recipe is from The Sweeter Side of Candida (originally titled "You're the Apple of My Pie")and is used with permission from the author.
http://www.intoxicatedonlife.com/2014/04/27/grandmas-apple-pie-sugar-free-grain-free-recipe/
This recipe copyright Trisha Gilkerson ���¢�¯�¿�½���¢ IntoxicatedOnLife.com
Sharing at New Life on a Homestead, Measuring Flower and Whole New Mom