Last week I told you that I'd be giving you a challenge each month to help you move toward healthier eating. This month's challenge is to find a source for farm fresh eggs. Some of you might be wondering, why farm fresh eggs? What's the difference? Isn't an egg an egg?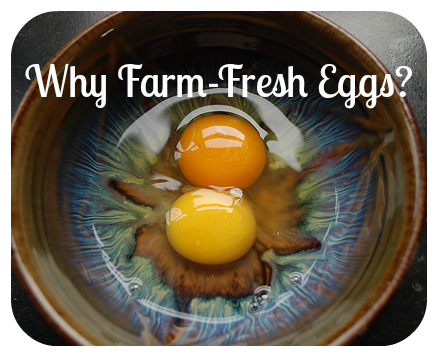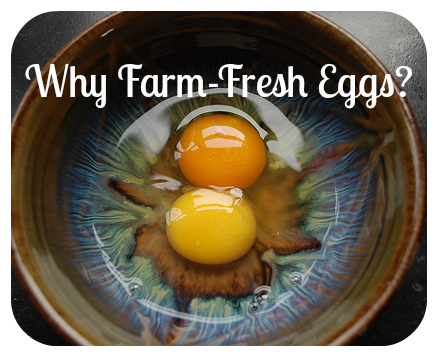 Fresh Eggs vs. Grocery Store Eggs
Have you ever seen the difference between an egg from a pastured hen and an egg from a conventionally raised hen? The external differences really are remarkable. What you'll notice is that the yolks from the pasteured hen are dark yellow (sometimes closer to orange) and often stand tall. The yolks from the conventionally raised hen are an anemic looking light yellow and much flatter. The differences don't stop with their appearances…
The eggs you purchase from the grocery store probably aren't very fresh. Eggs purchased at the store are likely much older than eggs from a local farmer. The USDA requires that eggs be processed within 30 days. After they've been processed transporting those eggs to your local grocery store can take even longer. Typically the eggs I purchase are hours or days old, not weeks old!
You may also be surprised to know that eggs from your farmer are much less likely to be infected with salmonella. (Yes, now you can eat cookie dough. Ok, maybe not; cookies don't fit in so well with healthy eating).
The nutritional differences between the eggs are quite remarkable. Eggs purchased from your local farmer likely have:
twice as many omega-3 fatty acids
2/3 more vitamin A
3 times more vitamin E
7 times more beta carotene
4-6 time more vitamin D
Any Objections?
But I buy brown eggs at the store – The color of the egg you purchase makes no difference. I get varying shades of white, brown, and my son Cameron's favorite, green. The color of an egg doesn't change it's nutrient value. The color of a chicken egg is dependent upon the hen's breed. If you're buying brown eggs at the store, they're likely as anemic as the white eggs that are sitting right next to them.
But I already buy "vegetarian fed" eggs – Nope, that won't cut it. Chickens aren't vegetarians. Chickens thrive on a varied diet of worms, grasses, and bugs.
But I buy "organic" eggs – All that means is the chickens weren't fed any feed with pesticides, hormones, or antibiotics. But these chickens were almost certainly still raised in small unsanitary cages with no access to the good food nature has to offer.
But I buy "cage free" eggs – These hens are usually still living in very cramped quarters in a warehouse. They walk around in waste and must be given antibiotics to prevent disease.
Happy hens that have access to free range, eating a varried diet will give you healthier more nutritious eggs! I can find farm fresh eggs from $2-$3/dozen here (prices vary depending on where you live). It's a small extra expense for nourishing food.
Find some farm fresh eggs. Not only are they filled with more nutrients, but they are also far tastier!