With only three ingredients, and no fancy equipment required, you're sure to enjoy this melt-in-your-mouth paleo Strawberry Granita!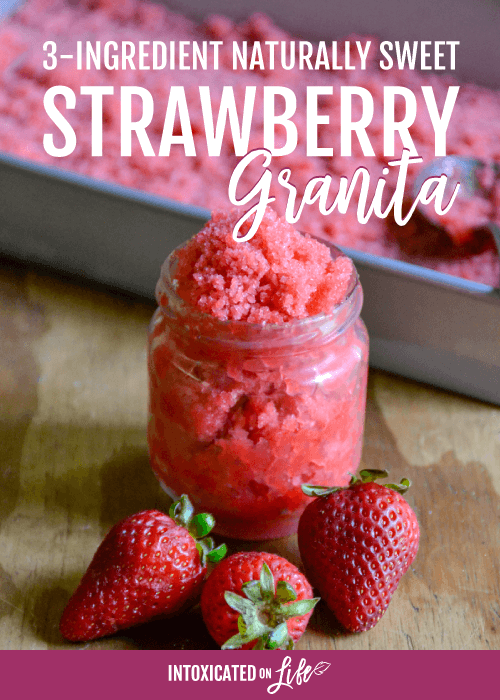 Strawberry season.
Through the fall and winter seasons, my family is happy to enjoy apples and other late-in-the-year fruits. But there is one thing that we all miss. When spring comes along we all start dreaming of strawberry season.
Every late spring/summer I try hard to keep strawberries hidden so I can turn them into something special. Our favorites being strawberry shortcake (of course), strawberry popsicles, and strawberry fruit snacks. Usually it's a battle to keep any around, though. My family would be 100% happy to eat all the strawberries raw as soon as they had the opportunity.
A nutritional powerhouse.
When I think about it, though, I really don't mind my family eating strawberries however they choose. Strawberries are high in vitamins A and C, and manganese, which is needed for proper nervous system development and brain health. They also contain many amino acids and antioxidants, like flavonols, and quercetrin, helping your body fight inflammation and chronic disease development.
Chose wisely.
While I'm happy my family can enjoy such a delicious and nutritious treat as strawberries, it is important to remember that not all strawberries are equal in terms of health. According to the Environmental Working Group's 2018 list of the Dirty Dozen, strawberries can sadly contain residue from up to 22 pesticide. And on top of that, one-third of all conventional strawberry are sprayed with 10 or more pesticides.
My 9 year-old daughter and I react very badly to pesticides on the skins of fruit. Both of us get a burning on the insides of our mouths after eating things like apples, strawberries, cucumbers, and other fruits that are commonly known to have a high pesticide contamination. Fortunately, even though some organic companies still use certain pesticides, buying organic cuts down on this reaction for us!
Side note.
If you can't afford organic, you can wash your strawberries (and other conventional produce) in a mixture of vinegar and water. I use about 2-3 tablespoons of vinegar per bowl of fruit, fill it with water, let it sit for a few minutes, then rinse it off. Washing your fruit this way helps to remove chemicals that are left on the skins… and dirt, of course.
And don't worry, I promise your food won't taste like vinegar! You might even find that it lasts longer in the fridge after you wash it this way.
Strawberry granita.
If you happen to have fresh strawberries on hand (or even frozen ones), may I humbly suggest hiding them from your kids and saving them to make this delicious and easy strawberry granita? It's the perfect dessert for the warmer months. Not only does it only contain three ingredients, it doesn't require any fancy equipment, and the result is a melt-in-your-mouth amazing frozen treat!
Though most granita recipes call for boiling water and dissolving sugar, I skip both those steps. 'Cause I'm pretty sure Simplicity is my middle name. Well, maybe after Chocolate… But anyway, for this recipe I just throw everything into a blender, pour it in a pan, and freeze. Voila! And as soon as you're ready to chow down, just scrape off a portion with a fork and enjoy.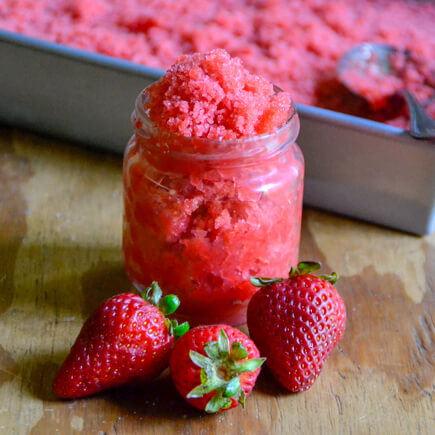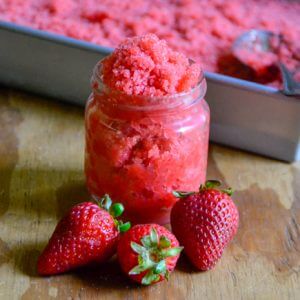 Print
3-Ingredient Strawberry Granita
With only three ingredients, and no fancy equipment required, you're sure to enjoy this melt-in-your-mouth paleo Strawberry Granita!
Ingredients
1

lb.

strawberries

1/2

c.

water

1/4

c.

honey

optional
Instructions
Wash and de-stem strawberries.

Place all ingredients in a blender and puree until smooth.

Pour into a freezer-safe 13x9 inch pan.

Let granita mixture freeze for a few hours until pretty solid, then shave with a fork.

Scoop shavings into a bowl or cup and enjoy!