When we first published our book, Weeding Out Wheat, we were attempting to answer a specific cross-section of skeptics: those who believe a gluten-free diet is both (1) unnecessary and (2) unbiblical.
In this article, my hope is to address the second concern: since there is both wheat and bread in the Bible (spoken about in positive ways), how can a Christian defend a gluten-free diet?
(By the way, if you are looking for gluten-free resources, make sure to check out my Everything Gluten Free resource page.)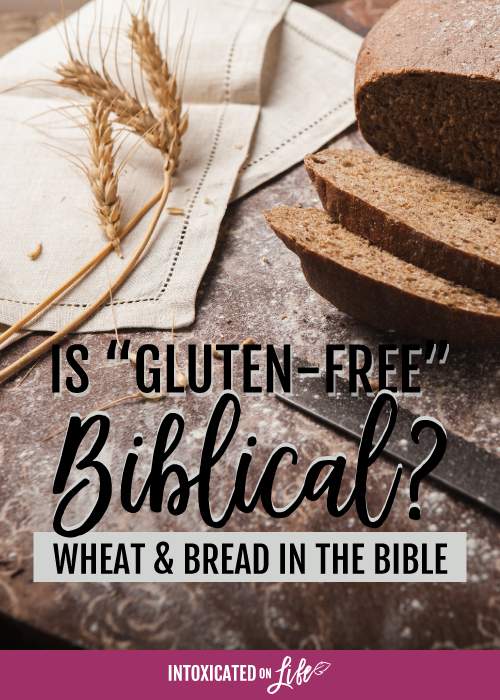 Now, I get that this might seem like an odd question.
For most people, the question of whether gluten-free is "biblical" has never even entered their mind. But for others, the question is where their faith and their diet collide.
Defining Our Terms
First, let's be clear what I mean by "gluten-free." When people speak of "gluten-free" food, they are generally talking about foods that do not include gluten proteins from wheat and other similar grains like barley, spelt, and rye. Most people who opt for a gluten-free diet do so for health reasons.
Second, let's be clear what I mean by "biblical." For the purposes of this article, I am not asking whether the Bible endorses a gluten-free diet. It clearly does not: the Bible nowhere talks about gluten proteins. Rather, the question is: Does the Bible obligate us to treat wheat like a staple of life?
Or putting it another way: Are those eating a wheat-free diet somehow out-of-step with the way God wants us to eat? What is the message behind wheat and bread in the Bible?
Wheat and Bread in the Bible
The Bible was written in an agrarian culture where wheat and bread were commonplace. References in the Bible are plentiful…
Harvesting and threshing wheat was an annual event (Gen. 30:14; Ex. 34:22; Judges 6:11; 15:1; Ruth 1:22; 2:23; 1 Sam. 6:13; 12:17; 1 Chr. 21:20).
A good wheat harvest and abundant bread was a sign of blessing (Ex. 23:25; Ps. 81:16; 147:14; Joel 2:24), while a poor wheat harvest was a sign of God's curse (Jer. 12:13; Lam. 4:4; Joel 1:11).
The Promised Land itself was celebrated as a land abundant in wheat and barley (Deut. 8:8).
Wheat was a part of the regular commerce of ancient Israel (1 Kings 5:11; 2 Chr. 2:10; Amos 8:5-6), and bread was part of ordinary meals (Gen. 14:18; 25:34; 27:17; 37:25; 43:31; Ex. 16:3; 18:12).
Wheat and bread were also a part of the religious life of Israel. A special bread called showbread was placed in the tabernacle at all times (Ex. 25:30; 35:13). Sheaves of wheat and baked bread were acceptable sacrifices to God (Ex. 29:2; Lev. 7:13; Num. 5:15; 1 Chr. 21:23; Ezek. 45:14).
Passover specifically was a time when Israel was commanded to eat unleavened bread (Ex. 12:8). Following this the Feast of Unleavened Bread was celebrated for seven days (Ex. 13:6; 23:15; 34:18; Lev. 23:6; Deut. 16:3; Ezek. 45:21).
On one occasion, God gave the prophet Ezekiel a recipe for bread, commanding him to eat bread made from wheat, barley, beans, lentils, millet, and emmer (Ez. 4:9).
Jesus also ate bread during his life. On two occasions, Jesus miraculously multiplied loaves of bread into enough to feed thousands (Matt. 14:19; 15:36; Mark 6:41; 8:6; Luke 9:16; John 6:11). He taught his disciples to pray, "Give us this day our daily bread" (Matt. 6:11; Luke 11:3). He ate bread with his disciples even after his resurrection (Luke 24:30; John 21:9). He used bread during the Last Supper to speak of his body (Matt. 26:26; Mark 14:22; Luke 22:19). He referred to himself as the "true bread" from heaven and "the bread of life" (John 6:32,48).
So yes, as far as bread in the Bible goes, bread was very important to the daily life of God's people.
What This Doesn't Prove
A while back I wrote a piece called "10 Biblical Reasons We Should Appreciate Wine." What I attempted to prove in that article was, if we take our cues from the Scriptures, our attitude about wine should be that it is a blessing from God. As much as wine can be abused (and it is), it is a blessing nonetheless, and our attitude ought to reflect that.
What I was careful not to try to prove was that we should all personally drink wine or like wine. I was also careful to say there are biblically significant reasons to abstain from drinking wine from time to time, if wisdom calls for it.
The same can be said of wheat and bread. Yes, the Bible speaks of wheat and bread as blessings from God. If we take our cues from Scripture, our attitude should be this: God gives food to His creatures to sustain them, and bread is one of these blessings.
What this does not prove is that we are all obligated to eat bread personally, just as we are not all obligated to drink wine.. BY 
Bread in the Bible: The Health Assumption
"Okay," many say, "Yes, God doesn't require you to eat bread. He doesn't command it. But wheat is given to us as part of an ideal diet. Why second-guess God's best for you?"
There are many today who hold to the idea of a "biblical diet." Some believe that the reason why God describes and prescribes the eating of certain food (and forbids others) is because he was giving his people the "ideal diet." This opinion comes in at least two varieties.
Some believe a kosher diet was the optimal diet then and remains the optimal diet now.
Others believe the kosher diet was optimal then, but since we've invented better preservation and preparation methods, the ideal diet today is broader than it was back then.
We must remember, however, this is only an assumption some people bring to the text in the Bible.
Nowhere in the Bible does God state that physical health is the reasoning behind a kosher diet.
Please note: I'm not denying that a "Biblical diet" (in whatever form people practice it) is healthy. I'm only stating that we cannot demonstrate from the Bible that this was God's MO for describing the eating practices of ancient Israel.
The same can be said about bread. We cannot assume that God placed his people in a region ideal for growing wheat because he believed wheat was somehow an ideal food.
There are more than 130 species of plant that grow in Israel, all of which are technically kosher, but are nonetheless toxic—even deadly. Just because it was kosher and available to eat in Israel did not mean it was also healthy.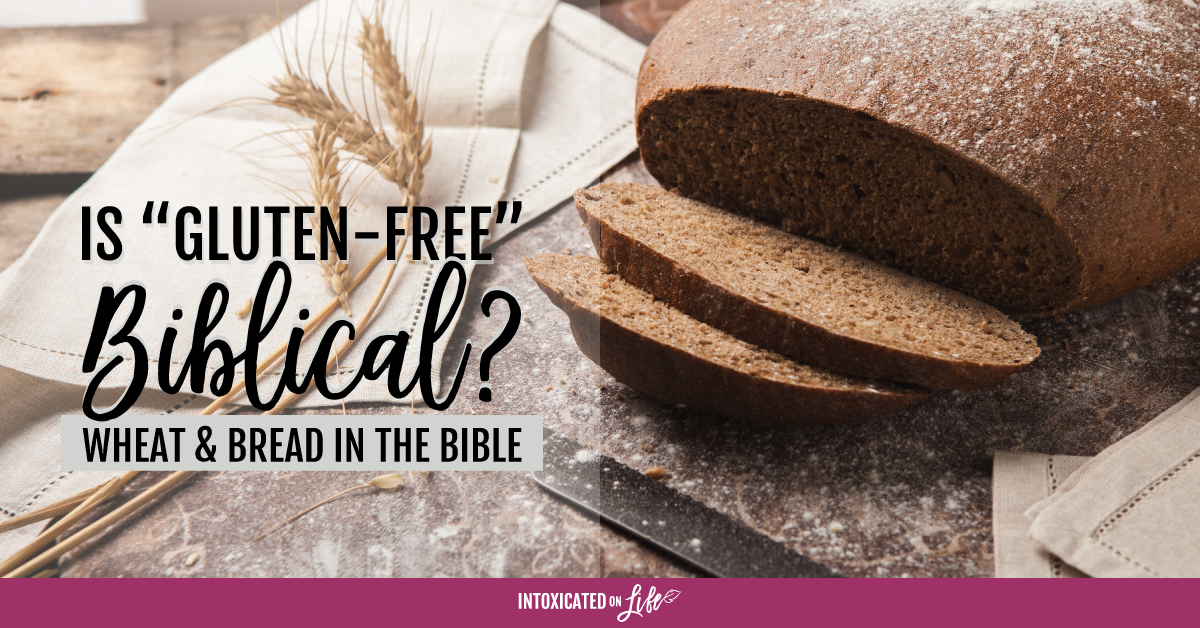 Is Biblical Wheat the Same as Wheat Today?
In his book, Wheat Belly, cardiologist Dr. William Davis says we began intense crossbreeding of wheat decades ago in order to produce a higher-yielding crop. Breeders began crossing wheat with non-wheat grasses and induced mutations using chemicals, gamma rays, and high-dose X-rays.
Today's "wheat," he says, isn't even wheat. "The wheat products sold to you today are nothing like the wheat products of our grandmother's age, very different from the wheat of the early 20th Century, and completely transformed from the wheat of the Bible and earlier."
Dr. Davis says this "crossbreeding-on-crack" has significantly changed in the amino acids in wheat's gluten proteins. This, he says, is why we have likely have seen a 400% increase in celiac disease over the past 40 years, an explosion in inflammatory diseases, and an increase in diabetes and obesity. Glia-α9, a gluten peptide nearly absent in older wheats but prevalent in modern wheats, is the most reactive celiac disease epitope.
Dr. Davis says, without qualification, "It is not my contention that it is in everyone's best interest to cut back on wheat; it is my belief that complete elimination is in everyone's best health interests. In my view, that's how bad this thing called 'wheat' has become."
Add to this, since the mid-1960s—when these high-yield mutations were introduced—the mineral content of harvested wheat grains has decreased. Modern wheat is lower in minerals like zinc, magnesium, iron, copper, and selenium.
Even individuals who are purchasing and grinding their own wheat berries are still consuming wheat that is vastly different than what is found in the Bible.
In short, even if someone wanted to follow a "biblical diet," this does not mean that modern wheat is on the menu. Jesus never ate the mutated variety we eat today.
Bread in the Bible: The Communion Question
Undoubtedly, the question of taking Communion (also called the Eucharist) is of great concern for those who do not eat gluten. Taking the Lord's Supper is one of the most common and celebrated sacraments of the church. Christ himself told his disciples to break bread in remembrance of him (1 Cor. 11:24). If there ever was an endorsement of bread in the Bible, this would be it.
But the following observation is worth noting: No directions are given by Jesus about the type of bread we should eat. It is true the Passover bread was probably made from wheat flour, as was common for unleavened bread (Ex. 29:2). The early church actually got into disputes about the "right way" to serve communion bread.
Think about it: how close to the bread Jesus ate do we need to get? How far do we take it? Maybe we think the bread ought to be unleavened to keep with the Biblical picture of Passover and of being an "unleavened" (pure) people (1 Cor. 5:7-8). But what about beyond that?
Should we require all grain for communion bread be grown in Israel?
Should we require the bread be made by hand?
Should we require the bread be made from einkorn wheat, like the variety grown in ancient Israel?
Should we require it not be genetically altered (good luck there)?
You can easily see how absurd this becomes when taken to the nth degree.
The point is churches can celebrate communion without using bread made from wheat and still be faithful to the Lord's command.
In Conclusion…
The Bible speaks of bread and wheat as blessings, and as far as ancient Israel is concerned, they most certainly were.
We should not make the interpretive mistake saying that because God planted his holy nation in an areas where wheat could be grown that he therefore is endorsing the eating of wheat for all people everywhere. Just as wine is a blessing, but this does not mean God obligates us to drink it, so bread is a blessing, but we are not obligated to eat it.
Modern wheat is not the same as the wheat Jesus consumed.
Communion bread can be made from a wide variety of grains and other substances.
Perhaps you agree with me on these points. Perhaps you differ with me. Either way, I'd love to hear from you.
And regardless, we can all stand on the same truths that the kingdom of God is not about what we eat or drink (Rom. 14:17). "Man does not live by bread alone, but man lives by every word that comes from the mouth of the Lord" (Deut. 8:3).
Why Go Wheat-Free?
When our family went wheat-free, we had many questions from friends and family. This is the heart behind our book, Weeding Out Wheat. In the book you'll learn more about the harmful effects of wheat on the body based on current medical research.
You'll also learn about how, as Christians, we've reconciled our wheat-free lifestyles while reading a bread-filled Bible.
More Gluten-Free Articles: