Grain-Free Meatballs. Meatballs. Meatballs. Yummmmm….
Meatballs make the perfect appetizer. Or the perfect dinner. Or the perfect snack. You get the idea. I could eat grain-free meatballs any day, any time…well, except maybe not breakfast.
Yes, I enjoy meatballs. There is so much you can do with them too! Curry meatballs, meatballs with marinara and spaghetti squash, Swedish meatballs (a personal favorite), korean meatballs—the possibilities for these grain-free meatballs are endless. And with all the options, you'll never get bored!
Looking for gluten-free recipes and resources? This Everything Gluten Free page is a library of everything gluten free we've worked on.
If you're looking for a good source of grass-fed meat,
Butcher box
has high-quality meat that they will deliver right to your door.
If you use this link to Butcher Box, you can get $15 off your first box and FREE bacon(!!)
.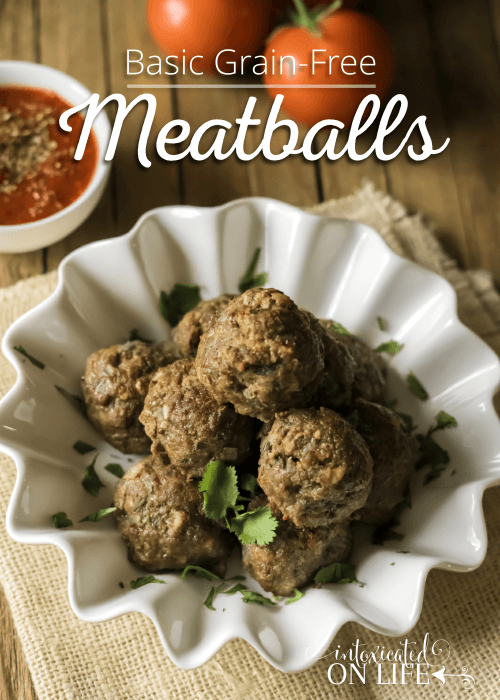 One of our favorite family tradition's is to go to our church's Christmas Eve service and then head straight to my mom's for a late night year Christmas Eve party. We call it "Junk Food Night"—but its mostly just a lot of tasty appetizers and desserts…you know, the good stuff! And of course, it was expected that I'd bring meatballs to our little shin-dig.
Unfortunately, my go-to meatball recipe was filled with bread-crumbs which is a no-no if you're avoiding wheat and other grains. So, I adapted my favorite meatball recipe and created this grain-free version of my beloved meatball recipe.
I hope you and your family will enjoy this grain-free meatballs recipe as much as our family has.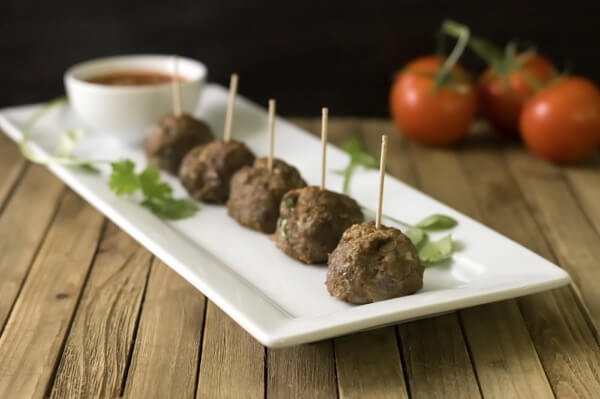 You'll see this recipe also calls for Worcestershire sauce. Here's the deal: sometimes you can find gluten-free Worcestershire (Lea & Perrins here in the US is gluten-free, but I believe in some countries is not). 
Be sure to use a gluten-free Worcestershire sauce or you can substitute coconut aminos instead. I've used coconut aminos in these grain-free meatballs and they work quite well!
Basic Grain-Free Meatballs
Ingredients
1 pound of ground beef or a mixture of pork and beef
1/2 cup almond flour
1/3 cup finely chopped onion
1/4 cup milk (or almond milk if you're dairy-free)
1/4 teaspoon pepper
1 teaspoon salt
1 egg
1/2 teaspoon gluten-free worcestershire or coconut aminos
Instructions
Preheat oven to 375 degrees.
Mix all ingredients until well combined.
Form into balls and place on a pan.
Bake for 35 - 40 minutes or until browned through.
Enjoy!
PS: I don't think your wheat-eating friends will even miss the bread crumbs, but maybe you don't want to share with them…and that's ok too! 🙂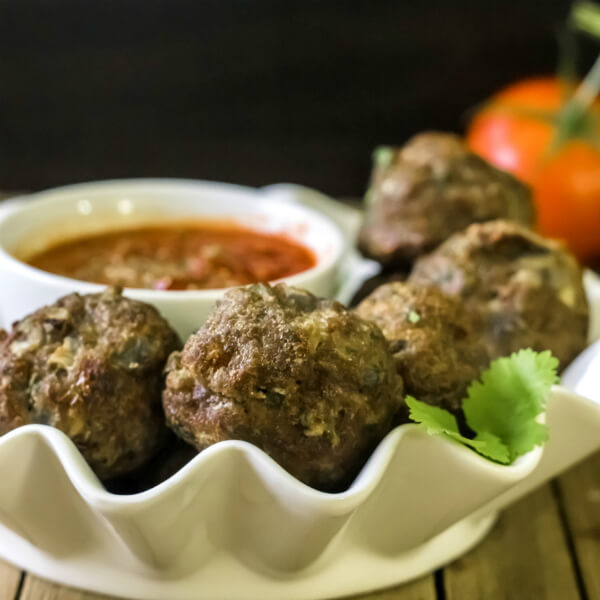 What's your favorite way to eat meatballs?
More Healthy Meaty Recipes: