Spring is upon us, and you may already be itching to get everything deep cleaned in your home! This is a great time to freshen up your living spaces. Give everything a good dust and scrub.
As you fling open the windows and get ready to clean house, are you wondering if your cleaning supplies need an overhaul? Take advantage of your momentum and detox your cleaning supplies now. These recipes will give you a healthier, more frugal option.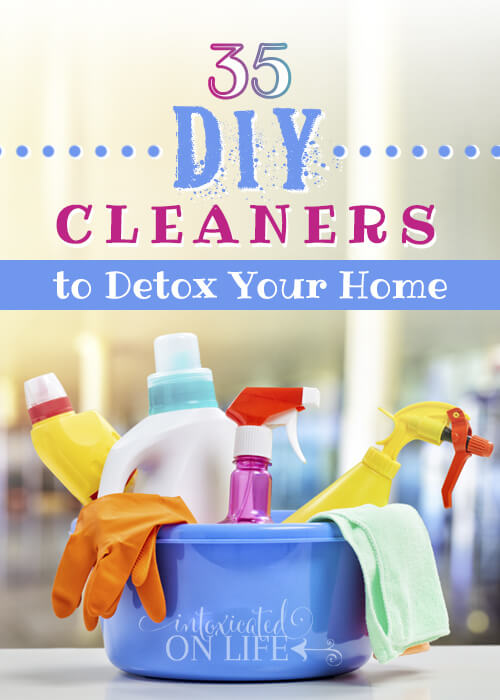 We've been "green" with about half of our cleaners these past several years. For a general cleaner, we've used plain old vinegar and water for quite a long time. However, the more kids we have, the more I notice it doesn't clean quite as well as I'd like.
I have also been on the lookout for toilet bowl cleaner recipes, dishwasher detergent, and oven cleaner that did the job well and didn't break the bank.
Today I'm sharing our new favorite super effective and yet simple all-purpose natural cleaner recipe, as well as quick roundup of several more recipes you can try as you detox your spring cleaning!
BEST DIY All-Purpose Natural Cleaner
1 cup white vinegar
1 cup water
4 drops lemon and 4 drops lime essential oils
OR
8 drops of orange essential oil
OR
8 drops tea tree essential oil
Make sure to shake before each use. That's it! Easy peasy.
Notes: 
The essential oils add scent and a natural antibacterial punch. Lemon, orange, lime and tea tree are my favorite for cleaning. However you can also try out combinations of other disinfecting oils, including lavender, eucalyptus, and palmarosa.
There are so many different recipes out there for various uses, but I use this same spray for counters, appliances, walls, the bathroom, the kitchen, the mirrors, the windows, the floors, and as a disinfectant. I'm lazy like that, but it works so I'll stick with it.
I don't add soap to my vingar-based all-purpose cleaner. Sometimes it can cause a curdling reaction with the vinegar and there have been some concerns as to whether the two ingredients will counteract each other. However, sometimes if I am cleaning something that is SUPER dirty, I will start with a DIY Heavy Duty Cleaner first, and then may follow up with a shot of my all-purpose cleaner for added disinfecting.
DIY Heavy Duty Cleaner
1 cup water
1 tbsp unscented (or peppermint) castile soap
10-15 drops tea tree essential oil
Shake well before each use. Follow up with a disinfecting mist of the all-purpose cleaner above, if desired.
More Natural Recipes to Help Detox Your Spring Cleaning
Looking for more ways to detox your household cleaners? Here's a big list of great recipes to try! Many of these use essential oils.
Free Download: Mom's Essential Oil Cheat Sheet
Would you like a resource to help you learn to use essential oils with your family? Download this free 3-page printable:
Basic guidelines for using essential oils around kids
A list of safe, kid-friendly oils essential oils
Helpful essential oil recipes
Click the link or image below to download the 3-page Mom's Essential Oil Cheat Sheet. I'll follow it up with more resources and free printables to help you on your essential oil journey. Grab your copy now!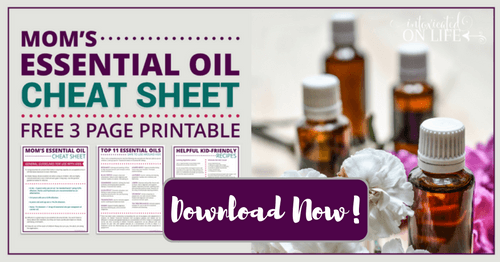 Looking for more DIY Ideas? Follow our Make it Yourself Pinterest Board!
Follow IOL's board Make it Yourself! on Pinterest.
*FDA disclaimer: "These statements have not been evaluated by the Food and Drug Administration. This product is not intended to diagnose, treat, cure, or prevent disease."