With its light smell and delicate apple flavor, chamomile tea is one of my favorites to relax with in the evening.  When I set out to create a nighttime lotion that was both relaxing and safe for children, chamomile was the first essential oil I turned to.
Much like lavender, German or Roman Chamomile is a very safe oil, and like lavender, chamomile promotes calming and relaxation.  As an added bonus chamomile may help support a healthy immune system too, a definite plus when creating a lotion for my family.*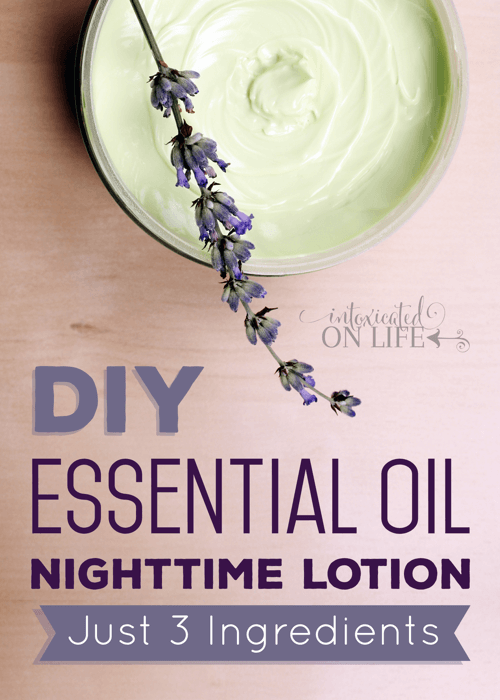 Nighttime Lotion Ingredients
This recipe can be made with either chamomile or lavender essential oil.  Although it tends to be more expensive, I prefer the lighter smell of the chamomile to other floral oils including lavender when combined in a recipe.  It really is delicate and if you haven't tried it, I highly recommend it.  It blends beautifully with other oils.
For me, it's worth the extra money and this recipe only uses a few drops so it will last a long time. When it comes to choosing a brand of oil, make sure you're getting a 100% pure therapeutic grade oil that isn't mixed with anything else.
This recipe requires a base lotion. You can make your own or simply use your favorite non-toxic, unscented brand.
Easy DIY Base Lotion Recipe:  Simply combine 1/6 cup of aloe vera gel with 1/6 cup of coconut oil.  Mix or beat it well.
Safety Note on Essential Oils
One more note before the recipe: safety is very important when it comes to essential oils and children. Roman chamomile and lavender are considered to be very safe for children when diluted properly.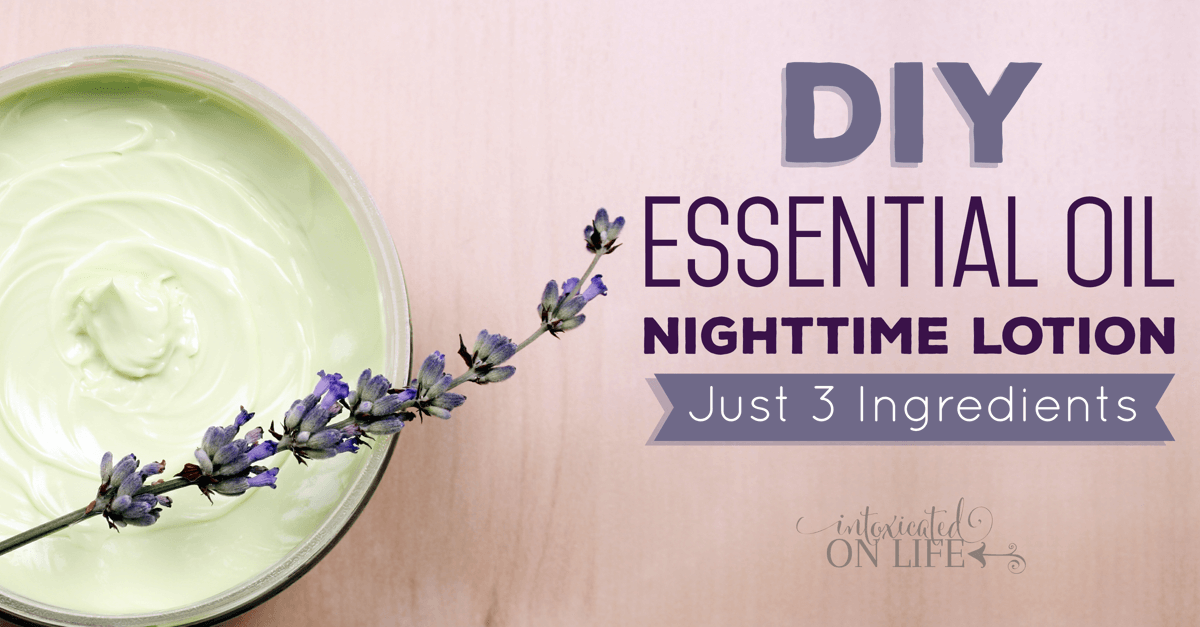 As always though test for allergic reactions using a small amount of diluted oil before applying the lotion to the whole body.  This applies to children and adults.  Also, keep in mind applying oils neat (undiluted) should almost never be done, simply because allergic reactions can develop from over exposure to an oil.  Even the mildest oils like chamomile and lavender are potent. Learn more about properly diluting oils and safety here.
DIY Essential Oil Nighttime Lotion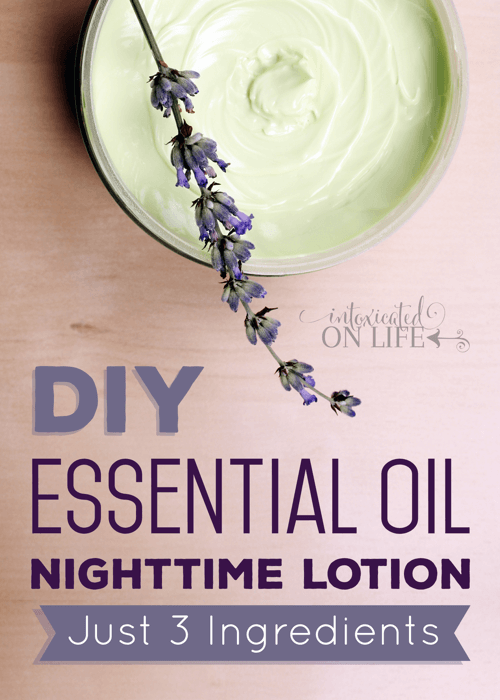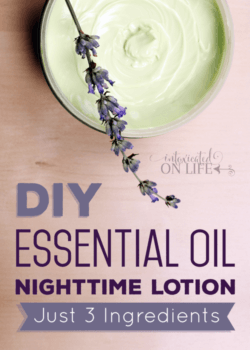 Print
DIY Essential Oil Nighttime Lotion
Nourish your skin and soothe your body with this easy, completely natural essential oil nighttime lotion! The scents of chamomile and lavender will help you relax at bedtime. Wonderful for little ones, too!
Ingredients
Base Lotion
1/6

cup

aloe vera gel

pure gel, not the aloe vera sunburn relief gel (check the ingredients! It should just be aloe vera.)

1/6

cup

coconut oil
Nighttime Lotion
2

oz

base lotion

approximately 1/3 cup, or the full batch above

chamomile and lavender essential oils
Instructions
To make base lotion
Combine coconut oil and aloe vera gel. Mix well by hand or use a mixer until fully combined and smooth.
To make nighttime lotion
Begin adding as few drops of oils as possible until you get the smell you desire. Remember you can always mellow the smell by adding more lotion if you go too far. Try a 50/50 blend of lavender and chamomile first and then adjust as preferred.

For very young children and pregnant women add 3-6 drops of oils (total) to base lotion.

For older children over 6 add 6-12 drops of oils to base lotion.

For adults add 12-24 drops of oils to base lotion.

Chamomile and lavender are both delightful on their own but they also smell wonderful when combined.
Free Download: Mom's Essential Oil Cheat Sheet
Would you like a resource to help you learn to use essential oils with your family? Download this free 3-page printable:
Basic guidelines for using essential oils around kids
A list of safe, kid-friendly oils essential oils
Helpful essential oil recipes
Click the link or image below to download the 3-page Mom's Essential Oil Cheat Sheet. I'll follow it up with more resources and free printables to help you on your essential oil journey. Grab your copy now!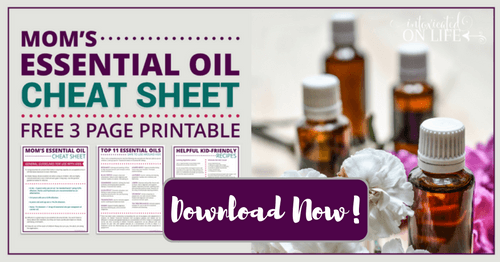 *The FDA has not evaluated these statements. This product is not intended to diagnose, treat, cure, or prevent diseases.  If you you would like to learn more about Roman Chamomile check out this link.