Am I crazy for considering "public school at home"?
It's that time of year again. Time to figure out if the homeschool curriculum you've chosen is working and begin making plans for the fall.
Quite frankly I love our current curriculum. We are using Time4Learning.com: it's affordable, enjoyable for the kids, and fits with the rhythms of our family—meaning it's not teacher intensive.
And yet I'm questioning whether or not this will still be the best choice for our family next year. One of the best things about homeschooling is, of course, flexibility, and yet I'm debating about doing public school at home next year.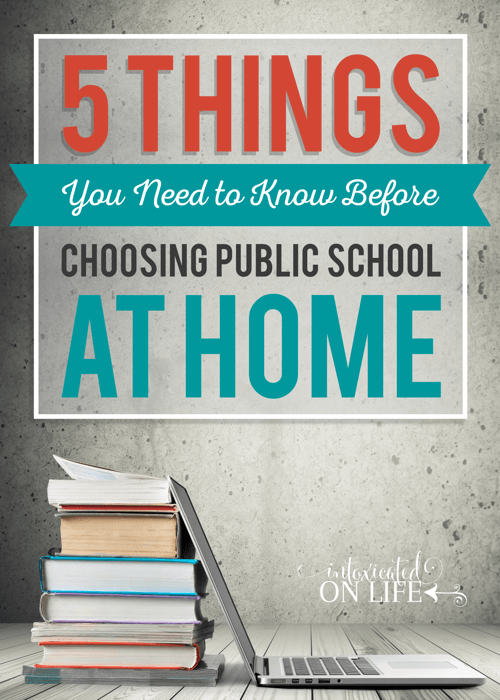 This article is just me thinking out loud. I've reached no decision, but I know a lot of other parents have considered or are considering this right now, so I'll let you know what I've learned and where I'm leaning.
Most states have some sort of free "homeschool" program. I happen to live in a county where I actually have four different choice of free homeschool programs through the public school system. That's right: FOUR different choices for FREE curriculum.
The lure of a free curriculum is very strong, but there are more than a few catches.
Catch #1: You, as a parent are not the teacher; you are a facilitator.
This might be a minor thing to you, or it could be a big hairy deal. I'm not sure how I feel about it honestly.
Essentially, you have no say in lesson plans and need to follow their program to the letter, which means you probably won't have as much extra time to pursue your children's passions in the same way you do with homeschooling.
My kids decided to write and publish a few books this year. That wouldn't necessarily be an option if we switch to public school at home given the amount of work required.
Catch #2: You're stuck with the curriculum available, and it's not guaranteed to be engaging.
In my area I have the choice between A Calvert Curriculum program, a K12 Program, Connections Academy Program, and (when my kids get older) a Compass Learning Based Program. Here are my opinions about each.
Compass Learning: Now, if my area offered a Compass Learning based program for the grades my kids are in now, I would do it in a heart beat! Time4learning.com is Compass Learning based so I know we love it and it works for us. Here's hoping this option is still available when my kids get older, because, quite frankly, I'd love to be able to do this program for free.
Calvert Curriculum: This curriculum looks very solid and has good reviews almost everywhere. The downside is it also looks very parent-intensive. If I had one child, I'd probably do it, but I have 4 kids which changes things a lot.
K12: I unfortunately have read almost exclusively negative reviews for K12, and after previewing the material and computer work, I'm not impressed. Since I have multiple options in this area this would absolutely be my last choice.
Connections Academy: The reviews for Connections are mixed. Again, I'm not impressed with the computer-based learning program, and it seems this is another very parent-intensive program. The biggest downside is your child can't really work ahead or fall behind in any one subject; they need to keep pace with the rest of the virtual class, which absolutely will not work for students that are too far above or too far below average.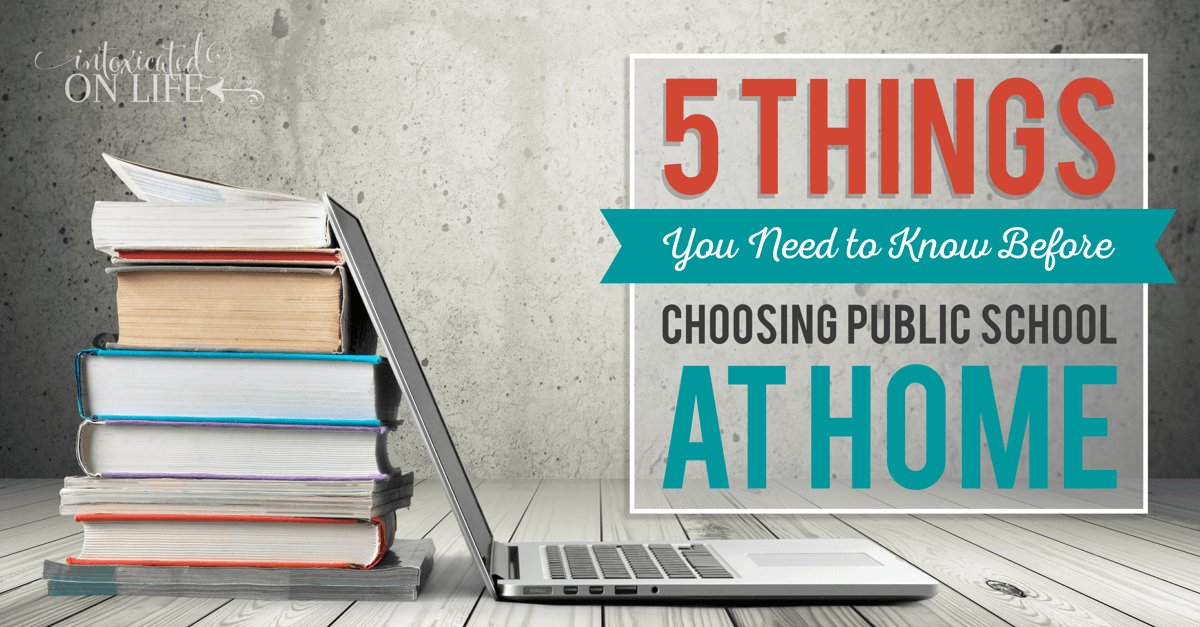 Catch #3: It is in no way faith-based.
Here's the thing: you can always have Bible lessons with your kids and then start school every day; but if having a program where faith is interwoven into everything is important to you, then this is NOT what you're looking for.
To me it's important that my children know what secular science teaches, but I want to be there to guide them in their faith while they're learning. I don't see young earth creation as a salvation issue, but I still want them to understand it.
The difference between sending a child to public school, and teaching them public school curriculum at home is I'll be there to mentor their faith as they're learning.
Catch #4: You don't have much control over your school schedule.
Most programs operate on a September to June schedule with breaks throughout the year. That week off in May your family wants to take on vacation before the theme parks get busy probably won't be an option.
Obviously, absences are bound to happen, but the school's policy on days you're child is required to "be in class" is worth considering. You might not be able to do weekly co-op  anymore depending on the program in your area.
Catch #5: Your kids may have to take standardized tests.
Depending on the requirements where you live your student will most likely be required to sit through standardized testing several times a year.
In my humble opinion, standardized tests in younger grades are incredibly frustrating, and sometimes downright traumatic. It's not necessarily a deal-breaker in my book, but something worth considering, and honestly it's my biggest hesitation in this whole thing.
My Final Thoughts
This article has been emphasizing the negative side of things. If you visit any of the above websites, each program will give you a hundred different reasons why you should choose their program, and honestly some are very compelling—which is why I'm so torn.
At the moment, I don't know what we'll do. There is an open house in May for the Calvert curriculum program, and I'm going, but I think we'll probably wind up with Time4Learning again next year. Honestly the only downside of Time4learning for us right now is although it's very reasonably priced, it's still more expensive than free.
Maybe when my kids are in High School, I'll switch to a public-school-at-home program so they can be involved in local extra curricular activities and have a district diploma—or maybe not. Luckily, we can still keep things flexible.
What do you think? Have you ever considered or tried public school at home? Am I crazy for even thinking about it?