Creating a healthy diet often means reducing and removing certain foods from meals. This approach is not a one-size-fits-all solution. While sugar doesn't offer any nutritional benefit, many fats actually do.
Here we will go over 5 reasons you should eat more fat.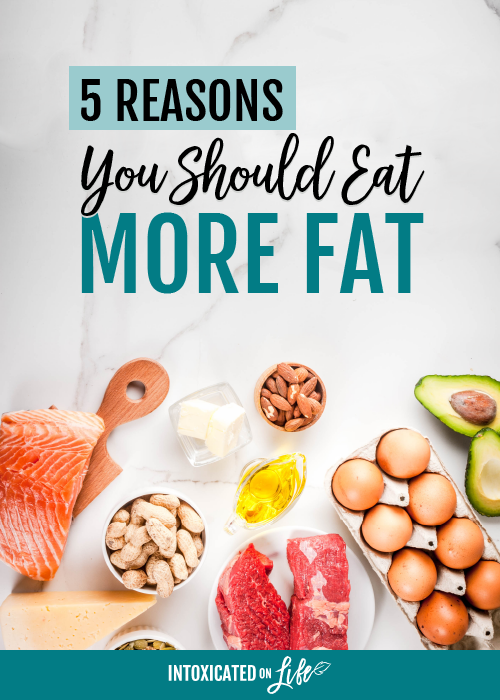 Understanding the effects that foods have on your body is key when creating a helpful lifestyle, and that includes many animal fats. 
Let's talk more about why adequate natural fats are imperative to brain function and optimal nutrition. We'll also talk about what is wrong with fats like margarine, canola oil, and vegetable shortening. For now, I'm just going to give you a couple of quick tips to start you on your (fat) journey.
1. Brain Function
Your brain needs fat. Fat and cholesterol are so important for brain development that the breast milk of a mother in good health is composed of 50-60% fat! Eating a diet with plenty of fat isn't just important for children. Studies are finding that individuals who eat diets low in animal fats suffer mild cognitive impairments.
On the positive side, diets high in saturated fat have been found to be an effective treatment for epilepsy, Alzheimer's disease, Parkinson's disease, and prevention of stroke. Our brains run more efficiently on ketone bodies and need less glucose when our bodies are manufacturing them. This can only happen when we are eating diets high in fat, low in carbohydrates, with moderate protein consumption.
Your brain is made up of primarily saturated fat and cholesterol. If you are not consuming enough fat you will be robbing your brain of the raw materials it needs to function and develop properly.
2. Absorb Vitamins
Some vitamins require fat in order to be absorbed. Fat-soluble vitamins include A, D, E, and K. Most natural sources of saturated fat also contain high levels of these vitamins.
Not only this, but eating fats with your fruits and vegetables allows you to make better use of the vitamins and minerals found in these substances. Individuals who eat their salads with fat-free or low-fat salad dressing will absorb far fewer of the beneficial phytonutrients than those who are eating salads with full-fat dressings.
3. Lung function
Did you know our lungs are coated with a substance called surfactant? Surfactant is necessary for proper lung function. It is made up of (you guessed it) saturated fat. In recent years we've seen an increase in the rates of individuals who suffer from asthma while also seeing a decrease in the amounts of saturated fats that are consumed. Research has found that when saturated fats are replaced with polyunsaturated fats, the lungs don't work correctly.
4. Liver Protection
Saturated fats are necessary for liver health. Individuals who consume diets high in saturated fats are less likely to develop fatty liver disease and cirrhosis of the liver. Those who consume diets high in polyunsaturated fats increase their likelihood of developing problems with their liver.6 Saturated fats encourage the liver cells to dump their fat content and protect the liver from toxins and alcohol.
5. Lose Excess Body Fat
Eating fat will not make you fat! If you are looking to lose excess body fat the answer is a high-fat diet. Dietary fats are the most stable forms of energy. When you eat plenty of fat you will feel satiated and won't need to eat as frequently. Individuals who eat the greatest percentage of fat lose the most body fat. Eating a high-fat diet, while limiting carbohydrate consumption is a proven, effective, safe way to shed excess body fat.
Increasing natural, beneficial fats will benefit your health. Be aware—eating a low-fat diet can lead to serious health problems.
Focus on Natural Fats
Butter (preferably grass-fed brands like Kerrygold)

Palm Oil

Lard

from pastured pigs (you can easily do this yourself by purchasing the back fat from a local farmer)

Tallow

from grass-fed cows (you can also make this easily yourself by purchasing fat from a local farmer)

Olive Oil (but don't use it for cooking over high heat)

Macadamia Nut Oil (but only use over low heat) 

Flaxseed Oil (never heat)
Stay Away From
All trans-fats

Vegetable shortening

Margarine and other "buttery spreads"

Canola Oil

Corn Oil

Vegetable Oil

Soybean Oil

Safflower Oil

Sunflower Oil

Partially Hydrogenated Oils

Peanut Oil

Grapeseed Oil
This is not an exhaustive list, but a great place to start. I feel certain you'll enjoy the taste of fats from natural sources and your body will certainly thank you for providing it with a fantastic source of energy and nutrition!
Have you been able to increase your fat intake this month? What fats have you been eating? I'd love to hear how you're doing!