This Spinach and Goat Cheese Egg Muffins are the perfect nutrient-dense make-ahead breakfast option for busy families. They taste great even when reheated and the whole family will love them.
Breakfast is a huge challenge during the school year.
I want my husband and kids to eat a hot, nutritious breakfast. But with one child leaving at 7:00, one child leaving at 7:30, a husband leaving at 7:45, and the last child leaving at 8:30, sitting down together for a hot breakfast isn't a feasible option.
Furthermore, cooking breakfast for my youngest, who leaves at 7:00, would mean I'd have to get up awfully early. It's not going to happen.
If you're in the same situation I am—and even if you're not—you can serve your family a healthy hot breakfast in the morning!
How?
With spinach and goat cheese egg muffins!
Looking for gluten-free recipes and resources? This Everything Gluten Free page is a library of everything gluten free we've worked on.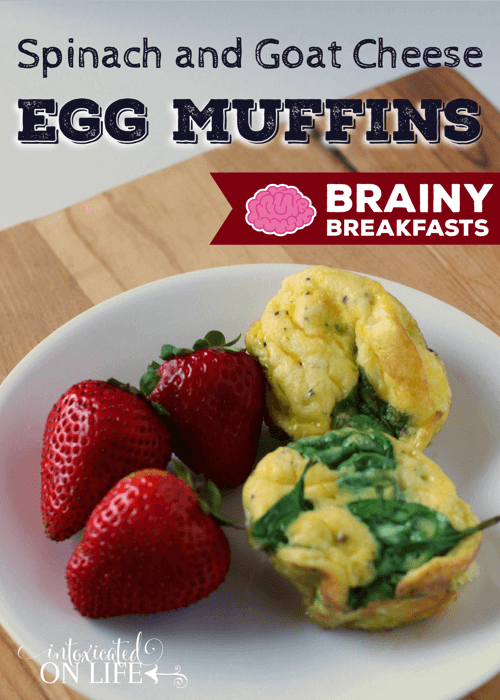 Why Egg Muffins?
Egg muffins are a staple around our house. They're easy to make, and they freeze really well. In the morning, just pull out 1-2 egg muffins for each child and microwave 60 seconds per muffin.
My latest egg muffin creation is the spinach and goat cheese egg muffins. My favorite omelet contains spinach and goat cheese, but since omelets are time consuming to make in the morning, I turned my favorite omelet into a muffin.
Why Spinach?
Fresh spinach is packed with nutrients like folate, vitamin E, and vitamin K. These nutrients can help prevent brain problems like dementia.
In fact, a 2006 Neurology study showed that "eating three servings of leafy green, yellow, and cruciferous vegetables a day can delay cognitive decline by 40%."
Getting that many leafy greens into a child's body during the day isn't easy! That's why I like to start my kids with leafy greens in the morning.
It can be difficult to get kids to eat leafy greens like spinach. I love to hide them in foods like egg muffins. The eggs and goat cheese somewhat mask the taste of the spinach, making it more palatable for younger kids.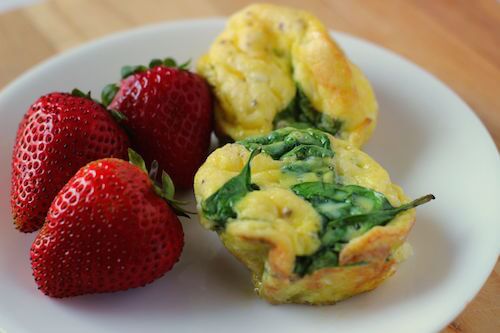 Why Goat Cheese?
Why not use a more conventional cheese, like cheddar, in these egg muffins?
Well, you certainly could if you wanted to. I love goat cheese, though, because it holds together as the muffins cook. When you bake goat cheese in egg muffins, it doesn't melt into one big, eggy-cheesy bite.
Instead, the goat cheese melts separately from the egg. When you bite into the egg muffin, you find pockets of goat cheesy goodness hidden inside. And I like to taste the separate flavors in this muffin!
Also, goat cheese is loaded with calcium, vitamin A, vitamin K, phosphorous, niacin, and thiamin. It's also easier on the digestive system than cheese made from cow's milk. It's almost like a multi-vitamin in a muffin!
If you're struggling with ways to start your family's day with a protein-packed, brain-boosting breakfast, try making egg muffins! It's versatile, easy, and a fun food kids will eat!
Ready for the spinach and goat cheese egg muffins recipe? Let's go!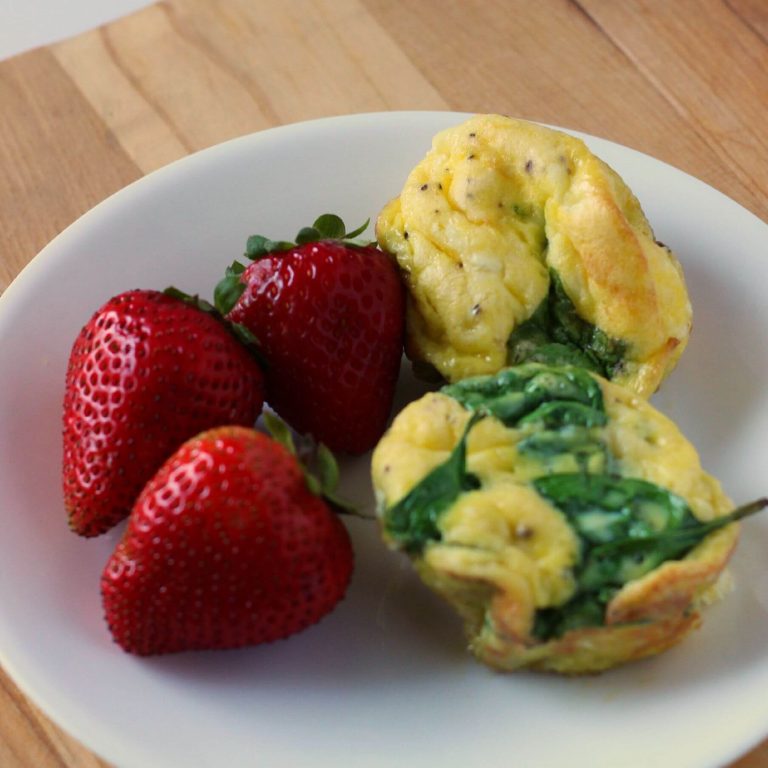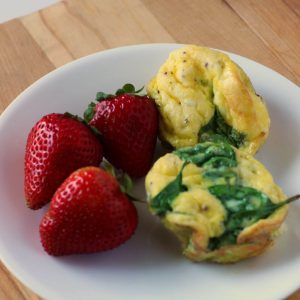 Print
Spinach and Goat Cheese Egg Muffins
Ingredients
12

eggs

2

tablespoons

cream

or use milk

1/2

teaspoon

salt

1/4

teaspoon

pepper

2

cups

fresh baby spinach

packed down a little

1/2

cup

goat cheese
Instructions
Preheat oven to 350°. Grease a 12-cup muffin tin.

In a large bowl, whisk eggs with cream or milk. Add salt and pepper and mix well. Gently stir in spinach.

Crumble goat cheese into egg mixture. Mix gently until cheese is mixed in well.

Fill each muffin cup in the tin with 1/3 cup egg mixture.

Bake egg muffins for 20-25 minutes until a toothpick inserted into the center comes out clean.

Let rest in pan 10 minutes before removing, if you don't want the muffins to fall.

To freeze: Lightly grease a cookie sheet. Place egg muffins on top of cookie sheet and freeze until muffins are solid. Store frozen muffins in a labeled plastic Ziploc bag in the freezer. In the morning, just pull out as many as you need, and keep the rest in the freezer.
Notes
Nutrition facts are per muffin. Multiply times however many muffins you eat! 🙂
Nutrition
Calories:
98
kcal
|
Carbohydrates:
1
g
|
Protein:
7
g
|
Fat:
7
g
|
Saturated Fat:
3
g
|
Cholesterol:
171
mg
|
Sodium:
199
mg
|
Potassium:
89
mg
|
Fiber:
1
g
|
Sugar:
1
g
|
Vitamin A:
841
IU
|
Vitamin C:
1
mg
|
Calcium:
44
mg
|
Iron:
1
mg
Need some more tasty, kid-friendly breakfast ideas?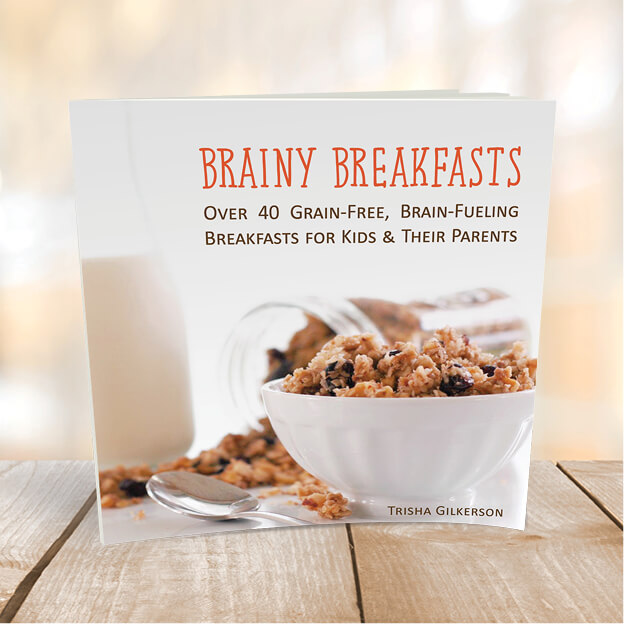 Check out our cookbook Brainy Breakfasts – it's filled with over 40 grain-free, brain-fueling breakfast recipes to keep things new and exciting! It's available as a downloadable or softcover book. You won't run out of healthy, tasty breakfast recipes anytime soon with this cookbook ?
More Healthy Egg Breakfast Recipes:
---
Lynnae McCoy blogs at LynnaeMcCoy.com. She is passionate about teaching women to use their resources well, so they have more to pour into serving God and serving others. You can follow her on Facebook and Pinterest.