Do you feel like you just can't keep up? I do. Between homeschooling my kids, running kids to basketball and piano practice, being involved in church, picking up the house, staying on top of this site…where is the time to prepare delicious healthy meals?
Do you find yourself too tired to make healthy food? Too busy? Unprepared?
Getting a full month of meals in your freezer will take care of all of those problems—and you can do it all in one weekend.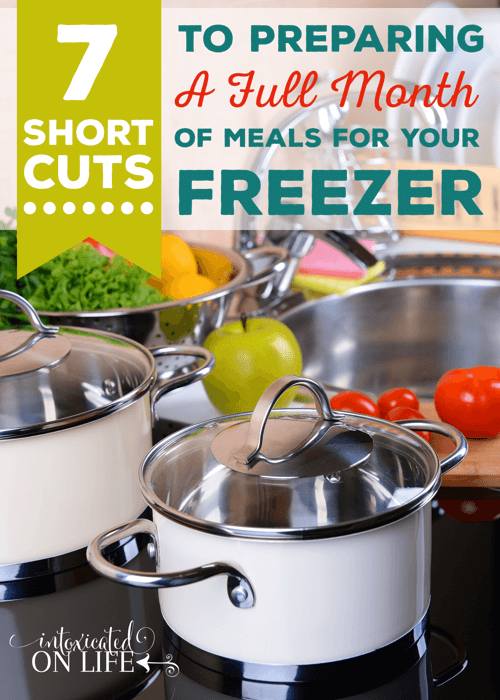 Special thanks to Once a Month Meals for sponsoring this post. 
Sure, it takes planning and energy. If you're like me though, you might do better with spending a concerted amount of time and energy on planning something that you can utilize for weeks to come.
7. Schedule a Planning & Shopping Day
Ladies. Please don't try doing all of this from start to finish in one day. You'll kill yourself. I know, it might sound like a fabulous idea to just wake up early in the morning prepared to get it all done from start to finish. I don't know if that's possible. We're not superwomen here. Well, maybe you are, but I'm not.
I broke the entire process—from the beginning of planning the meals to the end of labeling and stocking my freezer—into 3 days (but you could probably do it in 2 very full days). This makes it so much less overwhelming than trying to do everything in 1 day.
Friday, I spent just a few hour picking out meals, printing out recipes and instructions, going over my grocery list, and grocery shopping. It was a fairly light day. I still had time to wipe snotty noses, do a few dishes, and goof off with my kiddos.
Tip: If you use a service like Once a Month Meals, you can pick a menu to satisfy your eating plan and families tastes. Pick from pre-assembled menus like gluten-free, paleo, traditional, etc. Then, you can swap out recipes that don't work for your family and choose from other fantastic recipes.

Once a Month Meals will provide you with a shopping list, so you know exactly what you need to get and in what quantity. Just tell them how many servings you want each meal to be, and they calculate it all.
(Read to the bottom of the post to learn how you can get a $32 credit to a Once a Month Meals subscription).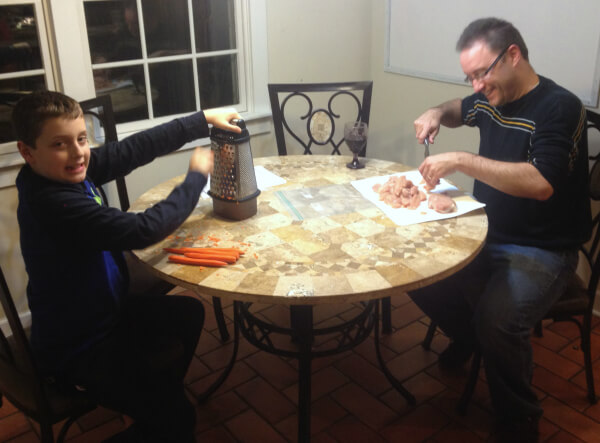 6. Schedule a Prep Day
Saturday morning I slept in. What good are Saturdays if you can't sleep in? Sleeping in was a fantastic way to rejuvenate my energy for the tasks at hand.
I spent the late morning and afternoon prepping food. I chopped onions, cooked ground beef, sliced, diced, minced, and more. This was a moderate work day. But oh so worth it for the "big day."
Only have 2 days? I'd combine the tasks from planning and prep together (and probably skip the sleeping in part). If you try to combine anything with your cooking day you'll simply be beyond exhausted. That is, unless you have an army of workers to help you out 🙂
Tip: Be sure you have a list of all of your foods that need to be prepped. I used Once a Month Meals and they provided me with a print-out of exactly how many cups of onions I needed to have chopped for all of my meals combined, how many pounds of ground beef to cook ahead of time, etc. Serious time-saver!
5. Schedule a Cooking Day
The "big day" arrived! Sunday. The plan was to go to church and then come home and get down to business. But there was an itty bitty snag. Our alarm wasn't set. We woke up just 10 minutes till we needed to leave for church—and my husband was filling in for our pastor. Crud.
I rushed my husband out the door and by the time I had a chance to breath, realized there was no way I could have the twins and myself ready to go in time to get to church before the sermon was half over. (Side note: I think this has happened zero times before. We really don't like to miss church and everyone in the house oversleeping is pretty much unheard of.)
Be sure you have a day devoted to taking all that prepped food and designing it into something marvelous your family will love. Cooking day was amazing. Our kitchen smelled awesome. As my husband was washing dishes he claimed, "You know these are some good eats when even the dirty dishes smell good."
Cooking day was a heavy day. I had a full freezer and tired feet at the end of the day. But, by planning, printing, and prepping ahead of time, I took a huge load off of my plate. My feet may have fallen off if I tried to do it all in one day.
Tip: Be sure to plan out what to work on 1st, 2nd, 3rd, and so on. If you need something to cook in the crock pot for 6 hours, you don't want to save that meal for last to start. Any meals that are going to take a long time to cook should be front-loaded. Using Once a Month Meals, they did this for me. All I had to do was print off my "game plan" for the "big day" and I knew exactly which meals to work on first.
4. Turn it Into a Family Event
It may sound silly, but I had fun working beside my oldest son and husband. Good conversation, fun banter, and delicious meals—what more could I ask for?
My husband was available all 3 days to help me out. He's "Super Husband." Have I ever mentioned that before? He really is.
He held down the fort on Friday while I spent time picking out my meals and going to the grocery store.
On Saturday my husband helped with the kids and in between helped chop onion, cook ground beef, and more. My 10-year-old son, Bradley, pitched in a lot this day too! He peeled carrots, shredded zucchini, and took on several other age-appropriate tasks. Bradley also intermittently acted as human jungle gym for my littles.
Sunday is where it all happened. My husband was super-daddy that day and my super-dishwasher man. He did sinkfuls (plural) of dishes for me. Have I mentioned how awesome my husband is? 🙂 Of course Bradley pitched in too, but mainly by entertaining his younger siblings.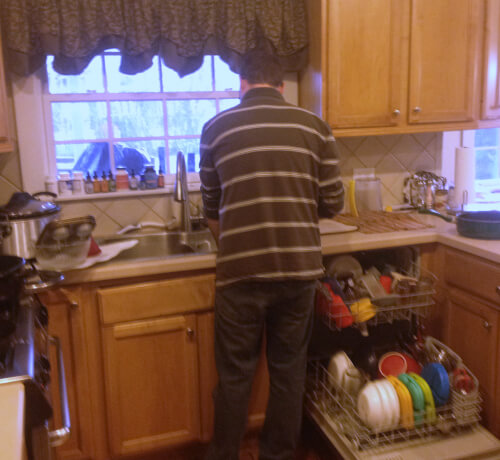 3. Expand your Kitchen Collection.
You'll need many more supplies than on your average cooking day. I borrowed a slow cooker for the day because I knew I'd need a second one. I have a pretty enormous collection of pots, pans, and mixing bowls so I was OK there, but my husband still did the dishes a few times to free up items I needed to use multiple times.
It's no fun to stop and wash though. You lose a lot of momentum this way. So, if you're doing it yourself be sure you borrow these essentials from friends and family. Having extras on hand never hurts.
2. Give Your Printer a Workout.
Print out labels and cooking directions ahead of time. Don't get to the big day without having all of your recipes printed out.
Another reminder: make sure you label your meals. I know, this is a "no duh" tip, right? Maybe you aren't as forgetful as I am. But, the first time I tried my hand at freezer meals (prior to using Once a Month Meals) I totally forgot to label my meals.
If you have an adventurous family, you can skip the labels. If you like thawing out "mystery dinner," this is the way to go! But, if you'd rather know what it is you are thawing and how it needs to be prepared, consider this your reminder to label!
Tip: You know that planning and prep day I talked about? That would be the perfect time to get everything printed out that you need. If you're using Once a Month Meals, they'll have everything all figured out for you and ready to print off easily.
1. How to Make it Really Easy.
In case you haven't taken the hint, use Once a Month Meals. They have revolutionized the way I do freezer cooking. The quantity and quality of food I'm able to prepare in a weekend far surpasses what I was able to do without them. Sure, I could do some freezer cooking without them—but it was stressful, confusing, I forgot things, and the meals were often basic and boring.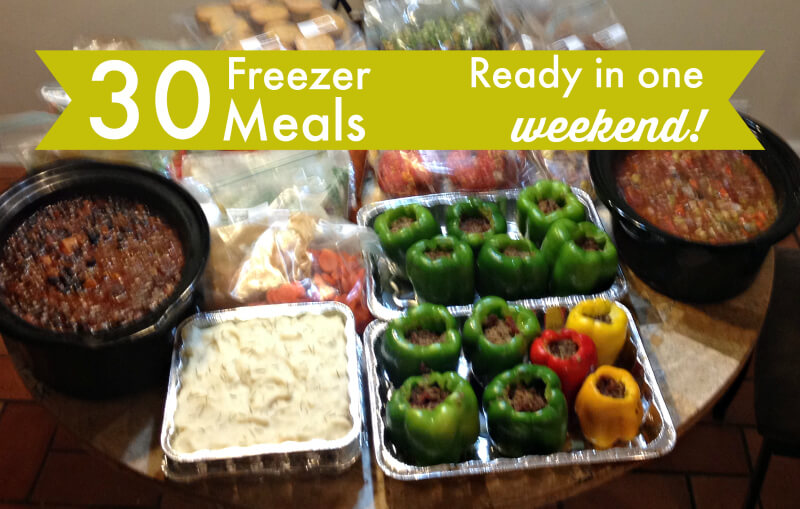 This isn't the case with Once a Month Meals, that's why I was so excited to share this service with you.
No unit conversions: You tell Once a Month meals how many servings you'd like each meal to prepare for.
Never boring meals: I'm never disappointed. I'm able to make a variety of of healthy meals that keeps our whole family happy. This month, I made stuffed quinoa peppers with sun-dried tomatoes, crunchy paleo chicken strips, chipotle cheddar burgers, crockpot Mongolian beef, and more! I've got to stop, I'm making myself hungry. Trust me. You won't be disappointed.
Easy plan: Just click a button to access your shopping list, prep instructions, cooking day instructions, recipe cards, labels (with cooking instructions), and a thaw sheet.
Once a Month Meals takes all of the hard thinking out of making your freezer meals. It frees you up to fill your freezer with food your family will love!
Have you tried freezer meals? What are your best shortcuts and tips?