Everyone loves Wikki Stix! All of my kids – aged 12, 7, and twin 5 year olds all love these wax covered sticks of yarn. Ok, I admit it, even I love Wikki Stix. I love them both as a parent and I secretly enjoying playing with them myself.
The first time I was exposed to Wikki Stix was a few years ago at a restaurant. In lieu of giving kids the standard menu/coloring page and 3 crayons to keep them busy, they gave them a mini-pack of Wikki Stix. Brilliant! These thing kept the kids (and me) enamored until our food came.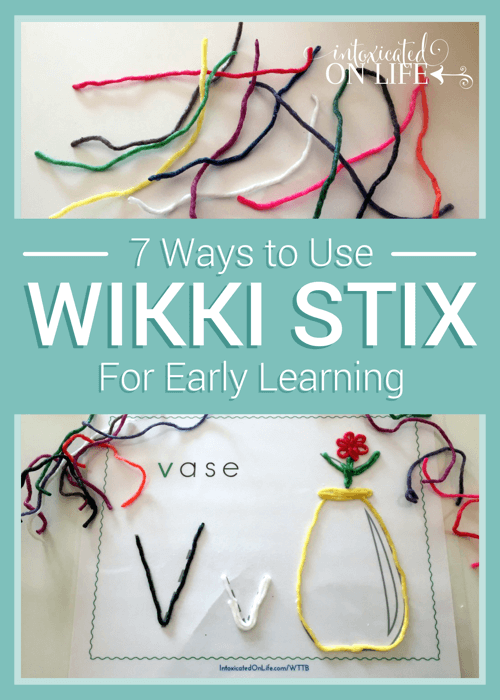 7 Fun, Educational Ways to Use Wikki Stix
After my first experience with Wikki Stix, I had to find out where I could get more of these! I had ideas. lots of ideas for how I could incorporate these into our school day. And when you're using Wikki Stix, it doesn't even feel like school. It feels like fun.
1. Free play for fine motor development
All you have to do is pass your kids a pack of Wikki Stix. Whether they're 2 or 12, they'll enjoy fiddling with them. They'll make shapes, ball them up, build structures, and more.
My kids come up with all sorts of crazy things to do with them. But I know as they shape them, and being seemingly unproductive, they're building fine motor skills. (Shhhh…don't let them in that secret!)
2. Tracing with Wikki Stix for number, letter, and shape recognition
They can trace any number of things on paper or laminated paper, but one thing I like to have my littles do is have them trace letters, shapes, and numbers. This assists with letter, number, and shape recognition.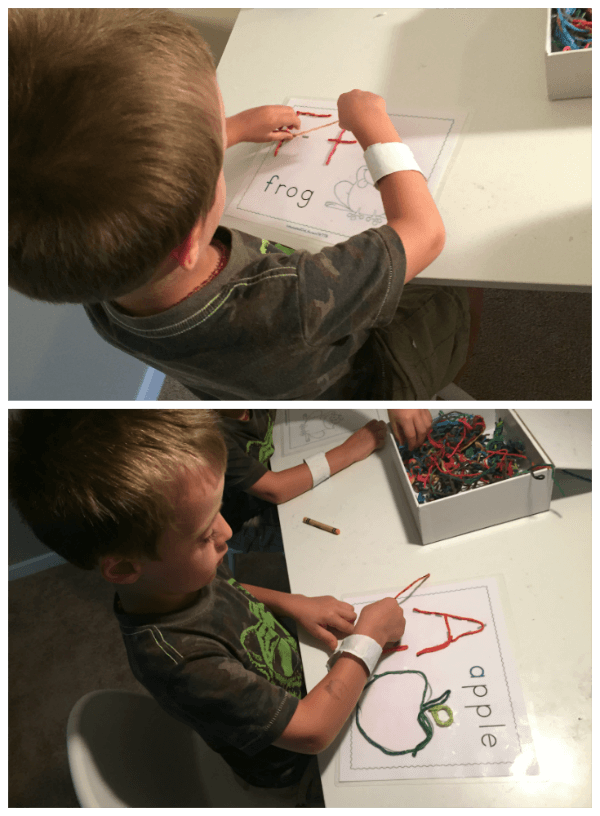 I made up a full set up early-learning printables  for my twins to use. They help them with both letter recognition and increasing fine motor coordination. They look forward to using this set of fun printables along with Write Through the Bible: Junior.
3. Use Wikki Stix for learning to color in the lines
I didn't realize teaching children to color in the lines was a controversial topic until a few years ago. What in the world could be controversial? Children have been learning to do this for thousands of years! Turns out, there are some who believe it stifles creativity. OK, I get it. But I don't agree.
There's certainly time for creativity and children can learn to color outside the lines and wherever they like. When I color in my kids coloring books with them, I color inside the lines and I color outside of the lines. They do too!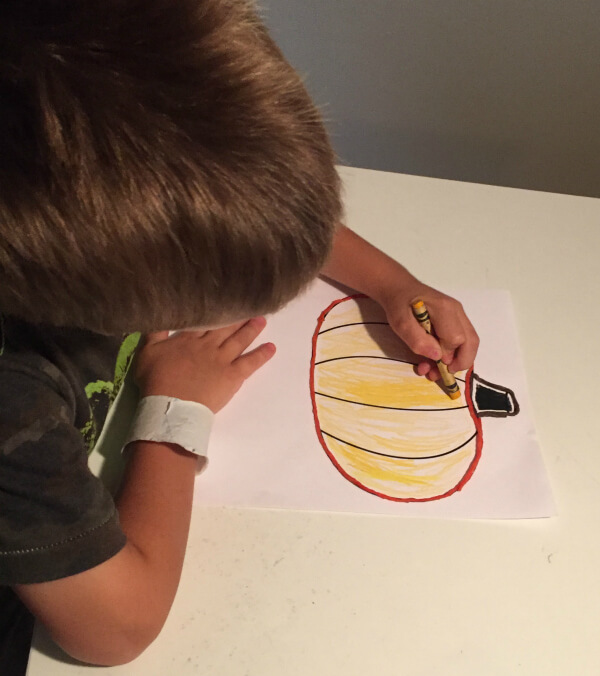 Coloring inside the lines can help with development of hand-eye-coordination, and of course I want my children to also learn to listen to and follow directions. Some children (like my oldest son when he was young) have a more difficult time with this skill. He had poor fine motor skills and lacked good hand-eye coordination. I wish I would have had this tool to use when he was younger!
Simply trace a shape with Wikki Stix, the board will act as the line and also a physical barrier to help them to learn to color in the lines. Voila!
4. Using Wikki Stix to help with cutting skills
Cutting is another activity that's fantastic for development fine-motor coordination. You can do this with your pre-writers or your writers who have weak fine-motor coordination.
When my kiddos are just learning to cut, I just let them sit around and cut pieces of paper. This activity can keep my twins engrossed for quite some time. As they become more proficient with scissors it's great to challenge them with cutting on lines.
To use Wikki Stix to assist with cutting skills, simply trace a shape with Wikki Stix and see if they can cut around the perimeter of the shape.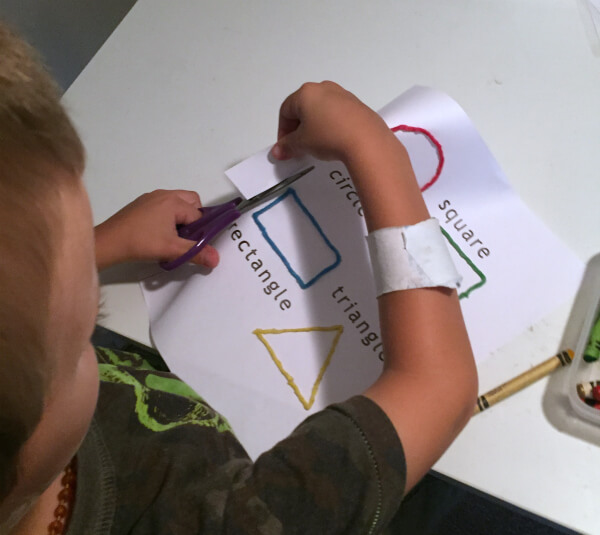 You could even combine many of these activities into one. Ask your child to trace a shape with wikki stix, color inside the shape, and then cut the shape out. All the while you can be talking about what the shape is!
5. Counting
While you could simply have your kids count groups of Wikki Stix, that's not near so much fun as making these counting rings.
All you need in addition to your Wikki Stix are some beads. You or your child can thread beads on your Wikki Stix  of various number. You can ask your child to count the beads on each counting ring, or you could ask them to find the ring with X# of beads on it. As your child becomes more proficient, so if they can identify the correct ring, without having to count each bead on at a time.
6. Simple addition and subtraction problems with Wikki Stix
With my twins we are learning about very basic addition and subtraction and what the symbols mean. I set problems up, like the image below.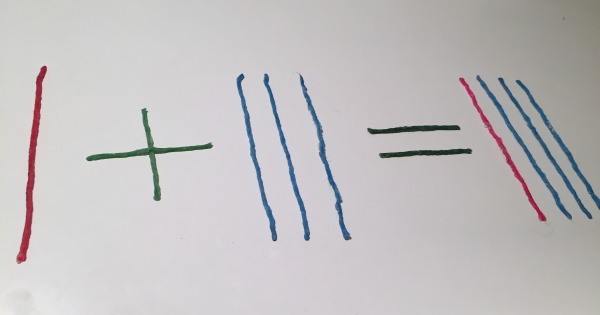 I line up a certain number of  Wikki Stix, the appropriate symbol, and more Wikki Stix, and equal sign. We then talk about how many that will total. As they learn to recognize their numbers, instead of lining up the number of Wikki Stix, I can transition to using numbers made from Wikki Stix.
7. Tracing on foam letters or numbers
Another strategy you can use for letter or number recognition, is have your kids trace foam letters. Lots of parents already have these sitting around the house, but if you don't they're super cheap and versatile toys!
What are some of your favorite ways to use Wikki Stix for early learning?
88 Pages of Early Learning Printables
Are you looking for some fun activities to do with your Pre-K or Kindergartener? Consider adding this set of 88 printable pages to your collection.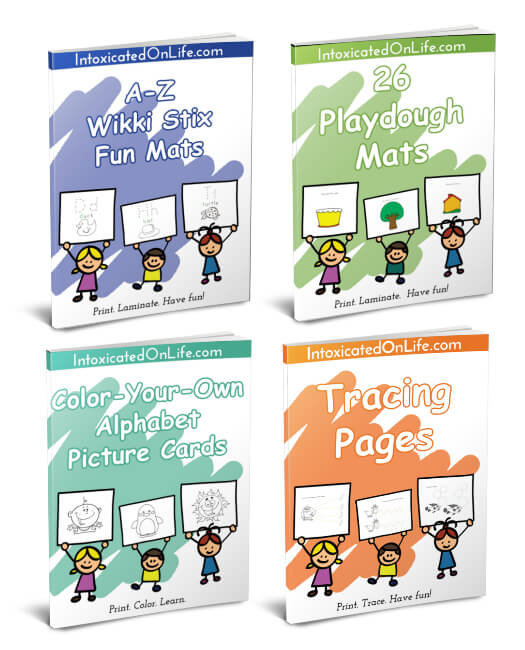 What's included?
26 Wikki Stix Mats
26 Play Dough Mats
26 Color-Your-Own Alphabet Cards
10 Tracing Pages