A couple decades ago, the ardently pro-choice Clinton administration said they wanted abortions to be "safe, legal, and rare." President Obama repeated the same mantra, calling it "the right formulation" on abortion. While pro-lifers adamantly disagree with the "legal" part, there has been at least the pretense of some common ground—we could all agree that we wanted to live in a world where the underlying reasons why women seek out abortions were eliminated.
But today, that "safe, legal, and rare" rhetoric is slipping fast, exposing a new and ugly face of women's rights. With movements like #ShoutYourAbortion trending in social media, abortion is not something we should avoid unless "necessary," but something that should be normalized and celebrated—putting an end to the feelings of sadness, shame, and regret that comes with the procedure.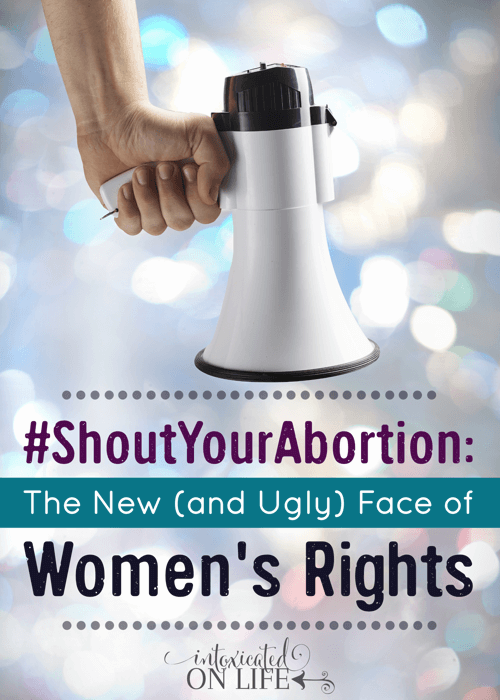 To Be Pro-Woman is to Be Pro-Life
Without exception, the earliest feminists were ardently pro-life.
Women had a steep uphill climb when it came to equal rights in the 19th and early 20th centuries. They were not allowed to vote, sit on a jury, hold property, testify on their behalf in a court of law, or control their own money. Other rights and privileges were also very limited. And yet despite all these energy-consuming causes, feminists also took a stand against abortion.
Women's suffrage advocates like Mary Wollstonecraft, Elizabeth Blackwell, Sarah Norton, Victoria Woodhull, Tennessee Claflin, and Elizabeth Stanton were all pro-life. They all believed abortion was the sign of a sick society that did not care for its women. As one passage in Susan B. Anthony's newspaper stated:
It [abortion] will burden her conscience in life, it will burden her soul in death; but oh, thrice guilty is he who drove her to the desperation which impelled her to the crime!
As the modern group Feminists For Life often say, "Women deserve better than abortion." 
When a woman lives in a world where, by her circumstances or beliefs, she feels an abortion is the best option for her unborn baby, that woman has, in some way, been wronged.
When a woman is despised by others for her single motherhood, she is wronged.
When a woman believes giving birth will inevitably plunge her into deeper poverty, she has been wronged.
When a woman is raised to believe abortion is a means of "liberation" from the oppression of raising a child, she has been wronged.
When a woman would rather choose death for her child before turning it over to an adoption system, she has been wronged.
When women fear raising their children in a fatherless environment, they have been wronged.
When the children of rape are constantly told we should have the right to kill them for their father's sins, they are wronged. When women are raped and told they will never see past the crime to see the beautiful humanity of their child, they are doubly wronged.
When women are told they need "relief" from their pregnancy rather than relief from the injustices that make childbearing too hard, they are wronged.
Abortion solves nothing, and the earliest feminist understood this. It is, at best, a Band-Aid® solution for hemorrhaging injustices done against women. When women swallow the convenient pill called "choice," they not only do violence to the life inside them, they show evidence of living in a world where they are convinced (sometimes for convincing reasons) they have to choose between giving birth and survival—between life and achieving their dreams.
The early feminists wanted to create a world where no woman ever had to choose between "What about me?" and "What about my baby?"
To Be Pro-Woman is to Be Pro-Human (Even Little Humans)
Women in the 19th century knew what it was like to be an oppressed and defenseless class of human beings, so it made all the sense in the world to be anti-abortion—fighting for the rights of yet another defenseless group. It's the same reason early feminists were also abolitionists. The earliest feminists could clearly see abortion betrayed the feminist principles of nondiscrimination, nonviolence, and justice for all.
As women's suffrage leader Elizabeth Cady Stanton said,
When we consider that women are treated as property, it is degrading that we should treat our children as property to be disposed of as we see fit.
This logic is sadly lost on most liberals today—but not all of them. As the American Feminist magazine rightly says: We believe in a woman's right to control her body, and she deserves this right no matter where she lives, even if she's still living inside her mother's womb.
The late Bob Casey, former Democratic governor of Pennsylvania—and a staunch advocate of liberal politics—said he believed there were two significant times in American history when the law "excluded an entire class of people from their most sacred human rights." The first was the Dred Scott Supreme Court decision when both slave and free blacks were told they were property. The second time, said Governor Casey, was Roe v. Wade: "An entire class of human beings was excluded from the protection of the law, their fate declared a private matter."
American historian Nat Hentoff, himself an atheist, left-wing civil libertarian, knows the science behind this is fairly plain. Any obstetrician will tell you when a pregnant woman enters your office, you're dealing with two patients, not just one. The fetus in the womb embodies continually developing human life—genetically human in every way. "Whether the life is cut off in the fourth week or the fourteenth," says Hentoff, "the victim is one of our species, and has been from the start."
Women's Rights Gone Wrong
So, what happened that brought about such a radical shift in attitudes about abortion?
Somewhere along the way, those pushing for women's rights lowered the bar—tragically low. They stopped believing we need to change society to accommodate mothers and started thinking about it the other way around.
Without a doubt the eugenics movement—advocating population control for undesirable and poorer classes—was a major player. In the mid-50s, the American Eugenics Society included many cultural leaders like philosopher Joseph Fletcher, geneticist H. Bentley Glass, social scientist Kingsley Davis, physician Alan Guttmacher, and of course birth-control leader Margaret Sanger. On one level it made sense: isn't death before birth a preferable fate to life in the slums or dying of starvation?
But instead of saying the enemy of big, poor families was poverty and the social injustices that caused poverty, they argued the enemy was the pregnancy itself.
In the 60s and 70s, Lawrence Lader, one of the founders of the abortion-rights group NARAL, himself a big believer in eugenics, traveled the country hoping to get legislators to repeal anti-abortion laws. When this didn't work, he approached feminist leaders. He reasoned, if a woman wanted to finally be hired like a man, get promotions like a man, be educated like a man, then women should not expect employers to accommodate motherhood. Sadly, many of them bought this hook, line, and sinker.
Roe v. Wade attorney Sarah Weddington used the very same arguments before the Supreme Court. Pregnant women faced various injustices in the workplace and at school—not to mention situations of poverty and abuse—but she did not suggest that these injustices be solved. She demanded, instead, that women need "relief" from their pregnancies instead of demanding they need relief from these injustices. This stance undermines the very support women deserve.
Departurism: A Refreshing Stance
"My body, my choice," has been a motto of the pro-choice camp for years.
It's a motto based squarely on the idea of property rights: you own your own body, so no one should have the right to tell you what you can do with it.
Pro-lifers can affirm that motto, with one simple stipulation: you only have the right to remove, not to kill.
Libertarian author Sean Parr calls this view "departurism." It's a view that affirms: yes, as a woman, your body is your own, and a fetus in your womb is a trespassing; you have the right to remove the fetus. But you do not have the right to kill the fetus which is, after all, a living human being with the right to his or her own body. Furthermore, in keeping the principle of non-aggression, the mother also must recognize that the fetus, from the first second of its life, is in the process of leaving her premises: gestation is, by definition, temporary, and the goal of gestation is life outside the womb.
In other words, the only legal "abortion" that should exist is a delivery—where both her and the baby's lives are kept in mind.
The New Face of Women's Rights
Years ago, and even still today, at least some pro-choice advocates couch abortion as a moral dilemma. The "safe, legal, and rare" rhetoric is part of this stream of thought. In life, they argue, hard choices must be made, and there are times when one moral value must trump another.
Twenty years ago noted feminist Naomi Wolf urged her fellow pro-choice readers to again speak of abortion in life-and-death terms:
Clinging to a rhetoric about abortion in which there is no life and no death, we entangle our beliefs in a series of self-delusions, fibs and evasions. And we risk becoming precisely what our critics charge us with being: callous, selfish and casually destructive men and women who share a cheapened view of human life.
…we need to contextualise the fight to defend abortion rights within a moral framework that admits that the death of a foetus is a real death: that there are degrees of culpability, judgment and responsibility involved in the decision to abort a pregnancy; that the best understanding of feminism involves holding women as well as men to the responsibilities that are inseparable from their rights; and that we need to be strong enough to acknowledge that America's high rate of abortion—which ends more than a quarter of all pregnancies—can only be rightly understood as a failure.
Wolf, being pro-choice, makes a significant departure from her feminist foremothers, but she at least recognizes the hypocrisy of a women's rights movement that refuses to be confronted with the obvious fact that life in the womb is human life. When a woman makes a decision to have an abortion, she is not merely making a personal decision, but a grave life-and-death decision of conscience.
But today we are met with the scary, brazen face of women's rights in trends like #ShoutYourAbortion. As abortion stories explode on social media, it becomes clear we aren't in Kansas anymore.
Jessica Valenti, founder of Feministing.com, wants to see the "rare" dropped from the "safe, legal, and rare" rhetoric. Why? First because it makes pro-choice legislation notoriously more difficult to pass, and second because it gives the implication "there's something morally wrong with the procedure."
Perhaps this is the inevitable slippery slope of abortion rights. Perhaps it is simply too difficult for human beings to stand on some utilitarian middle ground, seeing a fetus as something with value, an interdependent life within a life, and yet a life that, at times, ought to end for another greater good. Admittedly, as a pro-life Christian that sees all human beings created in the image of God, even if I abandoned my faith some day, I would likely miss simplicity of my former position.
And that is one reason why the new face of women's rights is so appealing: it is utterly simple. We don't have to waste time trying to weigh the pros and cons of these choices if abortion is simply never wrong.
But in doing so, we not only claim the law should refuse protection to the most weak and defenseless among us, we also turn a blind eye to the fact that how society treats its mothers is, in some sense, a litmus test for society's conscience. When we train mothers and would-be-mothers in our midst to believe that children are the enemy to an otherwise fulfilling life, we show a profound kind of callousness that would have made our feminist foremothers gag.
The free-market language we use to speak of abortion has led us to this sad state, where children are nothing more than the accessories to parental life.