With only four ingredients, and two of them optional, these Grain free Banana Coconut Cookies are about as easy as you can get. And being a busy mom, easy is usually a necessity. Actually, you'll have a hard time finding me in the kitchen doing something that isn't easy. Excluding keeping up with the dishes, that is. 🙁
Looking for gluten-free recipes and resources? This Everything Gluten Free page is a library of everything gluten free we've worked on.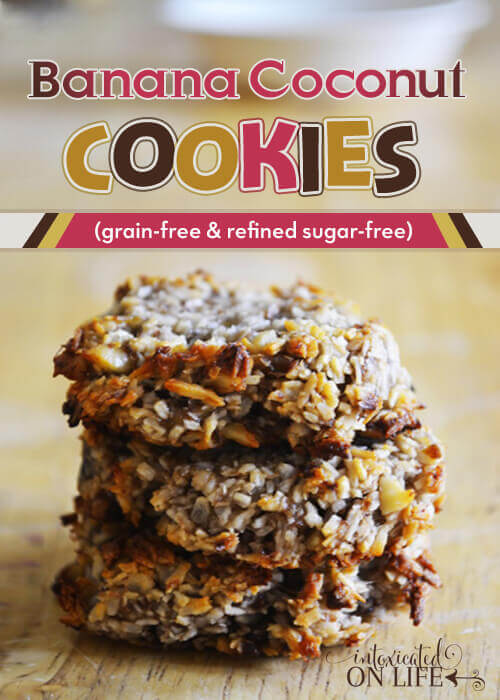 It's not that I don't enjoy making fancy, gorgeous foods. I just don't have much extra time to make complicated snacks. And even though I strive to meal plan, snacks are usually forgotten. That is, until I hear four kids clamoring for them ASAP. You moms know the kind of clamor I'm talking about. It's the "Feed me immediately, or I shall perish in utter agony!" kind.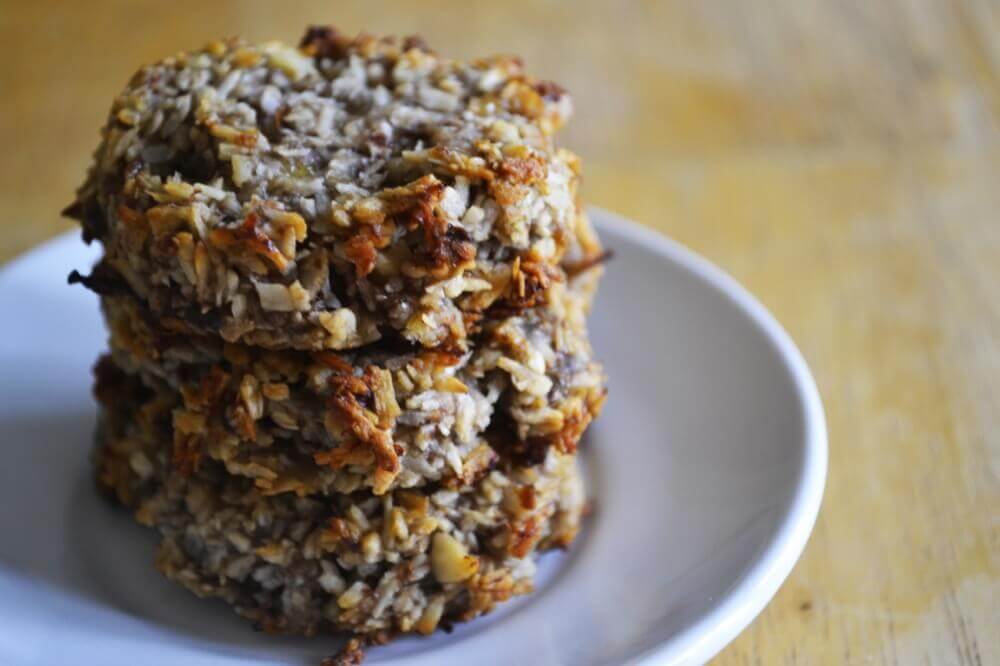 These little Grain free Banana Coconut Cookies are a compilation of above-mentioned drama, and a mom frantically looking through the cupboards and finding nothing to snack on other than coconut and bananas. So into a bowl they went. I added a few random things like leftover walnuts and raisins, then put them into the oven. And they were a hit! Even the hubby, who's quite picky about his gluten-free treats, loved them. They've since become a go-to snack on days when the clamoring is filled with agony. 😉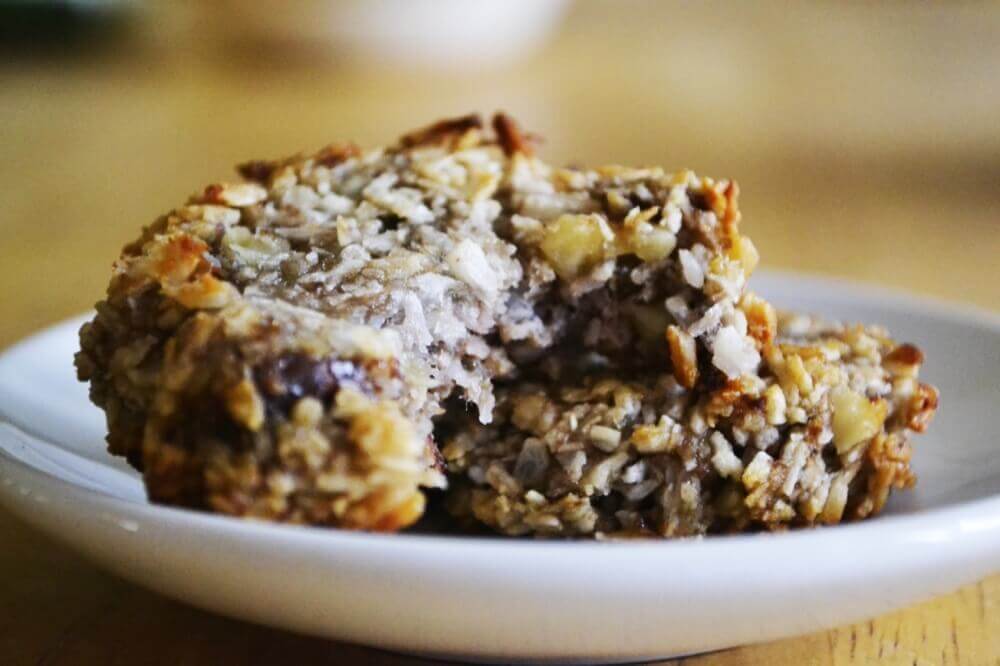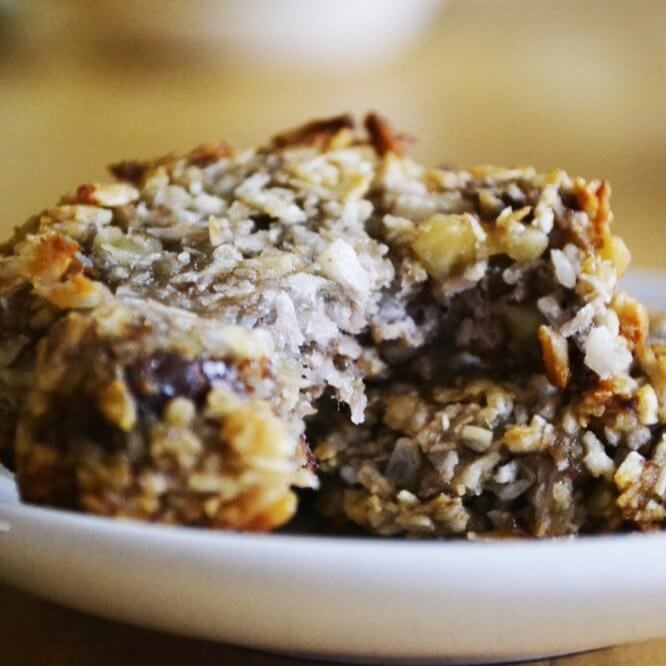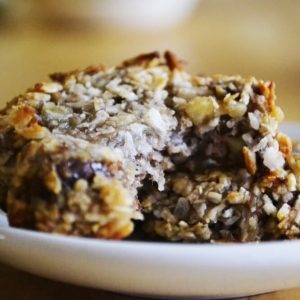 Print
Grain-Free Banana Coconut Cookies
These no-fuss cookies come together in a flash, but they're delicious and loaded with nutritious ingredients, healthy fats and fiber. Your kids (and you) are sure to love these banana coconut cookies!
Instructions
Preheat oven to 350° and grease a cookie sheet or (recommended) line it with parchment paper.

In a bowl, mash bananas, and stir in remaining ingredients.

Scoop out about 2 tablespoonfuls of dough onto a spoon and gently form it into a ball with your fingers. It will be soft and crumbly.

Place it on prepared cookie sheet and gently flatten with the back of a fork. You may have to reshape it a little.

Bake for 15 minutes, then let cool for a few minutes before eating.
In need of some more easy, kid-friendly snacks? Try these!
---
Want more Cookie Recipe inspiration? I've put together a great Cookie Recipe Cookbook.
**If you are grain-free, or you are looking to cut back on the grains you eat, this cookie cookbook gives you 25 amazing cookie recipes to continue to fill your home with the pleasant traditional tastes and aromas.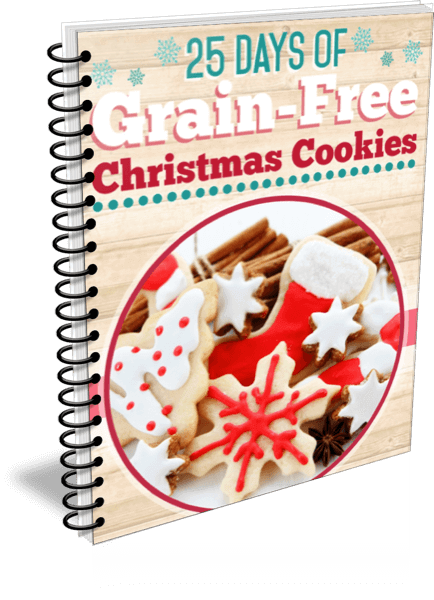 Don't forget… These Cookies aren't JUST for Christmas!
---
Follow our Gluten-Free Desserts Board
Follow Trisha Gilkerson's board Gluten-Free Desserts on Pinterest.
---