Where in the world do you get farm-fresh eggs?! I've challenged us to buy eggs from hens that are raised naturally and allowed to roam on pasture, and I've told us why these eggs are best for us, but what if you don't have a farm nearby. Where in the world do you get them.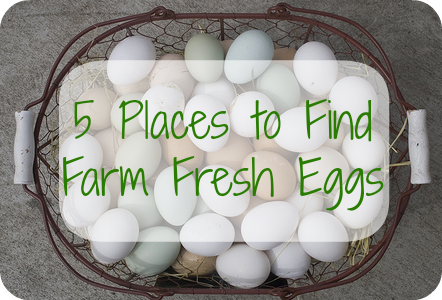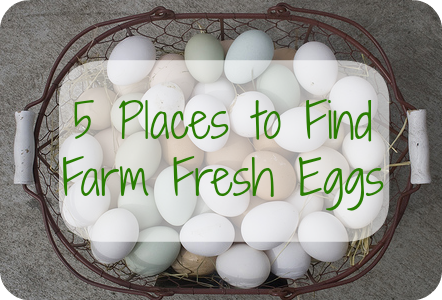 I'm going give you some ideas on how to find eggs from naturally raised hens. 
Farmers Market – This is an ideal place to find eggs. Many communities, even small ones like the one I live in, have farmers markets. Unfortunately, our farmers market is seasonal so I can't score eggs there through the winter months. There is, however, a year round farmers market that is less than a 40 minute drive away. If your community doesn't have a farmers market, I'll bet there is one close by that you could check out!
Newspaper – Check the classifieds in your local newspaper. Sometimes farmers place ads in the classifieds when they have a surplus of produce, meat, or eggs.
LocalHarvest.org – This is a fantastic resource! You can search for farmers markets or family farmers. When you find what is in your area, it will also list what is available. I was able to find a couple sources of eggs in my area using this site.
Network – Use your personal network. This is how I found my egg suppliers. One is a friend I met through the local homeschool co-op that we are part of. The other person I get eggs from was referred to me by a family member. Ask around, you might be surprised who you know that raises chickens and has a surplus of eggs.
Social Networking Sites –  If you are running into dead-ends, try social networking sites. Let people on Facebook or Twitter know you're looking for eggs. Ask if they know anyone in the area selling eggs. This might be the fastest and easiest way to find eggs!
Good luck on your egg hunt! 🙂
If you purchase eggs, how did you find your supplier?
Linking up with Teachers of Good Things