I love using copywork in our classroom because it's such a powerful teaching tool. I've found it has numerous benefits that reach far beyond just learning to write neatly. Today I'm going to share some tips for copywork using great literature.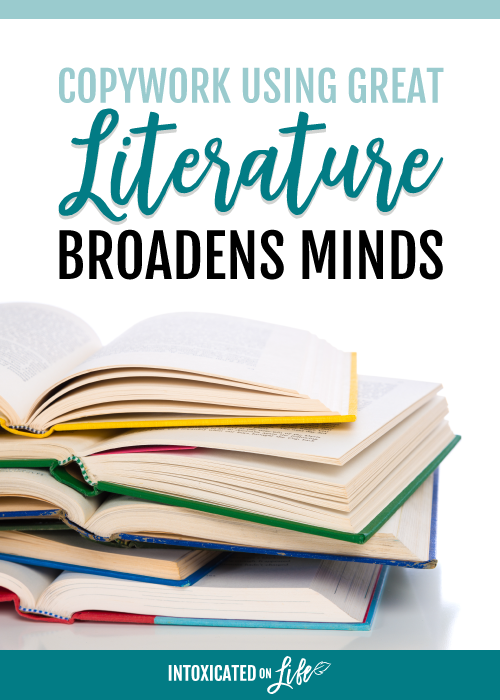 (To learn more about copywork read What is Copywork? And why it's the missing piece in your homeschool day!)
One of the great things about copywork is how it lends itself to broadening a child's world. Through copywork, beautiful works of literature are available to a child in a way that's more easily consumed and understood.
It's one thing for a child to sit down and try to read and understand the entirety of The Swiss Family Robinson by Johann David Wyss. It's another to take passages one at a time and have your son or daughter copy them exactly as the author wrote them.
Kids will almost always have questions about what they've read and written. That leaves the door open for Mom and Dad to dig in with them and talk about the book.
What does it mean?
How do they feel about it?
What are some lessons they can take away from the text?
The hope is, the more passages they copy, the more of the book they'll want to read or have read to them.
Project Gutenberg features some of the world's greatest literature that is in the public domain. You may use these books in pretty much any way you like.
I'm going to share some incredible bits of text from books I found on Project Gutenberg that would be a wonderful addition to your copywork exercises. Spend some time on the website to find stories that align with the kind of copywork you prefer to use in your classroom.
Examples of Copywork Using Great Literature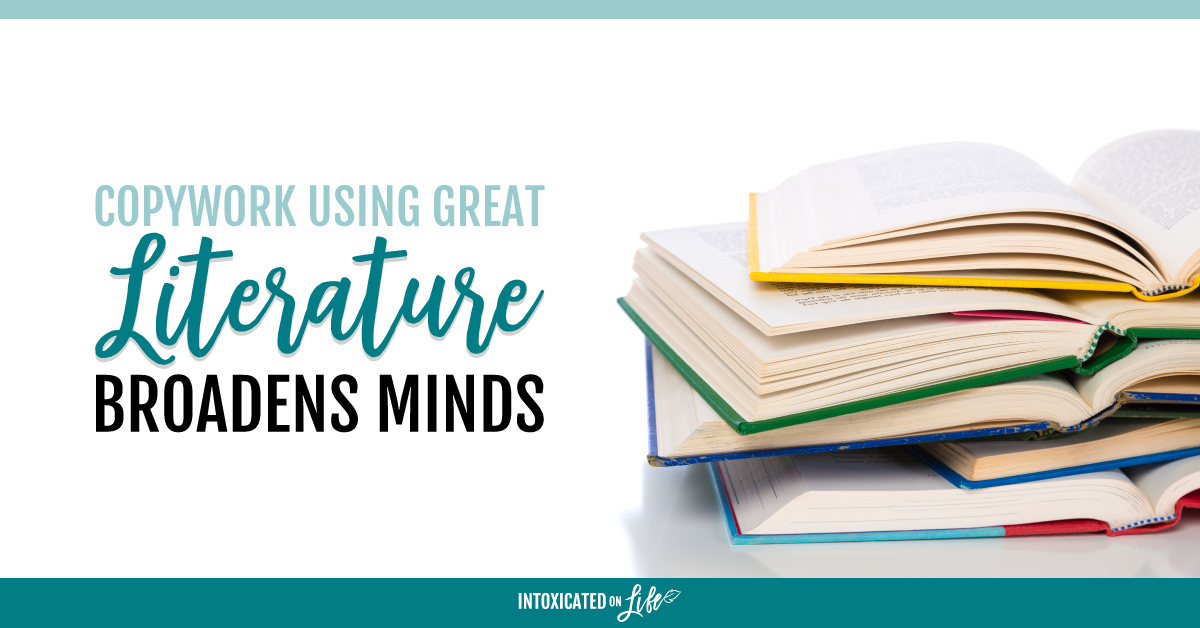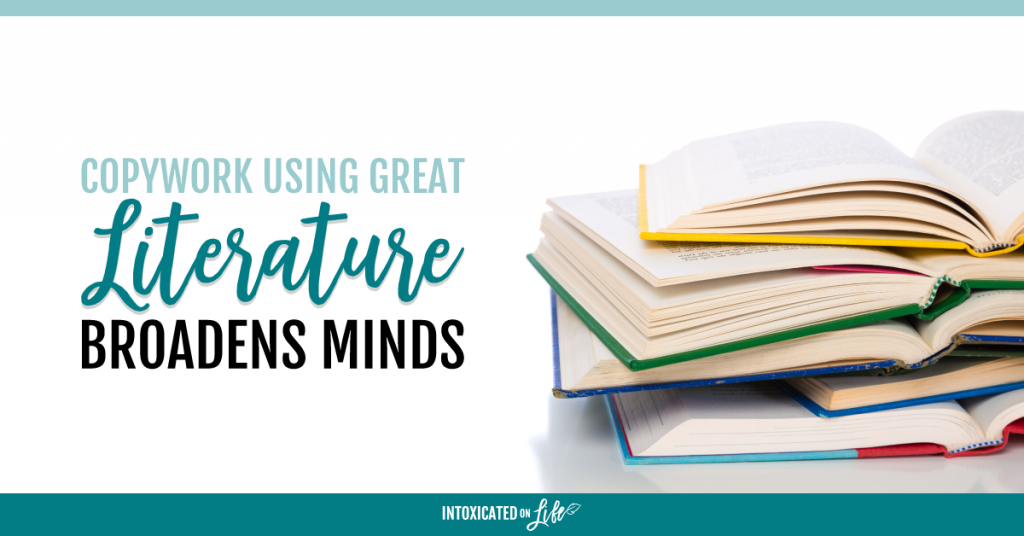 The Story of Doctor Dolittle by Hugh Lofting
ONCE upon a time, many years ago—when our grandfathers were little children—there was a doctor; and his name was Dolittle—John Dolittle, M.D. "M.D." means that he was a proper doctor and knew a whole lot.
He was very fond of animals and kept many kinds of pets. Besides the gold-fish in the pond at the bottom of his garden, he had rabbits in the pantry, white mice in his piano, a squirrel in the linen closet and a hedgehog in the cellar. He had a cow with a calf too, and an old lame horse—twenty-five years of age—and chickens, and pigeons, and two lambs, and many other animals. But his favorite pets were Dab-Dab the duck, Jip the dog, Gub-Gub the baby pig, Polynesia the parrot, and the owl Too-Too.
My Father's Dragon by Ruth Stiles Gannett
One cold rainy day when my father was a little boy, he met an old alley cat on his street. The cat was very drippy and uncomfortable so my father said, "Wouldn't you like to come home with me?"
This surprised the cat—she had never before met anyone who cared about old alley cats—but she said, "I'd be very much obliged if I could sit by a warm furnace, and perhaps have a saucer of milk."
"We have a very nice furnace to sit by," said my father, "and I'm sure my mother has an extra saucer of milk."
A Collection of Stories By Beatrix Potter – by Beatrix Potter
An old mouse was running in and out over the stone doorstep, carrying peas and beans to her family in the wood. Peter asked her the way to the gate, but she had such a large pea in her mouth that she could not answer. She only shook her head at him. Peter began to cry.
THEN he tried to find his way straight across the garden, but he became more and more puzzled. Presently, he came to a pond where Mr. McGregor filled his water-cans. A white cat was staring at some gold-fish; she sat very, very still, but now and then the tip of her tail twitched as if it were alive. Peter thought it best to go away without speaking to her; he had heard about cats from his cousin, little Benjamin Bunny.
Black Beauty by Anna Sewell
The first place that I can well remember was a large pleasant meadow with a pond of clear water in it. Some shady trees leaned over it, and rushes and water-lilies grew at the deep end. Over the hedge on one side we looked into a plowed field, and on the other we looked over a gate at our master's house, which stood by the roadside; at the top of the meadow was a grove of fir trees, and at the bottom a running brook overhung by a steep bank.
While I was young I lived upon my mother's milk, as I could not eat grass. In the daytime I ran by her side, and at night I lay down close by her. When it was hot we used to stand by the pond in the shade of the trees, and when it was cold we had a nice warm shed near the grove.
The Beginner's American History by D.H. Montgomery
King Charles the Second of England owed a large sum of money to a young Englishman named William Penn. The king was fond of pleasure, and he spent so much money on himself and his friends that he had none left to pay his just debts. Penn knew this; so he told His Majesty that if he would give him a piece of wild land in America, he would ask nothing more.
Charles was very glad to settle the account so easily. He therefore gave Penn a great territory north of Maryland and west of the Delaware River. This territory was nearly as large as England. The king named it Pennsylvania, a word which means Penn's Woods. At that time the land was not thought to be worth much. No one then had discovered the fact that beneath Penn's Woods there were immense mines of coal and iron, which would one day be of greater value than all the riches of the king of England.
The Swiss Family Robinson by Johann David Wyss
The tempest had raged for six days, and on the seventh seemed to increase. The ship had been so far driven from its course, that no one on board knew where we were. Everyone was exhausted with fatigue and watching. The shattered vessel began to leak in many places, the oaths of the sailors were changed to prayers, and each thought only how to save his own life. "Children," said I, to my terrified boys, who were clinging round me, "God can save us if he will. To him nothing is impossible; but if he thinks it good to call us to him, let us not murmur; we shall not be separated." My excellent wife dried her tears, and from that moment became more tranquil. We knelt down to pray for the help of our Heavenly Father; and the fervour and emotion of my innocent boys proved to me that even children can pray, and find in prayer consolation and peace.
What do you think?
These examples of copywork using great literature sort of make me wish for rain, a cup of tea, and some alone time to read. 🙂 
Be sure you take a look at our Write Through the Bible curriculum. It's a series of workbooks that will ease your school load by integrating copywork (of the greatest piece of literature) with other subjects and help your child memorize a long passage of scripture throughout the school year!