Even if you don't need to lose weight, cutting sugar is a great way to improve your health and help you avoid a number of different diseases that seem so common in today's sugar-coated culture. Sugar is implicated in a number of modern diseases: high cholesterol, type 2 diabetes, cancer, alzheimers, weight gain, and more.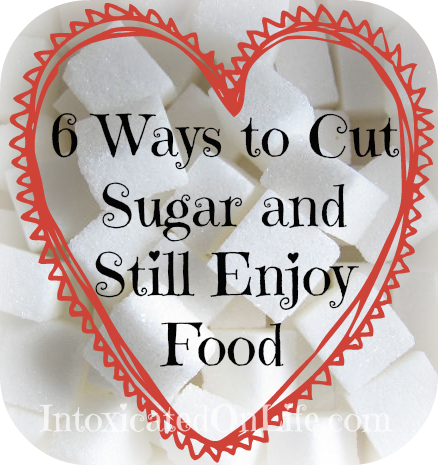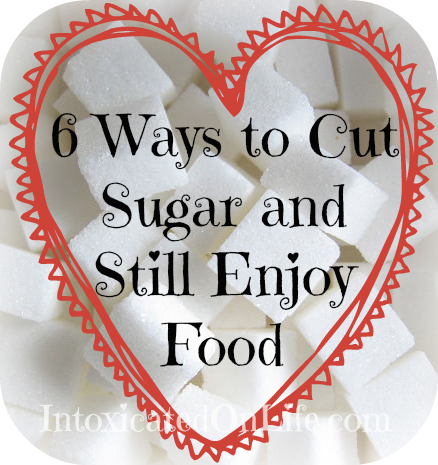 Unless you've been intentionally vigilant in cutting out sugar, you're probably consuming a lot of sugar. Estimates on average American adult sugar consumption ranges anywhere from 22 to 55 teaspoons of sugar a day while our children consume even more. That's pretty scary considering the American Heart Association recommends that women consume no more than 6 teaspoons of sugar a day and men no more than 9 teaspoons. (Though, that's a fairly liberal recommendation in my estimation.)
Sugar is in many places you wouldn't neccesairly suspect. You have to be a real detective to track it down. Did you know that  protein bars, bread, yogurt, salad dressing, soup, and condiments all have added sugar? Sugar and its good buddy high fructose corn syrup can be hiding in many places with a variety of names.
How to Cut Sugar & Still Enjoy Food
Focus on whole foods. Enjoy meats, vegetables, fruits, and healthy natural fats.
Cut out processed food. Anything you purchase from the store that comes in a box, package, can, or is prepared ahead of time is suspect. Take the extra time to make food yourself, that way you know exactly what is in it.
Become knowledgeable about alternative sweeteners. You don't want to swap sugar for artificial chemicals, but you might be surprised to know there are some great natural alternatives. (Be sure to check out our series A Sweet Life: A series on sugar and it's alternatives to find more out about what's good, what's bad, and what's yummy!)
Increase your fat intake. Yup, you heard me right. Contrary to popular opinion fat does not make you fat and it doesn't cause heart disease either. Fat is a fabulous macronutrient that nourishes your body and helps you feel full. Don't eat low-quality man made fats though. Eat butter, olive oil, coconut oil, lard, and tallow.
Arm yourself with delectable recipes. There are some fantastic sugar-free recipe blogs out in this cyberworld. Find the ones that appeal to you and have fun in the kitchen! Experiment with new ingredients and combinations you've never though of before.
Don't get discouraged! Cutting out sugar can be tricky, and you're bound to have cravings. If you give in to a craving, pick yourself up, brush yourself off, and jump back on the wagon.
What are your best sugar-cutting tips?