Tension.
It's what happens when both ends of a guitar string are pulled taut.
The right amount of tension means the string is in tune, prepared to be plucked or strummed in harmony with other well-tuned strings in the making of lovely music.
But what if there's too much tension?
Stretching, expanding, straining tighter and tighter until—
SNAP!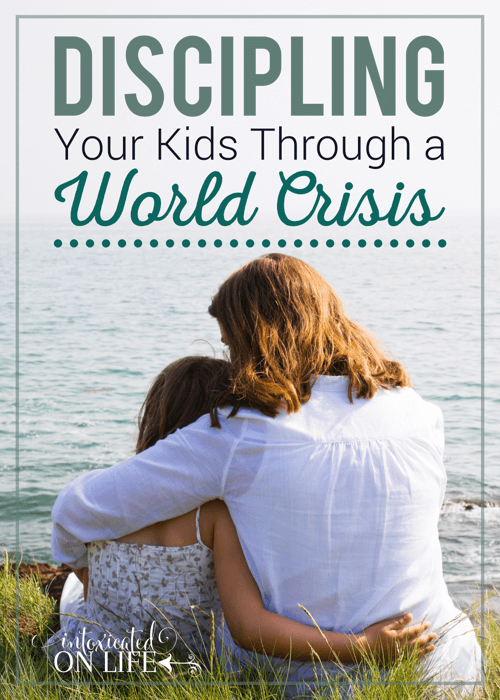 The string breaks somewhere near the middle, leaving two frayed, shortened, useless pieces of nylon instead of the long, whole, unharmed string that once bore a limitless capacity for beauty.
There's a lot of tension in our nation and in our world today.
Tension so thick I wonder how much more we can take before we snap.
Tension between blacks and whites.
Between police officers and civilians.
Muslims and non-Muslims.
Liberals and conservatives.
(And dare I mention the tension between #Trump and #NeverTrump?)
Just a handful of years ago, none of us ever would have foreseen such tensions. We certainly would've never wished for them.
After all, turmoil is never comfortable. In fact, a lot of the current havoc is downright painful. Agonizing, even.
And yet for Christian families, times of turbulence prompt us to recall that life circumstances bring opportunities for growth in our faith. 
I have learned to kiss the wave that throws me against the Rock of Ages. – Charles Spurgeon
So how can you and I seize the opportunities presented by the modern-day storms, and encourage our kids to do the same?
1. Remember God's character.
If we're not careful, circumstances can lure our focus away from God, and in the process distort our idea of who He is. Taking some time to recenter on His character helps to build a solid foundation for our faith.
He is sovereign. This doesn't mean that He proximately causes every crisis, but it does mean that He never wastes one. And so He can be trusted.
He is the same yesterday, today, and forever. He is utterly unchanging. And so He can be trusted.
He is a God of love, who is merciful, kind, patient, and good. And so He can be trusted.
He is a God of justice, who takes up the cause of the poor, the needy, the fatherless, and the oppressed. He is powerful enough to right all the wrongs of the world, and one day He will. And so He can be trusted.
2. Rehearse God's truth.
The Bible is full of promises just waiting to be claimed at any time, and especially during times of trial. Here are a few of our favorites:
God's grace is always enough (2 Corinthians 12:9).
Prayer is effective (James 5:16).
God will never abandon us, so there is no need to fear (Deuteronomy 31:6).
God uses all things to make us more like His Son, which is our ultimate good (Romans 8:28-29).
Peace accompanies thankful prayer (Philippians 4:6-7).
In times of trouble, God will strengthen us, help us, and hold us in His hand (Isaiah 41:10).
Those who hope in God will not be disappointed (Isaiah 49:23).
Nothing can separate us from the love of God (Romans 8:38).

3. Realize the true enemy.
People are not our enemy. I realize this may seem ludicrous in the face of the murder, hatred, and evil all around us. But Scripture teaches that our main fight is against our spiritual enemy and God's—the enemy who has opposed Him since the beginning of time: Satan (Ephesians 6:11).
Sure, people act like they are our enemies. But that's because unsaved people are dead in their sins (Ephesians 2:1)—they are completely powerless and helpless, imprisoned by the one to whom they belong: the devil. This truth frees us to view even the most vile people among us as the spiritual victims they are.
To be clear, I'm not advocating pacifism as national policy. Government is empowered to take care of its people, using force if necessary. Even as our military does what it has to do to secure "liberty and justice for all," Christ-following civilians can still employ such principles as loving our enemies and blessing those who persecute us. We can pray for those who are perpetrating evil, knowing that God's desire is for them to be redeemed.
4. Recommit to God's ways.
In the face of heinous evil, it's easy to look outward, pointing fingers at those to blame and feeling fairly self-righteous by comparison. It's helpful, though, to spend some time looking within, to our own flawed attitudes and behaviors.
Our family has found it helpful to ask questions like these:
In a particular realm of tension, with which side do I most empathize? Why? What assumptions am I making about that side? What assumptions am I making about the opposing side? How do I need to adjust my perspective?
What can I learn from putting myself in the shoes of those I least identify with?
How can I reach out to those who are different—whether we're talking about race, religion, socio-economic status, political leaning, or something else entirely – instead of huddling up with those who are just like me?
How can I show love in a tangible way to those in need within my community?
How can I serve someone selflessly?
In what ways can I beneficially and graciously engage in conversations with others about tough issues?
We'd love to hear from you! How have you helped your children understand the strife in our world today? Which of the suggestions above most resonate with you?