This time of year can be a little unnerving for us mothers as we have many activities where our children are coming and going and possibly being brought low with colds and flu's.  My DIY~ Immune Boosting Herbal Tea is a great weapon in your arsenal to help ward off any possible immune system antagonists.
Sure you still need to eat healthy, stress less and get good sleep each night, but this well help boost that sluggish immune system, or even mellow out an overactive one!  How can this same tea do both things?  Well, let me tell you.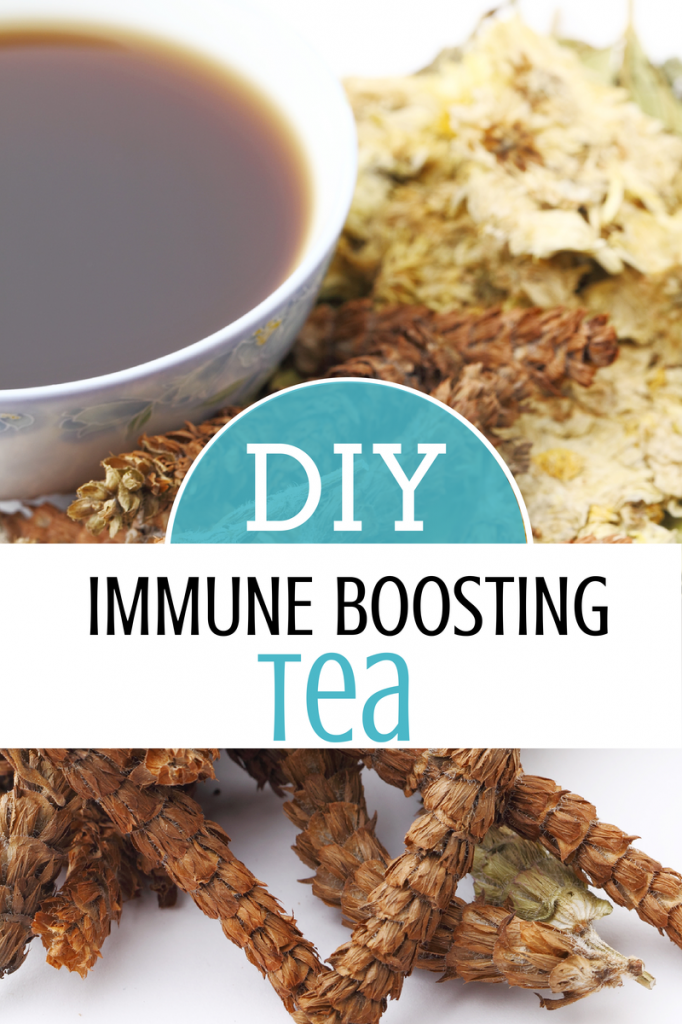 Key Ingredients: Immune Boosting Herbs
Astragalus (Astragalus membranaceus):
The first and most important ingredient in this remedy and tonic is an amazing herb called astragalus.  Astragalus is actually a Chinese legume and we use the astragalus root when preparing any remedies.  This is a key ingredient for the immune system because it is an adaptogenic herb.  Not sure what an adaptogen herb is?  According to many herbalist, specifically Donald R. Yance, CH, MH, RH in Adaptogens in Medical Herbalism:
 "The word 'adaptogen' refers to the nonspecific endocrine-regulating, immune-modulating effects of certain plants that increase a person's ability to maintain optimal balance in the face of physical or emotional stress."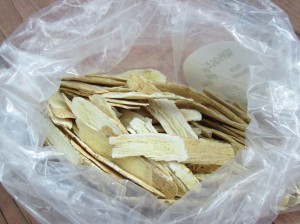 Basically it is an herb that reads your body; working with your bodies needs.   It is safe, improves resistance to stress, and has a balancing normalizing effect on the bodies functions.
If it needs and immune boost, it will give it.
If your body needs your immune system to slow down a bit (think auto-immune here), it will slow it.
It will also work to make other herbs, even prescription drugs, more effective which can be a great thing when you need it.
However sometimes you do not need the extra support from the adaptogen.  So be sure that you can take it with other remedies and medications.  In this case, astragalus is paired with herbs that are not harsh, but strengthening and healing to the whole system.
Astragalus has possible interactions with immune suppressing drugs, so be sure to speak to your Dr. if you are taking any such drugs.  Also, be sure to let them know you are taking astragalus if you are going to be doing blood testing as it will raise your white blood cells.
Stinging Nettle (Urtica dioica):
Our second most important ingredient is Nettle, aka Stinging Nettle.  This is often a plant that is cursed for the painful stings that it can give during harvest, or even if you brush up against it.  However, it is one of the most amazing herbs for life.  Stinging Nettle imparts an abundance of calcium, chromium, magnesium, protein, vitamin A as beta-carotene, zinc1, and iron2.  It is also excellent for hay fever and allergies, and can even alleviate growing pains in children.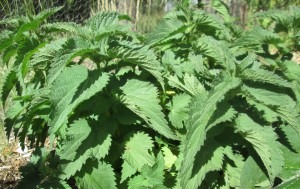 Rose Hips:
Rose Hips impart large quantities of vitamin C, more than almost any other herb, which aids in the absorption of calcium and iron.  It also has a good amount of vitamin A as beta-carotene.1,2  This herb/fruit boosts the effects of the other herbs.
Oatstraw (Avena sativa):
One may use Oatstraw or the milky white tops, the milky white tops being the preferred choice.  These both are amazing nutritive tonics for the nervous system and are highly recommended for nervous exhaustion, stress and irritation.2  Oats are high in silica, calcium, and chromium.
Lemon grass (Cymbopogon citrullus):
Lemon grass helps digestion and can reduce fevers.  It can even prevent the growth of some bacteria and yeasts.  It is also high in chromium, healthy fats, potassium, selenium, and silicon.1,3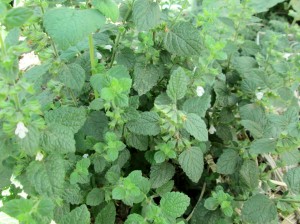 Lemon Balm (Melissa officinalis):
Lemon balm is a wonderful addition of flavor and fragrance.  It is a member of the mint family and one of the best nervine herbs, often used as a mild sedative.  Lemon balm has anti-viral properties and is anti-septic.(2)
Other good but less intense herbs that are in this remedy are cinnamon, ginger and stevia.  These are all optional ingredients.  To me they improve the flavor and they do impart some other favorable qualities to the tea.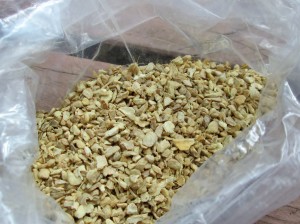 Lastly, mainly for flavoring and totally optional, Stevia leaf, not the extract but the leaf.  According to many herbalists, stevia is a great herb and used for pancreatic imbalances and high blood sugar levels.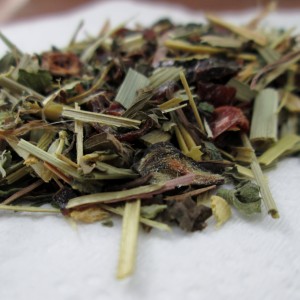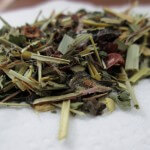 Print
DIY ~ Immune Boosting Herbal Tea
This flavorful herbal tea is a delicious way to boost your immune system!
Instructions
Chop the Astragalus root into relatively small pieces using a kitchen knife or a blender or food processor. If using a machine, make sure that you do not pulverize the root into powder. You want the herb to be a size that can fit into a tea ball with other herbs.

Place chopped astragalus and all other herbs into a storage container or plastic bag or even a mason jar leaving space to shake or stir.

If the other herbs were not a small enough size, like in the picture, be sure to chop them smaller.

Shake or stir all the ingredients together to blend very well.

Place 1-2 teaspoons of the herbal tea into a tea ball for one or enough tea into a tea bag for a family using the same measurements per person.

Steep for about 5 minutes or longer for a stronger brew.

Serve and enjoy!
Notes
This may also be used as a decoction or tincture.
A part is any size you choose, but it needs to remain the same. For example if you choose to make a part 1/4 cup, then 1/4 of a 1/4 cup is 1/4 part. 2 parts would be 2/4 cups.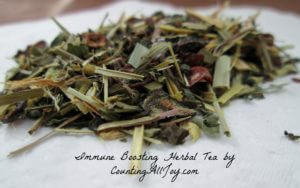 If you are interested in tweaking this tea:
Add burdock root to help cleanse the body of any impurities.  Add no more than one part of the root to the tea.
Add peppermint leaves to add more flavor, add energy and help calm tummies or other digestive issues.
Now go get some herbs and make you tea, but be sure to drink it because just making it won't help you. 🙂
~ Amanda
Do you have any DIY herbal teas that are "go-to's"  for this time of year?  What are your favorite immune boosting herbs?  What herbs do you reach for when sickness does hit you home?  Please share in the comments!
Sources
Nutritional Herbology A Refernce Guide to Herbs by Mark Pederson
Herbal Remedies for Children's Health by Rosemary Gladstar
WebMD and Healthers.org