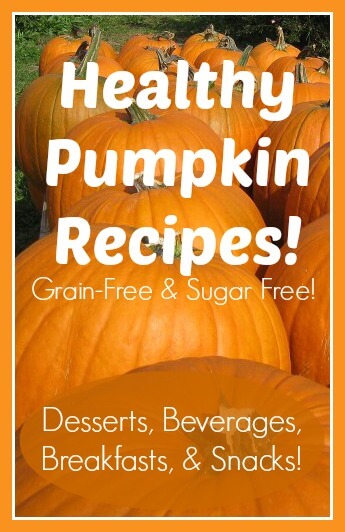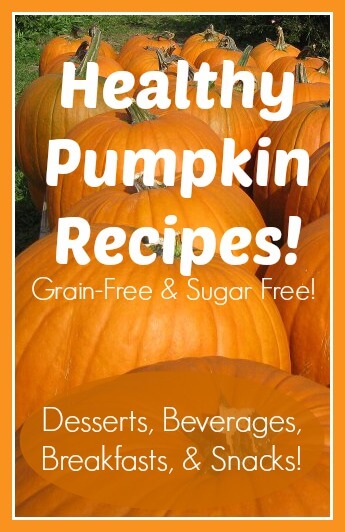 Fall is in the air! The weather is cooling off and the leaves are beginning to change here in Michigan. Visits to the cider mill and the pumpkin patch with the kids are on our to-do list! And so is eating a healthy dose of pumpkin this fall.
How do you like to prepare pumpkin? Do you have a favorite healthy pumpkin recipe?  Of course, everyone loves a pumpkin pie with homemade whipped cream… yuuuuuum. And, a pumpkin pie is fairly easy to healthify—take your favorite recipe and just substitute some healthy sweeteners like stevia or xylitol.
But, there are so many other deliciously wonderful things you can do with the humble pumpkin besides just pumpkin pie. One of my favorites is a pumpkin cake with cream cheese frosting: it's a rich, decadent dessert sure to satisfy anyone's dessert craving.
There are so many things you can do with pumpkin. The recipes in this post represent just a few of those things, but hopefully one of these 20 recipes will be a fun new treat you can add to your fall repertoire.
Looking for more gluten-free recipes and resources? This Everything Gluten Free page is a library of everything gluten free we've worked on.

Pumpkin Cake with Cream Cheese Frosting
Pumpkin Spice Dairy-Free Cheesecake


Quick Stovetop Spicy Pumpkin Seeds
Pumpkin Cranberry Spice Muffins

Did you get a chance to try any of these pumpkin treats? Will they become a regular staple on your fall menu?