The closer the communion plate moved toward our aisle, the more uncomfortable I got. I was supposed to be completely grain-free, but what do I do about these gluten-filled communion wafers?
The communion plate reached our aisle, and by now I was completely preoccupied with the question of what to do—do I take a communion wafer or do I skip it?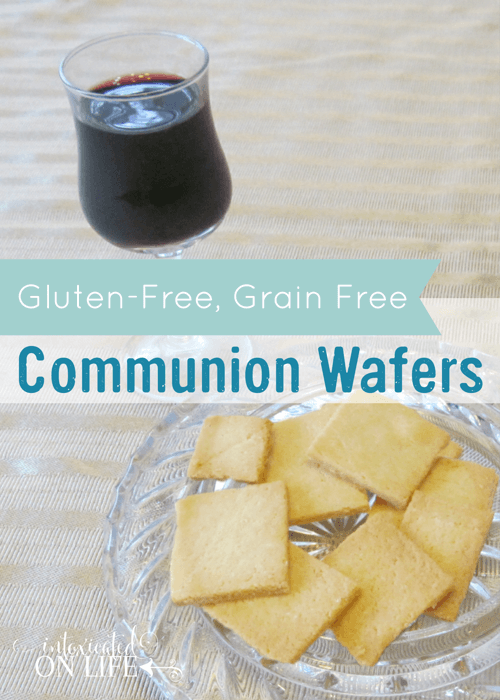 I squirmed in my seat and looked around me. This was question running through my head: what will people think if they notice I don't take communion? (This is definitely NOT what I should have been thinking about, regardless of whether or not I decided to take the communion bread)
Living Gluten-Free in a Pro-Wheat Faith
Have you been there? Do you sometimes wonder what to do when the communion plate is passed? Certainly skipping out on this holy sacrament is not a good option. But for many, participating can mean dire health consequences.
My husband and I have written quite a bit about gluten-free living while reading an apparently pro-wheat Bible. (This was a major concern for a number of our readers. We even wrote a book about it. No joke.) We live in a faith-culture that celebrates Jesus as the Bread of Life, that teaches us to pray for "our daily bread," that calls fellowship "breaking bread together." It might feel un-Christian to turn down bread at times, but it doesn't need to feel this way.
Grain-Free Communion Wafers
Recently, our church began to offer gluten-free communion wafers. Yay! This was a very welcome and surprising addition to many in our congregation!
But there are some people who need more than just a gluten-free communion cracker. They need completely grain-free communion bread. This is more difficult to come by.
In fact, I've  had several readers contact me and ask me if I knew of anywhere to purchase grain-free communion wafers. I haven't found anywhere yet.
I thought to myself, "Trisha, that wouldn't be a difficult recipe. Indeed, it would be downright easy peasy." (Yes, that's how I talk to myself.) 🙂
Here is what I came up with. Just 3 ingredients! Hopefully, now we can all spend our time meditating on Christ during communion and not the potential health effects.
By the way, if you are looking for more gluten-free resources, make sure to check out my Everything Gluten Free resource page!
Gluten-Free, Grain-Free Communion Wafers
Ingredients
2 cups almond flour
1 egg
3/4 teaspoon salt
Instructions
Preheat your oven to 350 degrees.
Blend together all ingredients together in a high-powered blender or food processor
Roll out the dough between 2 sheets of wax paper until very thin, about the thickness of a penny.
Cut into squares (or any other shape you like) using a pizza cutter or knife.
Bake for 10-11 minutes or until the edges start to turn golden.
Sharing at Dear Creatives, Mommy on Demand, and It's Overflowing.