Preventing sunburn and sun damage is very important. Excessive sun exposure causes long-lasting skin damage and can lead to cancer. There are many ways we can prevent harmful rays from harming our skin and our children's skin, from using a non-toxic DIY sunscreen, to wearing sun-blocking clothing, and more.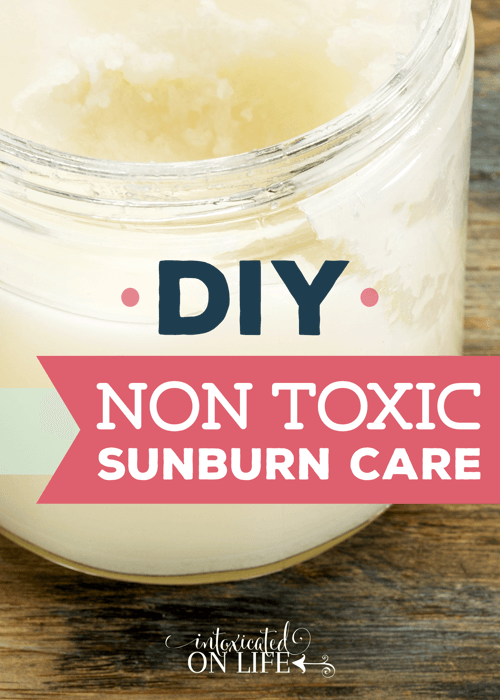 However, most of us will eventually get a sunburn, and so will our kids. What should you do when the deed has been done and it's time to take care of a sunburn? Your primary goals will be relieving red and inflamed skin while also reducing pain. There may be ways to help speed up the natural healing process as well.
Natural Remedies for Sunburn
Here are some of the best tried and true natural remedies for sunburned skin:
Water. Take a lukewarm or slightly cool bath to help cool down the sunburn. Alternatively, apply cold, damp towels. This also helps add moisture to the skin, which has been severely dried out by sunburning. Drinking extra water is also essential to rehydrating.
Aloe Vera. The liquid from this plant contains amino acids, fatty acids, vitamins and minerals such as A, C, E, folic acid and choline that are all known to aid healing and reduce discomfort. It cools the skin and adds moisture, helping to prevent peeling. If you look for lotions to use, remember to avoid those that contain petroleum, benzocaine, or lidocaine, which can trap heat and increase burning, or cause irritation.
Coconut Oil. Coconut oil contains wonderful fatty acids that help moisturize and speed up the healing process of the skin. It is another great option for cooling the skin and helping to prevent peeling.
Apple Cider Vinegar. ACV has natural anti-inflammatory properties as well as vitamins and minerals that help heal and nourish your skin. Try adding some to an after-sun spray (see below for a recipe) or add a cup of it to your lukewarm bath. The smell is strong but doesn't last long!
Essential Oils. Several essential oils have amazing soothing, cooling, and healing properties that can help your skin recover quickly from a sunburn. Using high-quality oils is important. Here are a few of the best oils for sunburn care: Lavender, Peppermint, Melaleuca, Chamomile, Frankincense, Blue Yarrow, and Helichrysum.
How We Treat Sunburn Naturally
Our favorite way to treat sunburn is to use one of the simple DIY Sunburn Care recipes below. You can mix them up and use them right away or keep them in the refrigerator for extra cooling effect.
DIY Non-Toxic Sunburn Lotion
10 drops Lavender
10 drops Frankincense, Chamomile, or Peppermint
1/2 cup coconut oil
Combine ingredients in a bowl and mix well. The coconut oil will melt as you mix it, but you can warm it slightly if needed before adding the essential oils. This is the recipe I prefer most because it's easy and quick.. If we run into trouble, I keep a pint jelly jar full of it in the refrigerator and use until it's gone. We don't often get sunburned (we use our sunscreen recipe!) so sometimes just using this after a long day outside is really nice.
I ALWAYS use the 10 drops lavender, but you can feel free to change up the second set of drops with one or a combination of chamomile, peppermint, frankincense, or other good oils for sunburns. Most people LOVE peppermint for it's cooling qualities, but I generally have a hard time with the scent and strength of peppermint (my kids do as well), so I prefer 10 drips frankincense to go with my lavender.
DIY Non-Toxic Sunburn Spray
Combine ingredients in a 4 oz spray bottle (dark glass preferred) and fill the rest with water. Shake well before using. You can keep it in your bag or purse for an outing, but I prefer storing it in the fridge when not in use.
Again, preventing sunburn is better than treating it, but it sometimes is necessary anyway. Taking a lukewarm bath, drinking a lot of water, keeping the skin protected and covered, and then using our homemade lotion or spray does the trick to heal sunburn quickly and reduce discomfort. We hope you enjoy these recipes as much as we do!
* Note: While we love using natural remedies for things, do be aware of symptoms that might indicate more attention. If there is a fever involved, heatstroke may be a concern. Burns over large areas of the body or bad burns on small children might need extra medical attention. 
Sources: 
Free Download: Mom's Essential Oil Cheat Sheet
Would you like a resource to help you learn to use essential oils with your family? Download this free 3-page printable:
Basic guidelines for using essential oils around kids
A list of safe, kid-friendly oils essential oils
Helpful essential oil recipes
Click the link or image below to download the 3-page Mom's Essential Oil Cheat Sheet. I'll follow it up with more resources and free printables to help you on your essential oil journey. Grab your copy now!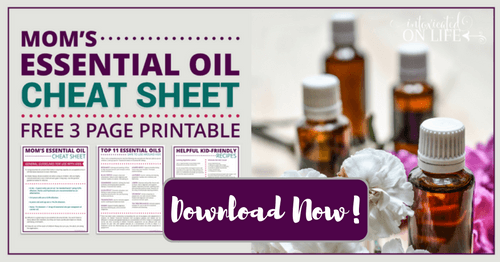 *FDA disclaimer: "These statements have not been evaluated by the Food and Drug Administration. This product is not intended to diagnose, treat, cure, or prevent disease."