Teaching kids to read can be challenging—at least for impatient folks like me. And trying to engage my kids on my own in any meaningful way when it comes to reading? Forget about it! That's why we've enjoyed using All About Reading.
I'm a guy who used to have a 9-to-5 cubicle job where I got to go be among other adults and have adult-like, intelligent, coffee-sipping conversations. Now, I work from home, and I spend most of my mornings in charge of teaching my twin boys (currently age 7). Conversation is enjoyable, but far from intelligent or adult-like. The coffee-sipping is kept to a minimum—there have been way too many spills around the school table. And I can't tell you how many mornings I've literally fallen asleep listening to my boys try to painstakingly sound out three-letter words (not something I'm proud of!).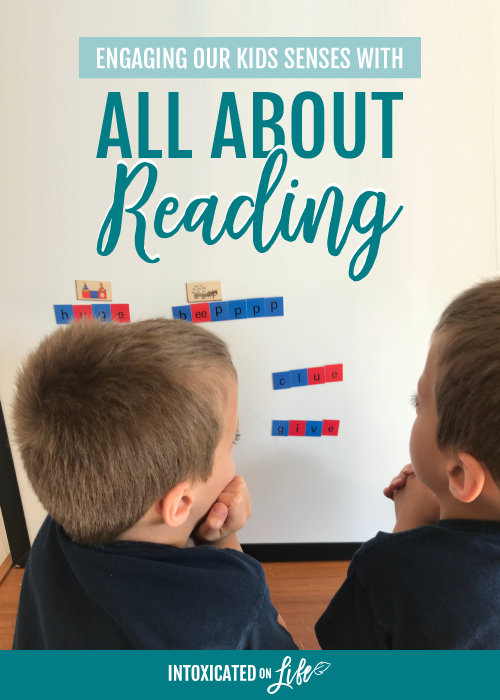 But over the last couple years I've used All About Reading with my twins—they did Level 1 last year and they are nearly finished with Level 2 this year
We originally chose All About Reading because one of our other kids use the companion program All About Spelling—and that has worked out great for him. We're happy to say we can't recommend these programs highly enough.
5 Features I Love About "All About Reading"
Hands-On Letter Tiles
In every All About Reading kit, you receive small laminated letter tiles. We add stick-on magnets to the backs of these tiles and use them on a large magnetic white board. I love these because…
The different colors of the tiles are constant reminders of the grammar rules they learn. For instance, the consonants are blue; the vowels are red—helping my boys remember the special place each type of letter has in a word.
Some special tiles help students remember key letter blends, such as the "consonant teams" (like th, ch, ng, etc.), the "vowel teams" (double o, double e, etc.), or all the letter combinations that make the sound "er" (ur, our, ir, or, ear).
The syllable tiles are really helpful for teaching my boys how to memorize the rules for different word syllables. For example, when they see a syllable with a vowel at the end, this is an "open syllable" (the vowel isn't closed in by consonants), so they know the sound of the vowel is probably long, not short. When they see this, they know to add the tile with the picture of an open door under it—because it's an "open" syllable.

Easy-to-Use Word Cards
Another great feature are the Word Cards and the Reading Review Box. New vocabulary words are printed on sturdy flashcards that we store in the custom-made box—it's essentially a "memory box" that helps us keep track of the words they know well and the words they still struggle with.
Here's what I do with the cards. Every day we play a little game I call "Slow, Medium, Fast."
My boys take turns reading the cards I show them.
If they can read a card quickly without sounding out the word, it goes in the "fast" pile.
If they have to sound it out or correct themselves, it goes in the "medium" pile.
If I need to help them, it goes in the "slow" pile.
Then I go through the "fast" pile again with them and tell them, "If you can get these words fast again, I'll put them in the "mastered" pile.
I put the slow and medium cards back in the Review section of the box and we do them again the next day.
My twins love seeing how many they can get in the "fast" pile, and this little activity has become one of our favorite moments of the school day.
Engaging Activity Sheets
One of my twins' favorite features of the program are all the Activity Sheets.
These pages are found in the Leap Into Reading student books. The perforated pages are easy to tear out, and usually there's very little prep (nice for busy parents!) to use them—often just cutting the pages into little sections for the activity. (Last year I had them cut the pages to help develop their fine motor skills, but now I do the cutting to save us some time.)
Truth be told, I don't do all of the Activity Sheets. I might do 50% of them. They are all worth doing, but when we need to save time in the school day, these are the easiest things to cut from the program.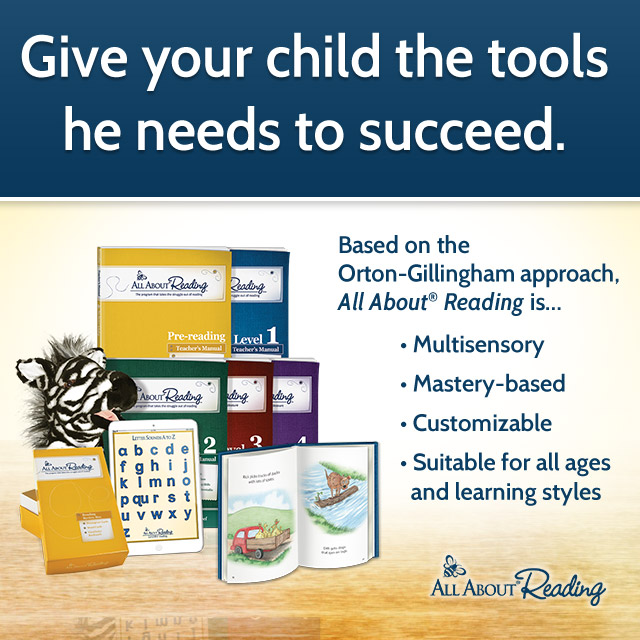 Perfectly Challenging Readers
The "meat" of All About Reading, in my opinion, are the readers. These are nice, hardback storybooks, each chapter its own self-contained story.
I love these because…
Every single word of each chapter only contains words that are covered by concepts they've learned so far—so every word is an opportunity to reinforce the concepts they're learning. This curriculum doesn't rely on third party readers or outside picture books that may or may not match up 100% with the concepts the students are learning. The readers are custom-written for the program.
The stories are fun

,

short, often goofy — perfect for my twins (especially the goofy part)! They give students the chance to put their learning into practice.

They're also creatively illustrated with pencil-sketch drawings that are great for drawing in my boys—who love to stop the reading process to talk about each picture!
I usually have them read from the readers every day, though occasionally I mix it up with books we get from the library.
Additional Practice Sheets
Another really nice feature of the curriculum are all the additional Practice Sheets and Warm Up Sheets in the student activity books. We read the Warm Up Sheets before we read the stories in the readers—there's a Warm Up Sheet for every story to familiarize your student with the words they're going to see in the story.
Sometime I skip this if I sense my boys are easily grasping the material. Sometimes I don't require they read all the words—and that is based a lot of their mood that day. Sometimes I can just tell they will be fatigued by too much practice—and that's the beauty of the program. Everything is scripted for you but it is also customizable: you move at the pace your student needs to go. Sometimes a lesson takes only a day. Sometimes they take two or more.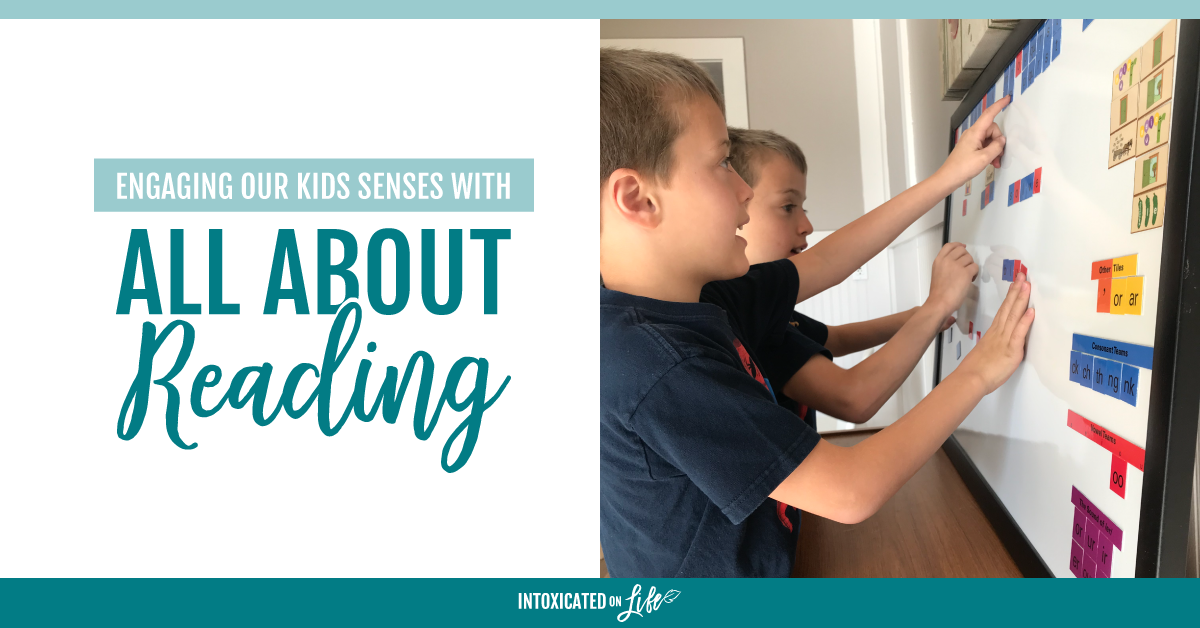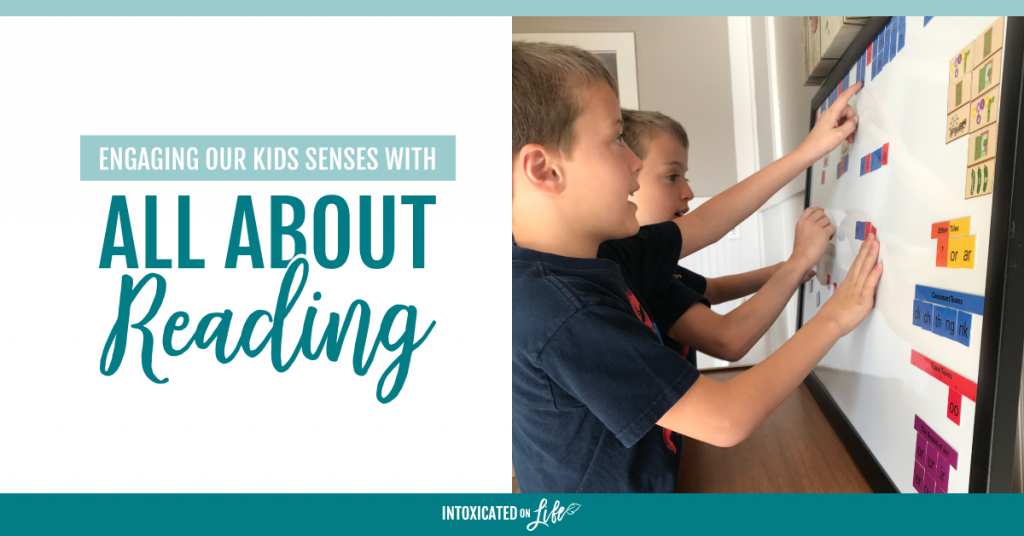 …And It Really Works
I've been so pleased with the progress my kids have made using this program.
The methodical, fully-scripted, fully-explained Teacher's Manual makes it easy for me.
The simple activities, stories, and engaging manipulatives makes is fun for them.
And best of all—it works. 
Looking for a good reading curriculum to try with your kiddos? Check out All About Reading!