I sometimes have to wonder if the devil is laughing at us.
Ever since my wife started talking about how she uses essential oils, we occasionally hear from Christians with grave concerns about essential oils and the occult. Occultists and pagan religions have used oils for millennia for their health properties. Therefore, they argue, if we use essential oils for same reasons, aren't we engaging in cult practices?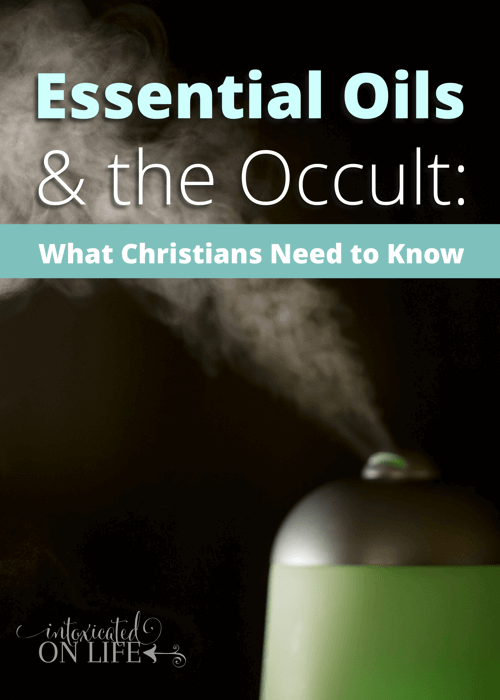 While it is worth doing your homework about essential companies you buy your oils from, I do not believe avoiding essential oils for spiritual reasons is a mature Christian attitude (you can read here about our journey in choosing an essential oil company).
Learn more about my favorite essential oils in this post.
The Occult Connection
While there are very modern methods for extracting essential oils (also called "volatile oils"), ancient people have been using aromatic oils from plants for thousands of years. The Egyptians, Chinese, Indians, Persians, Greco-Romans, and nearly every other ancient culture used aromatic oils in various ways—mostly for medicinal or ritualistic purposes.
Most ancient cultures also didn't place a sharp distinction between the natural and the supernatural the way we do today. The physical properties of a substance and spiritual forces regularly co-mingled in the ancient pagan mind.
In fact, our words "pharmacy" and "pharmaceutical" come from the Greek term φαρμακεία (pharmakeia), which means sorcery or enchantment. For most ancient people, the making and use of medicines or potions was believed to be spiritual practice, not just a medical one.
Even modern cultists use essential oils because of the spiritual properties they are believed to contain. Some modern Wiccans, for instance, speak of certain essential oils having "sacred energies" or magical properties. Some use essential oils in spell crafting, the invocations of spirits, anointed sacred objects, or the practice of prophecy. Some link specific oils to certain astrological signs.
Given these connections to paganism, what is a mature Christian response to using essential oils? Should we use them at all? What do Christians need to know about Essential Oils and the occult?
Oils and Idols: What Paul Would Say
Consider the apostle Paul's teachings to the Corinthians Christians about eating food sacrificed to idols. There was a dispute in the ancient church about whether they should buy meat in the marketplace that had been used in a pagan sacrifices. If ever believers had a reason to get superstitious and leery of something associated with pagan religion, this would be it.
But Paul doesn't give those beliefs the time of day: "we are no worse if we do not eat, and no better if we do" (1 Corinthians 8:8), Paul says. No matter how cultists misuse God's good gifts, the meat belongs to our Creator. Paul concludes, therefore, "Eat anything sold in the meat market without raising questions of conscience, for, 'The earth is the Lord's, and everything in it'" (10:25-26).
Paul does not belabor the cultic connection at all. If a slab of meat is being offered to Aphrodite or Apollo in the morning and gracing a Christian's dining room table that night, Paul doesn't lose any sleep over this. Why? Because even if these so called "gods" are out there, for the Christian, "there is one God, the Father, from whom are all things and for whom we exist" (8:6).
Of course, he warns them not to go into the temples and participate in the pagan sacrifices themselves (10:14-22), but his primary concern is how believers should treat each other regarding this issue—those with stronger consciences should not tempt the weak (8:9-13; 10:27-29).
He isn't concerned that the meat is somehow spiritually "tainted" or that the Christians are somehow inadvertently involved in pagan religion because they eat meat. He is primarily concerned about Christians treating each other with love, not using their freedom to put a stumbling block before others whose consciences might be weak in this area.
I believe we can say the same about essential oils and the occult. Do cultists use certain blends of oils for their physiological effects? Sure. Do they believe essential oils have certain supernatural properties? Yes. Does that mean Christians shouldn't use them? Of course not. God is the one who gave those essential oils their properties.
3 Principles for Christians to Keep in Mind about Essential Oils and the Occult: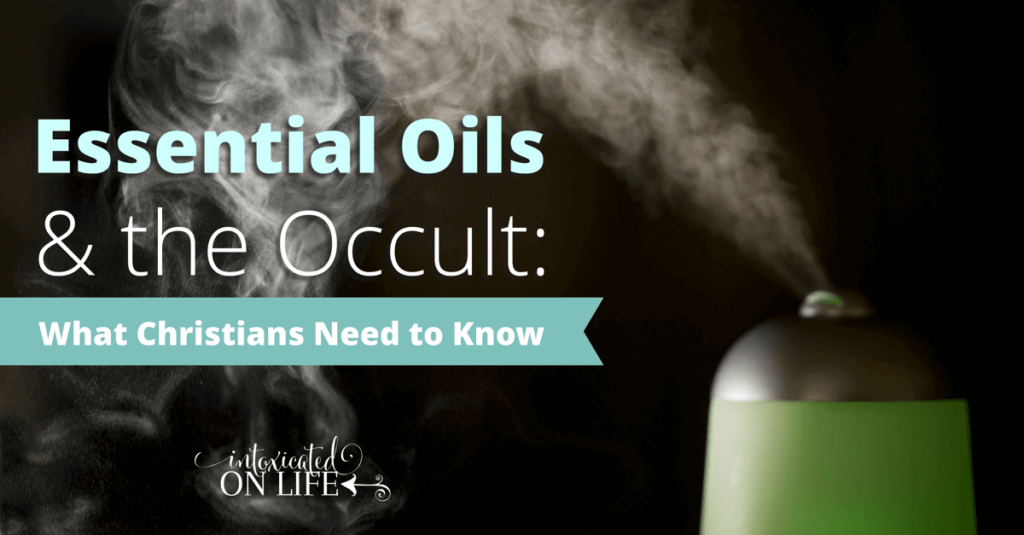 1. Research how a company describes their essential oils.
While there's nothing wrong with using essential oils because we believe they have legitimate God-given beneficial properties, there are several companies out there that capitalize on pagan mumbo-jumbo to sell their products.
The written descriptions of many essential oils are, in my opinion, pretty laughable. Companies might describe how their oils "energize your life force," or help you practice "forgiveness and obtain deep spiritual awareness," or enhance your body's "harmonic magnetic energy field," or improve the process of "dreaming and visualization," or give you a deeper connection to your "mystical self."
Some of these essential oil descriptions read like a thesaurus mated with the Wiccan Book of Shadows, and their offspring was wrapped in a thin blanket of fortune cookie papers.
After reading such spiritual malarky, you may decide, like me, that these essential oil companies aren't worth your money. They are either using neo-pagan gibberish on the pseudo-spiritual masses to make a buck, or they actually believe their own superstitious drivel.
2. If using essential oils goes against your conscience, don't use them—but recognize this as a position of weakness.
Some Christians, perhaps because they dabbled in neo-paganism in the past, may choose to avoid using essential oils because it has too many bad associations in their minds. If this is the case for you, then the answer is simple: don't use oils. It is never wise to get into a habit of offending your conscience. "For whatever does not proceed from faith is sin" (Romans 14:23).
That said, just as in the case of meat sacrificed to idols, the apostle Paul unapologetically calls such consciences uninformed, weak, and defiled (1 Corinthians 8:7). Please, do not mistake your spiritual concerns about essential oils and the occult as somehow more enlightened or informed, when in fact, it is the exact opposite.
3. Use essential oils to the glory of God.
Paul's conclusion to the meat-sacrificed-to-idols dispute is this: "So, whether you eat or drink, or whatever you do, do all to the glory of God" (1 Corinthians 10:31). What does this imply for us?
First, it means we might sometimes give up our freedoms in order to build up others and not cause them to stumble (1 Corinthians 10:23-24, 32-33)—and this may include not using essential oils around those who truly can't get past their pagan associations.
Personally, I've never actually met anyone whose conscience is weak in the area of essential oils and the occult. But perhaps you have met such people. Perhaps you are one of these people. If so, while we might be at odds on this issue, let's agree together to "pursue what makes for peace and for mutual upbuilding" (Romans 14:19), and I'll promise to put the essential oil diffuser away if you come over to my house.
Second, it means we should partake of the Lord's good gifts with thankfulness (1 Corinthians 10:30)—and this includes, if you want, essential oils and their amazing benefits. Don't let the misuse of oils (either in the ancient past or in the present) dissuade you from using them. "For everything created by God is good, and nothing is to be rejected if it is received with thanksgiving, for it is made holy by the word of God and prayer" (1 Timothy 4:4-5).
Essential Oils and the Occult Conclusion
I hope I answered any concerns for the Christian community about essential oils and the occult. Feel free to leave comments and questions below on this topic.
More Articles on Essential Oils:
Use Essential Oils Safely and Confidently with Your Family
Would you like a resource to help you learn to use essential oils with your family? Download this free 3-page printable:
Basic guidelines for using essential oils around kids
A list of safe, kid-friendly oils essential oils
Helpful essential oil recipes
Click the link or image below to download the 3-page Mom's Essential Oil Cheat Sheet. I'll follow it up with more resources and free printables to help you on your essential oil journey. Grab your copy now!
Interested in essential oils? Let's talk! Click here to learn more about essential oils and how to find good-quality oils for your family.