When you think of healthy eating, the picture of sweet, delicious pancakes with cinnamon apples may not be the first thing that comes to mind. While eating fresh raw fruits and vegetables is crucial to a healthy diet, there are some surprising benefits to indulging in such a delicious treat.
Looking for more gluten-free recipes and resources? This Everything Gluten Free page is a library of everything gluten free we've worked on.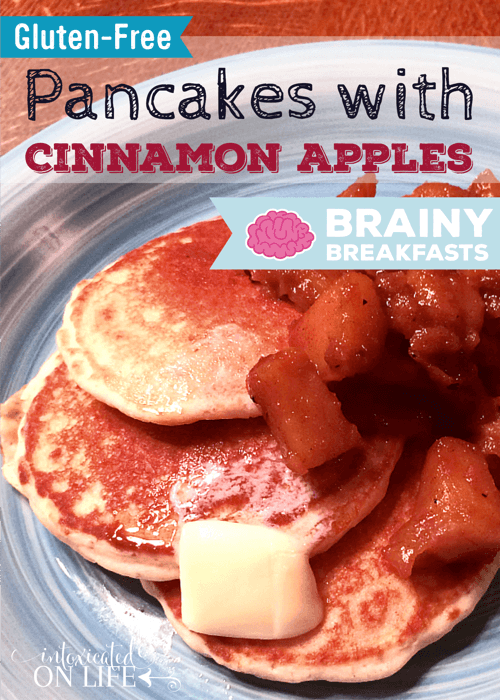 Healthy Mindset
There are some who seem to effortlessly maintain a gluten free, healthy diet. I am not one of those people. It takes great effort on my part to make the commitment and to stick to it. I'm a lover of all things sweet and savory. So the idea that I cannot have certain foods . . . well, it doesn't go over so very well.
One of the best ways I've found to help me overcome this lack of control is to allow myself to enjoy treats that are made with the right ingredients. I don't have to ban myself from sweet delicious apple pancakes when I can use almond flour, apples and cinnamon! Factoring in plenty of meals like this makes a real difference in my ability to set my mind and commitment to healthy eating.
Hidden Benefits of Almond Flour
The healthy ingredients of this deceptively delicious recipe hide some terrific benefits. Almond flour is the base of the pancake recipe and is simply made with ground almonds. Protein: CHECK! Almonds also contain carbohydrates and healthy fats.
 Ground blanched almond flour includes micronutrients like vitamin E, iron, calcium, and potassium. According to Karen Curley, Nutritionist and author at SFGate/Healthy Eating,
"One ounce of almonds ground into flour adds 6.8 milligrams of vitamin E to your daily vitamin intake. Vitamin E is an antioxidant that helps prevent cell damage, heart disease and stroke. Almond flour also gives you 0.8 milligrams of iron, 65.2 milligrams of magnesium and 57.4 milligrams of calcium in a 1/4-cup serving. Calcium helps strengthen your bones and teeth, and helps your circulatory system carry enzymes and hormones throughout your body. Another mineral in almond flour is potassium, which helps regulate blood pressure — 1/4 cup of almond flour adds 160.4 milligrams of potassium to your diet."
In simple terms, those small nuts pack a powerfully healthy punch!
An Apple A Day
Apples are much more than a yummy treat. We've all heard the old adage "An apple a day – keeps the doctor away." But as it turns out, there is some real truth behind it. Prevention Magazine recently sited a food chemistry study which found that eating apples promotes the growth of good bacteria in the gut, even leading to weight loss.
Additional research links apples to everything from a healthier immune system to a reduced risk of stroke, diabetes, high cholesterol, and cardiovascular disease. The phytonutrients in apples can help you regulate your blood sugar. The flavonoids in apples inhibit enzymes which turn complex carbohydrates into simple sugars. Polyphenols in apples can help to block absorption of glucose in digestion. They also can stimulate secretion of insulin in the pancreas.
Apples are a decent source of fiber and of vitamin C. There are currently studies in place with regards to their effect on aging and even cancer fighting abilities. To get the most benefit from eating apples, other than as a raw, whole food, consider leaving the skin on (or nibbling on some of it while you make your pancakes). You don't want to overcook them either. The boiling process of making applesauce can steal some of the nutrients.
Pancakes with Cinnamon Apples
This recipe is a terrific way to enjoy apples! Use coconut oil in the skillet, and add freshly ground cinnamon and ginger. These ingredients increase the nutrition of the pancakes. You can even change out the brown sugar for a tablespoon of honey. Or use a low-glycemic sweetener like stevia, to make it extra healthy and still so delicious.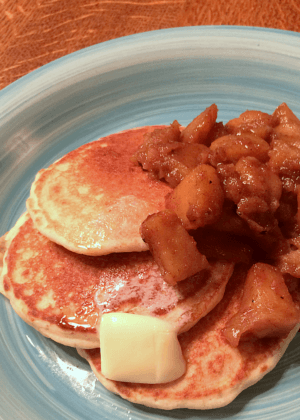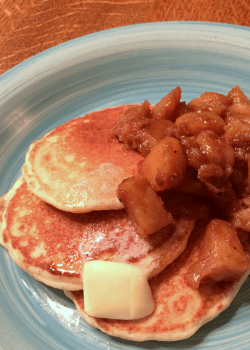 Print
Gluten Free Pancakes with Cinnamon Apples
Fluffy pancakes covered in a sweet apple-cinnamon topping make for a delicious and nutritious breakfast!
Ingredients
Pancakes
3

large eggs

1

tablespoon

water

1

tablespoon

vanilla extract

2

tablespoons

honey

1 ½

cups

blanched almond flour

A pinch of salt

¼

teaspoon

baking soda

Oil in pan for cooking

coconut oil or butter
Cinnamon Apples
5-6

large crisp apples

peeled, cored and chopped into bite-sized chunks

1

cup

brown sugar

3

teaspoons

ground cinnamon

1/4

teaspoon

ground nutmeg

1/4

teaspoon

ground cloves

1/4

teaspoon

ginger

Splash of lemon juice

2 TBS

Pinch

of salt

*See sugar-free option below
Instructions
Pancakes
With a fork, blend together eggs, water, vanilla and honey.

Mix in almond flour, pinch of salt and baking soda until well combined

Heat oil in large skillet over medium heat.

Use a spoon to scoop heaping tablespoons of batter into the skillet to make pancakes.

When pancakes show little bubbles all around, flip pancakes over and cook other side and remove when browned on both sides.

Repeat process with remaining batter.
Cinnamon Apples
Mix apples and ingredients thoroughly in large pot.

Cook on medium high heat, covered, until soft.

Stir regularly. You may add a pat of butter if needed.

Serve over warm pancakes.
Notes
For a sugar-free option, consider substituting the honey in the pancakes recipe for a pinch of stevia and the brown sugar in the cinnamon apples recipe for xylitol or erythritol and a tablespoon of molasses.
Nutrition
Calories:
658
kcal
|
Carbohydrates:
105
g
|
Protein:
14
g
|
Fat:
24
g
|
Saturated Fat:
3
g
|
Cholesterol:
123
mg
|
Sodium:
134
mg
|
Potassium:
362
mg
|
Fiber:
11
g
|
Sugar:
88
g
|
Vitamin A:
301
IU
|
Vitamin C:
10
mg
|
Calcium:
181
mg
|
Iron:
3
mg
Gluten free is healthy, delicious and can be a fun treat as well – Enjoy!
---
Kelli Becton is a homeschool mother of three boys. She and her husband Mark, live on the coast in southwest Florida. Kelli has been battling Rheumatoid Arthritis for over 13 years. She loves sharing tips, recipes and encouragement with others who are raising families and/or fighting chronic disease. She has a homeschool blog and a frugal family blog where she writes to encourage families to get out and enjoy the outdoors and to explore the world around them. Abundant Living on a Budget is her goal. You can find her at Frugal Mommas and Adventure Homeschool.