Let's take a minute to talk about the chaos that often comes with homeschooling and also homeschooling made simple.
A day that ends in a child (or mom) crying that they hate school is not a good homeschool day.
A day that ends with an overwhelmed, frustrated, frazzled mom is not a good homeschool day.
When homeschool feels more chaotic than peaceful, it is not a good homeschool day.
Can you relate with any of these statements? I can. When these types of days begin to outnumber the peaceful days, it's time to examine what's going wrong.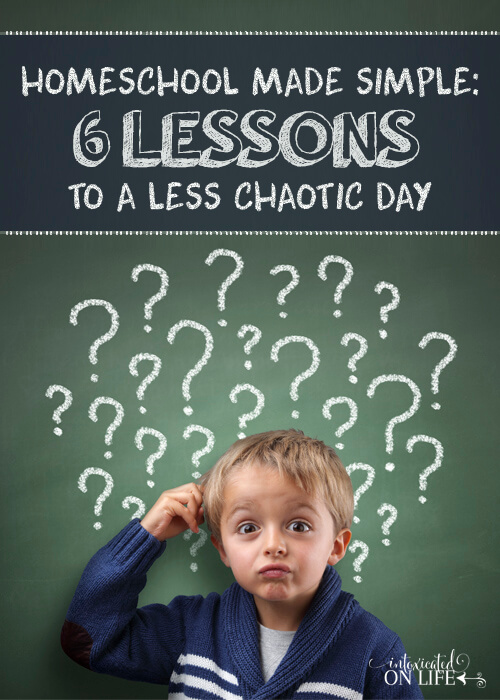 Special thanks to Compass Classroom for sponsoring this post. 
Homeschool Made Simple: Learning How to Simplify
Homeschooling doesn't come naturally to everyone. If we try to translate a public school experience to a homeschool experience, it might turn out to be a big failure. Aren't we doing this homeschool thing because we want a different education experience for our children than what the public schools offer?
Do you dream of peaceful homeschool days? Children who love learning?
Of course you do. I do too.
How do we make that happen?
Maybe you're new at homeschool and you just don't know how to even begin. Maybe you're a veteran homeschooler who is stuck in a vicious, overwhelming cycle. Wherever you are, I have a resource I'd like to introduce to you that will help you gain your bearings.
Homeschool Made Simple. In this new video series of teachings, you'll learn how to do just that—simplify your homeschool. It doesn't have to be too complicated. You don't have to overthink things. Homeschool Made Simple will show you how to keep first things first. You'll learn how to naturally incorporate subjects into your homeschool day and engender a love of learning in your children.
If you're a new homeschooler, you'll learn a step-by-step approach to making homeschool a simple task. If you're a frazzled veteran homeschooler, you'll learn how to transform your day from chaotic to simple. There is something in this program for everyone!
Or Maybe You'd Prefer Homeschool Made Difficult?
Of course not… but we thought this little video might make you smile 🙂
6 Lessons to Encourage You Towards More Peaceful Days
When the kind folks at Compass Classroom asked me if I'd be interested in checking out this new video series, Homeschool Made Simple, I jumped at the opportunity (we're pretty big fans of everything Compass Classroom puts out). When I found out what the topic was, I knew this was a topic this mama needed to be encouraged in!
Carole Joy Seid has taught thousands of parents the strategies presented in this new video series. This is the first time her teaching, showing parents how to make homeschooling simple, enjoyable, and affordable, is available to the general public!
This new video series, includes the following 6 video lessons: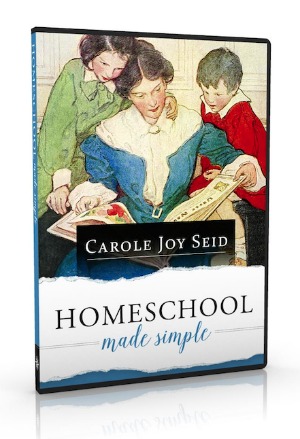 1. Children & Reading
2. Choosing Books
3. Building Character in Children
4a. Math, Writing, Science, Art & Music
4b. Bible & A Typical Day
5. Children & Media
6. Teaching History Using Literature
Friends, let me tell you, if you struggle with your days feeling more chaotic than peaceful, you'll be so blessed by this Homeschool Made Simple series.  In lesson 4b, Carole shares with us her typical daily schedule. This was so helpful to see how another homeschooling mom structured her day.
The daily structure Mrs. Seid used in her home is practical for individuals with both young and older children. She even gives you ideas on how to integrate dads into your homeschool.
Most of all you'll be encouraged, in her talk on scheduling schooling, to remember that homeschooling doesn't happen during a time of day. Homeschooling is a lifestyle. It's a lifestyle of learning and living together as a family!
We love everything Compass Classroom produces. There is never any question that their products will be great quality and solid information.
In our homeschool we use both Visual Latin and Word Up, their witty vocabulary curriculum (you can read the review of the Latin curriculum here). We loved using Modern Parables as a basis for a Sunday School class at church. And I'm super excited to add Grammar of Poetry to my oldest son's school load in another year—it looks awesome!
And now of course, I can add Carole Joy Seid's Homeschool Made Simple to our list of Compass Classroom products I can personally recommend.
Have you tried Homeschool Made Simple? Tell me about it in the comments below!
More Homeschool Management Tips: